The beauty of this wonderful Fried Potatoes with Sausage & Eggs recipe is that this breakfast dish is made in one pan.  This breakfast is very tasty and so easy to prepare!
This Fried Potatoes with Sausage & Eggs recipe, comments, and photos were shared with me by Karen Calanchini, Food Stylist and Photographer, of Redding, CA.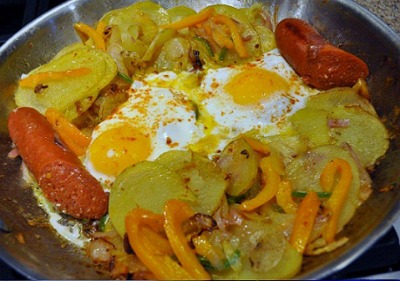 Fried Potatoes with Sausage and Eggs Recipe:
Keyword:
Fried Potatoes with Sausage and Eggs Recipe
Instructions
In a large non-stick fry pan over medium-high heat, drizzle the olive oil (enough to spread around the bottom of the pan); heat the pan until the olive oil becomes hot. Add potatoes, onions, garlic, chile pepper, bell pepper, and salt and pepper to taste. Saute the potato mixture approximately 5 minutes.

After 5 minutes, reduce heat to medium. Add the sausage link, cover, and cook approximately 10 minutes. After 5 minutes, stir the mixture and then replace the lid. Continuing cooking approximately 5 additional minutes or until the potatoes are tender and sausage is heated through and hot.

When the potatoes are cooked to your liking, create a space in the middle of the pan by pushing the potato mixture apart to each side of the pan. Add some additional olive oil in the center (if needed). Crack the 2 eggs into the center. Replace the lid and cook until the eggs are done to you liking. Learn how to cook perfect fried/steamed Fried Eggs.

To serve, cut the sausage link in half. Sprinkle a little paprika over the top of the potatoes and eggs. Transfer onto two warmed plates and sprinkle with sliced green onions and top with a dollop of sour cream.
Recipe Notes
* Use a mandolin, if you have one.  The use of a mandolin will insure evenly-cut potatoes which will lesson the chances of some potatoes being cooked and others partially cooked.
** Karen like to use freshly-ground Tellicherry pepper.
Comments and Reviews