This Garlicky Herb Cross Rib Roast is very flavorful and full of fresh herb goodness.  As the recipe calls for Balsamic Vinegar, make sure you use a good-quality aged balsamic vinegar.  I used regular balsamic vinegar in this recipe, but you could also use fig balsamic or a garlic balsamic.  This cross rib roast is excellent served with Greek Potatoes with Lemons and Oregano and a beautiful Tomato Salad.
This very flavorful Garlicky Herb Cross Rib Roast recipe, comments, and photos were shared with my by Karen Calanchini, Food Stylist and Photographer, of Redding, CA.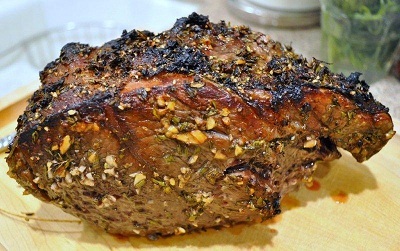 More delicious Beef Recipes using various cuts of beef.
Garlicky Herb Cross Rib Roast Recipe:
Keyword:
Garlicky Herb Cross Rib Roast Recipe
Instructions
Preheat oven to 450 degrees F.

Brush the cross rib roast with the balsamic vinegar, making sure the balsamic vinegar gets into all the nooks of the roast. Make a paste of the minced garlic, thyme leaves, rosemary leaves, salt, pepper, and oil oil. Rub paste mixture well all over the roast.

In a large roasting pan, cook the prepared roast for 15 minutes. Reduce oven temperature to 350 degrees F. and cook an additional 50 to 60 minutes or until the internal temperature reaches 125 degrees F. on your instant-read digital meat thermometer

Remove roast from oven and cover the roast loosely with aluminum foil and let stand for approximately 15 to 20 minutes. Remember, the roast will continue to cook as it sets. The temperature will rise approximately 5 to 10 degrees. So, pay attention to how long you let the cooked roast sit before cutting and serving.
Recipe Notes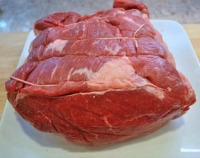 * Cross Rib Roast is also know as Beef Shoulder, Chuck, Shoulder Clod, Boston Cut, and/or English Cut Roast.  
My roast was covered with a string netting to hold the meat together during cooking.   I removed it because I did not want to put the seasoning over the top of the netting, only to have it all come off when removing it prior to slicing.   I seasoned the roast then tied one string around the roast to help hold it during cooking.
Source:  Original recipe is from the The Complete Meat Cookbook, by Bruce Aidells and Denis Kelly.

I get many readers asking what cooking/meat thermometer that I prefer and use in my cooking and baking.  I, personally, use the Thermapen Thermometer. Originally designed for professional use, the Super-Fast Thermapen Thermometer is used by chefs all over the world.  I only endorse a few products, on my web site ,that I like and use regularly.
You can learn more or buy yours at: Super-Fast Thermapen Thermometer.
Sponsored Content
Comments and Reviews