Our wonderful neighbors shared this fresh-caught trout with us. The cedar plank gives the trout a light smokiness with the meat so tender and moist. I like to serve this wonderful fresh-caught trout with kale sauteed with fresh lemon wedges and fresh garlic, baked potato, and toasted sourdough baguette slices topped with Roasted Tomatoes and garlic, and also some Prosciutto Di Parma slices.
This delicious Grilled Cedar Plank Trout recipe, comments, and photos were shared with my by Karen Calanchini, Food Stylist and Photographer, of Redding, CA.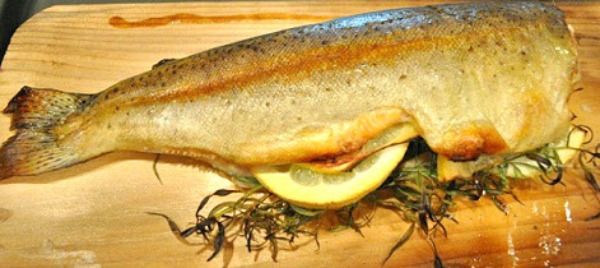 More delicious Trout Recipes and also How To Select, Buy, and Cook Fish.
Grilled Cedar Planked Trout Recipe:
Keyword:
Grilled Cedar Plank Trout Recipe
Instructions
Soak the cedar plank submerged in water for 2 hours.

Brush the inside and outside of the trout with a little olive oil. Sprinkle salt and pepper on the inside and outside of the trout. Stuff the cavity with the tarragon sprigs, lemon slices and thyme sprigs.

Place prepared trout on the soaked cedar plank, and then put onto your preheated grill with indirect heat. Close lid and cook approximately 15 to 20 minutes. If you have a digital meat thermometer, the internal temperature in the center of the trout should reach 120 degrees F. Remove from heat and cover with aluminum foil and let rest for approximately 7 to 10 minutes. During this rest period, the temperature of the trout will rise to 140 degrees F.

After resting, cut off the hard fins from the tail and carefully remove the skin. Open the cavity and carefully pull out the bones (by grabbing the backbone, they should come out in one piece). Pull fish apart into serving pieces and plate.

Serve with the lemon slices that you grilled with the fish. Add additional fresh lemon slices for garnish.
How To Clean Fresh-Caught Trout:
First you need to cut the head off just before the Pectoral fin (this fin can be nipped off or left on). This is an optional step, as some people want the head left on when cooking.

Hold fish with belly facing up. Using your fillet knife, cut from the anal hole forward towards where the head was or still is.

After pulling out the entrails, take an old tooth brush and clean the blood vein that runs along the spine. If that is not cleaned out it, will affect the taste.

Rinse the trout thoroughly (inside and out) and prepare to cook as you wish.

NOTE: If you like to eat the fish skin, make sure you remove all the fish scales before cooking. With the trout held firmly by the tail, scrape very firmly from the tail to the gills several times on both sides with a sharp knife. I, personally, like to have my trout scaled before cooking.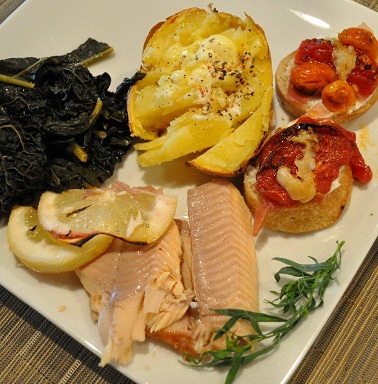 Comments and Reviews