Italian Chicken and Pesto Panini Sandwich is full of lively aromatic flavors that are so delicious.  I just know your and your family will absolutely love this delicious sandwich!  Perfect for a weeknight when you are tired from work and don't want to spend a lot of time in the kitchen.
This Panini Sandwich is easy to make, plus it is excellent served with Karen's Shasta Macaroni Salad or a Fresh Fruit Salad.  If you make your own homemade basil pesto, it is a cinch to put together and even better tasting.  This Italian Chicken and Pesto Panini Sandwich makes a perfect lunch or light dinner for you and your family.
What is a Panini?  The panino or Italian sandwich (the plural of panino is 'panini' which is often mistakenly used to refer to a single sandwich or panino).  The difference between this sandwich and a regular sandwich, is that it is grilled with ridges and the sandwich ingredients melt or fuse together, giving a delicious flavor to any combination of foods.
Italian Chicken and Pesto Panini Sandwich recipe and photo were shared with my by Karen Calanchini, Food Stylist and Photographer, of Redding, CA.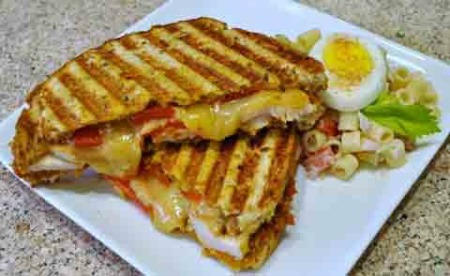 Italian Grilled Chicken and Pesto Panini Sandwich Recipe:
Keyword:
Italian Grilled Chicken and Pesto Panini Sandwich Recipe
Ingredients
2

chicken breasts,

boneless and skinless

Italian Salad Dressing

(make your own or use a good prepared brand)

McCormick's Grill Mates Smokehouse Maple Seasoning*

1

whole red or

orange bell pepper,

skin blackened and removed (see directions below)

1/4

cup

sun-dried tomatoes,

packed in oil and Italian Seasonings

3

tablespoons

Basil Pesto

(homemade or store bought)**

1

tablespoon

olive oil,

extra-virin

1

tablespoon

lemon juice,

fresh-squeezed

1

teaspoon

coarse salt

or sea salt

Black pepper,

freshly-ground

1/4

cup

mayonnaise

Slices of

English cheddar

or regular cheddar cheese

4

slices of a hearty,

whole grain bread

with seeds
Instructions
Marinate the chicken breasts: In a re-sealable plastic bag, in Italian Dressing, overnight or all day. When ready to cook, remove from marinade, draining well, place on paper towels, and sprinkle on both sides with the Grill Mates seasoning.

Roast the Bell Peppers: Turn the oven heat to High (in the broiler mode). Rinse and completely dry the bell peppers. Cut the peppers in half and remove the stem, veins, and seeds.

Place the peppers on a boiler pan and coat lightly with vegetable oil. Broil approximately 5 to 7 minutes, rotating the peppers as the flesh closest to the heat blackens and blisters. Remove each pepper from the oven when it has blackened completely. Place the blackened peppers in a paper bag and close; allow to steam approximately 15 to 20 minutes. After 15 to 20 minutes, scrape or rub the skin off and discard the blackened skin (the charred skins should peel off effortlessly). Cut into slices.

Prepare your charcoal or gas grill for cooking. Brush the grill with olive oil.

Place prepared chicken breasts onto hot grill. Cover barbecue with lid, open any vents, and cook approximately 6 minutes per side or until a meat thermometer registers an internal temperature of 165 degrees F, (juices will run clear when cut with the tip of a knife); turning several times during barbecuing. Do not overcook the chicken; you want it to remain moist. Remove to cutting board and slice.

Meanwhile, in a blender or small food processor, puree sun-dried tomatoes, pesto, olive oil, lemon juice, salt, and pepper. Combine about 3 tablespoons of the sun-dried tomato/pesto mixture with the mayonnaise and mix well; set aside. Depending on the size of your chicken breasts, you may have some chicken slices left over along with the sun-dried pesto mixture. Enjoy for lunch the next day.


Preheat your Panini Grill. If you do not have a Panini Grill, you could heat a heavy skillet or griddle and press it down with either another hot pan or a big lid. You could just cooking the sandwich on a hot grill.

Spread generous amounts of the pesto/mayonnaise mixture on all slices of bread. Arrange chicken slices on two slices of bread, then add the cheese, and then the roasted bell pepper slices. Top with second slice of bread and place on your preheated Panini maker. Close lid and grill until the cheese is melted and beginning to ooze out of the bread. NOTE: The bread should have nice grill marks.

Transfer bread to a cutting board and using a bread knife, slice the two sandwiches in half.
Recipe Notes
* Available at most supermarkets.
** I make and have my own Basil Pesto with Pistachio Nuts and keep it frozen in my freezer.  It is the usual basil pesto, but instead of pine nuts, I used pistachio nuts and added fresh lemon juice. Play around with your homemade pesto as it is really fun to come up with unusual flavor combinations and adds a nice twist to sandwiches or pastas.

I get many readers asking what cooking/meat thermometer that I prefer and use in my cooking and baking. I, personally, use the Thermapen Thermometer. Originally designed for professional use, the Super-Fast Thermapen Thermometer is used by chefs all over the world.  I only endorse a few products, on my web site, that I like and use regularly.
You can learn more or buy yours at: Super-Fast Thermapen Thermometer.
Sponsored Content
Comments and Reviews