Using a rice cooker makes this Orange-Rice Pilaf an easy-to-make side dish when serving poultry, pork, and/or seafood.  The addition of a fresh orange is subtle, yet refreshing, and gives off a wonderful aroma while cooking.  Since citrus tends to harden the rice grain during cooking, it is best to keep the proportions small so that the dish cooks properly.
The rice cooker is an efficient and time-saving kitchen appliance that cooks perfect rice every time.  So far, with my rice machine and the recipes from the cookbook, I have produced perfectly cooked rice.
This delicious and very easy-to-make orange rice pilaf recipe, comments, and photos were shared with me by Karen Calanchini, Food Stylist and Photographer, of Redding, CA.  Recipe has been adapted from The Ultimate Rice Cooker Cookbook.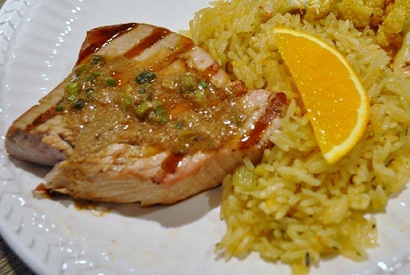 Orange Rice Pilaf Recipe:
Keyword:
Orange Rice Pilaf Recipe
Ingredients
1

tablespoon

olive oil

2

tablespoons

butter,

unsalted, cut into 8 chunks

2

tablespoons

shallots,

minced

1/4

cup

celery,

chopped (using stalks with leaves)

1

cup

white Jasmine Rice*

1 1/4

cups

chicken stock

or turkey stock (homemade or good-quality store bought)**

1/2

cup

orange juice,

fresh-squeezed

1/2

teaspoon

salt

1/2

teaspoon

thyme,

fresh

Grated

zest

(rind) of 1 orange
Instructions
Set the rice cooker for the 'Quick Cook' or 'Regular Cycle'. NOTE: Since all rice cookers are different, please read the instruction that came with your unit to get an idea for cook times, etc.

Place the oil and butter in the bowl (inner pot) of the rice cooker. When the butter has melted, add the shallots and celery.Cook, stirring a few times, until softened, approximately 2 minutes.

Add the Jasmine rice and cook, stirring 2 to 3 times or until all the grains are evenly coated and hot, approximately 10 minutes.

Add the chicken/turkey stock, orange juice, salt, thyme, and orange zest; stir just to combine. Close the lid of the rice cooker and reset for the 'Regular Cycle'. NOTE: Do not lift the lid to check the rice during cooking. The cooking process depends on the development of steam inside the pot, so letting steam escape by opening the lid may result in improperly cooked rice.

When the rice cooker switches to the 'Keep Warm Cycle', let the rice steam for 10 minutes. After 10 minutes, open the lid and fluff the rice with a wood or plastic rice paddle, or wood spoon.

NOTE: The pilaf will hold, with lid down, on the 'Keep Warm Cycle' for up to 1 hour.
Recipe Notes
* Jasmine Rice is named after the Jasmine Flower.  It is a long-grain rice that is native to Thailand and has a sweet, yet subtle, fragrance.  It has a soft, sticky texture when cooked.
** Learn how easy it is to make your own homemade Chicken Stock/Broth.
Comments and Reviews