Orange Wheat Berry Salad is a very light and healthy dish, with a lot of flavors going on – orange, lemon, a bite from the red onion, fresh herbs, along with a tasty citrus vinaigrette with a hint of mustard.  This is lovely served with Grilled Ahi Tuna with Oriental Sauce.
Wheat berries are a very versatile whole grain, full of healthy vitamins and fiber, with a sweet, nutty taste and a delightful chewy texture.
This delicious Orange Wheat Berry Salad recipe, comments, and photos were shared with my by Karen Calanchini, Food Stylist and Photographer, of Redding, CA.
Orange Wheat Berry Salad Recipe:
Keyword:
Orange Wheat Berry Salad Recipe
Ingredients
Orange Wheat Berry Salad:
2

cups

water

3/4

cup

organic wheat berries*

1/8

cup red

onion,

finely diced

1/4

cup

celery

heart with leaves, finely diced

1

tablespoon fresh

marjoram

leaves, chopped

1

tablespoon fresh

parsley,

chopped

2

tablespoons

orange zest,

freshly grated

Coarse salt and freshly-ground black pepper to taste
Parsley

leaves (for garnish)

Orange

slices (for garnish)
Instructions
Orange Wheat Berry Salad Instructions:
Place water into a heavy-bottom small pan and bring to a boil. Add wheat berries and stir a few times, cover with a lid, and simmer until berries are cooked to your liking, approximately 1 hour. Wheat berries may take a shorter or longer time to cook. Some may be pre-soaked. Basically, they are a crunchy grain, but I like to cook them a bit longer for a softer chew. Remove from heat, drain well, and set aside to cool.

While the wheat berries are cooking, prepare Walnut Vinaigrette; set aside until ready to use.

In a large bowl, combine onion, celery, marjoram, parsley, and orange zest; then add cooked wheat berries. Sprinkle with salt and pepper to taste. Add the prepared Walnut Vinaigrette and mix well to fully incorporate.

Cover and refrigerate until ready to serve. Toss with a spoon once or twice while refrigerating to help combine the flavors.

When ready to serve, mix the salad again, put into a pretty serving dish and top with a few parsley leaves and orange slices.
Walnut Vinaigrette Instructions:
In a jar with a lid, combine the walnut oil, lemon juice, Dijon mustard, salt, and pepper; shake well to combine.
Recipe Notes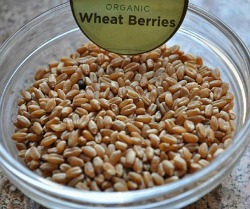 * Wheat Berries:  Wheat berries or wheat berries, are the entire edible part of wheat kernels, meaning there is no hull (or outer shell) but includes the germ, bran, and endosperm.  They are the whole complete grain before undergoing any processing.  
Sometimes they are also labeled by the season they are grown in, whether it is spring or winter.  Hard wheat berries also tend to have a higher protein and gluten content than soft wheat berries.
Comments and Reviews