Cheese Quesadillas are corn tortillas filled with cheese (thus the name "quesa" dilla).  Fill them with pumpkin or squash flowers, or a protein for a delicious variation.  Children also love quesadillas and they make a great snack food that are quick and easy to make.  They are a dish that your children can help you make, enjoy eating and feel accomplished about helping out.
This delicious recipe and photo were shared with my by Karen Calanchini, Food Stylist and Photographer, of Redding, CA.  Quesadillas originated in the central part of Mexico, but they have traveled across the southwest over the years, and have taken on many different characteristics.
Karen like to serve these delicious cheese quesadillas with her Spicy Chili with Peppers.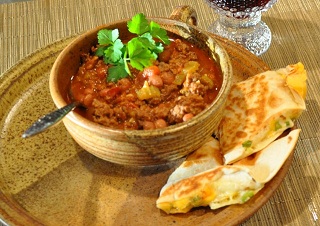 Cheese Quesadillas Recipe:
Keyword:
Cheese Quesadilla Recipe
Instructions
I like to make things ahead and this is how I proceed in the morning, so it is ready to brown later:

Coat a non-stick frying pan with Pam or lightly brush with olive oil. Place one (1) flour tortilla in the frying pan, spread grated cheese, green onions, and fresh cilantro leaves on top. Sprinkle with a little red chili flakes to add zip, if you wish.

Place the second flour tortilla shell on top. Cover pan, put into the refrigerator. Remove frying pan with the tortillas about 30 minutes before browning to allow ingredients to come down to room temperature.

Place on the stove over medium heat and brown quesadilla, then flip and brown the other side. If cheese is not melted, turn heat down a little, and heat a few minutes longer. Remove from pan and let sit approximately 1 minute for cheese to set up a little.

Cut with a large, sharp knife into four wedges. Place on individual serving plates and serve with salsa if desired.
Comments and Reviews