Oven Roasted Vegetables are a great side dish for any time of year.  
Roasting vegetables in the oven gives a caramelized exterior and flavor while keeping the inside moist and tender as the vegetables are perfectly cooked, tender, and packed with so much flavor!  Plus it is a great healthy option that makes a very pretty presentation. Those charred bits on the vegetables are what makes the roasted vegetables so tasty.  This recipe will give you perfect veg every time – golden and crisp on the outside.
Even picky eaters love these delicious oven roasted vegetables.  When selecting your vegetables, use a variety with assorted colors for whatever season you are in.  Roasted vegetables are also excellent as an side dish served with grilled meats, such as your favorite steak.
This delicious recipe and photos were shared with me by Karen Calanchini, Food Stylist and Photographer, of Redding, CA.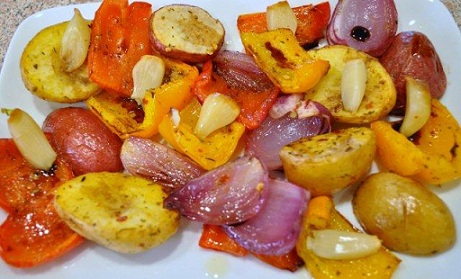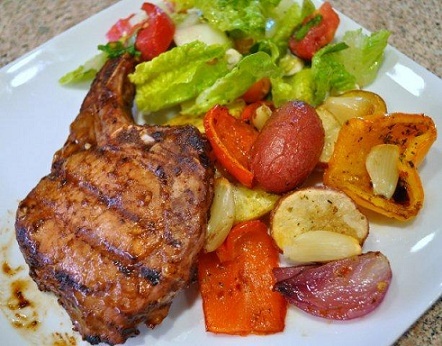 Oven Roasted Vegetables Recipe Recipe:
Keyword:
Oven Roasted Vegetables Recipe
Servings
:
3
to 4 servings
Instructions
Preheat oven to 400 degrees F. Line a baking sheet with aluminum foil.

In a large bowl, place prepared potatoes, onion, and bell peppers. Add salt, pepper, red pepper flakes, thyme, and oregano (rub the herbs and spices between your hand over the bowl); mix all together. Add walnut oil and sesame oil; mix well. Pour the vegetable mixture, in a single layer, onto the prepared baking sheet.

Rub cut end of the garlic heat in the oil mixture on the baking sheet and place on one end of the pan.

Bake the vegetables approximately 45 minutes, turning occasionally. You want the vegetables to begin to caramelize their sugars. The edges will start to turn brown.

After about 30 minutes, check the garlic as it should be slightly golden on top. If the garlic feels soft when you squeeze it and the cloves start to move out of the skins, it is done. Remove the garlic from the oven it this time (even it the vegetables are not quite done).

When the vegetables are finished cooking, remove from the oven. Squeeze the roasted garlic cloves out of their skins over the top of the vegetables. Drizzle with a little balsamic vinegar over the top of all the vegetables.

Place on a serving plate and serve.
Recipe Notes
* I also like to add Purple Peruvian Potatoes for a real eye-popping dish.  When shopping for the different colored potatoes, try to pick out ones that are all the same size or close to it.   Also, if possible, try to cut all the vegetables about the same size.
Comments and Reviews