Ropa Vieja is an easy-to-make recipe.  Ropa Vieja literally means "old clothes" in Spanish.  The name describes the shreds of meat (usually beef shanks) and vegetables which resemble colorful strips of rags.  The beef must be cooked and shredded first.  This makes an excellent filling for tacos, burritos, making taco bowls, and also served with rice.  Roma Vieja can be made over the stove or cooked in your slow-cooker.
The photos and recipe were shared with my by Karen Calanchini, Food Stylist and Photographer, of Redding, CA.  The original recipe was by E. of San Francisco and appeared on Gail's Swap.
More delicious Condiments and Sauce Recipe.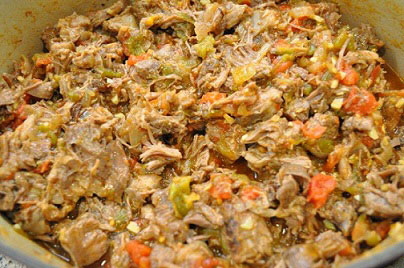 Ropa Vieja Recipe:
Keyword:
Ropa Vieja Recipe
Servings
:
8
to 10 Servings
Ingredients
1

onion,

finely chopped

4

cloves

garlic

3

Serrano chile peppers,

seeded and minced*

1 3/4

cups

tomatoes,

finely chopped**

Meat

from previously cooked beef shanks, shredded

3/4

cup

Beef Stock

(preferably homemade)***

1/4

cup

Mexican oregano,

dried (Mexican oregano is different than Turkish oregano.)

2

tablespoon fresh

cilantro,

roughly-chopped (for garnish, optional)
Instructions
In a large frying pan over medium-high heat, heat olive oil. Add chopped onions and sauté until translucent. Add garlic and stir until fragrant. Add the tomatoes and minced Serrano chile peppers; cook approximately 3 minutes.

Add the shredded beef, beef stock, and oregano. Salt and pepper to taste. Continue cooking, stirring every so often, until the mixture is almost dry. Add the cilantro (if using).

This makes an excellent filling for tacos, burritos, and making taco bowls.
Recipe Notes
* You may substituted blackened Hatch Chile Peppers (if you have them in your freezer or if fresh when in season, August to September)
Serrano Chile Peppers: The serrano chili pepper is a smaller version of the jalapeno, similar in color, but smaller, about 1 to 2 inches long, 1/2 inch wide.  They are commonly red, brown, orange, or yellow. Moderate to very hot with an intense bite.  Serrano chile peppers have thin walls, and they don't need to be steamed or peeled before using, making it the easiest chile pepper to use for salsas. The serrano is said to be about 5 times hotter than the jalapeño.
** Measure from a 20-ounce can of whole plum tomatoes that have been drained and then measured. Save the remaining tomatoes and juice for another use.
*** Check out Karen's recipe for easy-to-make homemade beef stock. If you do not have homemade beef stock, you may substitute a good-quality store-bought broth.
Comments and Reviews