This great flavored, smoky dish is excellent when served with Black Valentine Beans with Garlic and Green Chile Peppers.  You can also use this Slow-Cooked Pork Shoulder sliced or pulled apart, using two forks, and mixed with the juices to make delicious burritos, tacos, and sandwiches.
This delicious Slow-Cooked Pork Shoulder recipe and photos were shared with me by Karen Calanchini, Food Stylist and Photographer, of Redding, CA.More great Pork Recipes.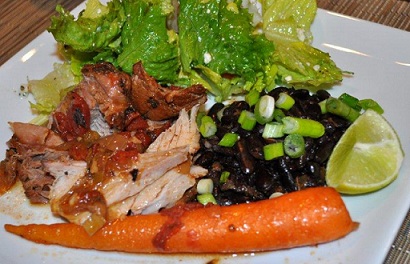 Slow-Cooked Pork Shoulder Recipe:
Keyword:
Slow-Cooked Pork Shoulder Recipe
Servings
:
4
to 6 servings
Ingredients
1

(4-pound)

pork shoulder

roast, trimmed of the fat cap

1/2

tablespoon

Mexican oregano

1/2

tablespoon

ground cumin

1/2

tablespoon

black pepper,

freshly-ground

1/2

tablespoon

ground allspice

1

medium

onion,

cut in half and then sliced

6

garlic

cloves, diced

2

dried

Guajillo chile pepper,

stemmed, shake out seeds, and cut into chunks*

1/2

cup

apple cider vinegar

Juice

and zest from 3 limes

1

(16-ounce) can

diced tomatoes,

fire-roasted with juice

1/2

cup

chicken stock

or turkey stock, homemade (if using store bought, buy a good-quality stock)**

1/2

tablespoon

Knorr Caldo de Pollo

(chicken bouillon)***

Salt

and freshly-ground pepper to taste
Instructions
Place the trimmed pork shoulder on a large plate; set aside.

In a small bowl, combine the oregano, cumin, pepper, and allspice; rub mixture all over the pork shoulder and set aside.

Heat the slow cooker on high. When hot, place the onions, garlic, and Guajillo chile pepper on the bottom of the pot, mixing well. Place lid on the slow cooker.

NOTE: Newer slow cooker cook hotter than older ones because of new food safety rulings. The older crock pots cook with less heat, but it is felt that is not safe. I still use my older crock pot and have never had a problem, but I agree that my newer one cooks hotter, therefore faster than many older recipes. I used my newer slow cooker for this pork shoulder recipe.

In a bowl, combine vinegar, lime juice, lime zest, tomatoes, and chicken/turkey stock. Stir in the Knorr Caldo de Pollo. Taste and adjust seasonings by adding salt and pepper, as desired. Be careful of adding too much salt.

Place the pork shoulder on top of the onion mixture in the slow cooker and pour the vinegar mixture over the top. Using a long-handled wooden spoon, gently mix together all the ingredients.
Recipe Notes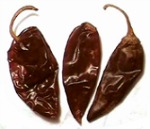 * Guajilla Chile Peppers are one of the backbone chile peppers used in cooking Mexican-style dishes. This shiny, deep orange with brown tones measures about 4 to 6 inches long and 1 to 1 1/2 inches across.  Not hot, but rich, smoky, and complex.  Perfect for chili and especially nice with pork.  Also used in salsas, chile sauces, and stews.
** Learn how easy it is to make homemade chicken or turkey stock.
*** Found is most supermarkets.
Comments and Reviews