Stuffed cabbage rolls are one of our favorite meals.  Long ago, a recipe was given to me by a German friend – she called it Halupki.  There are many versions on the internet of stuffed cabbage rolls, with many different names.  Some use combinations of different meats, add eggs, and some cook the onions and garlic, and some even put the rice in raw.
This recipe is the one I was given and I have used and loved for decades.  I have made a few changes over the years, using Passata instead of tomato sauce, using part ground Bison for its leanness, and adding sauerkraut juice to my meat mixture. Enjoy!
This classic Stuffed Cabbage Rolls recipe, comments, and photos were shared with my by Karen Calanchini, Food Stylist and Photographer, of Redding, CA.
More delicious Beef Recipes and Cabbage Recipes.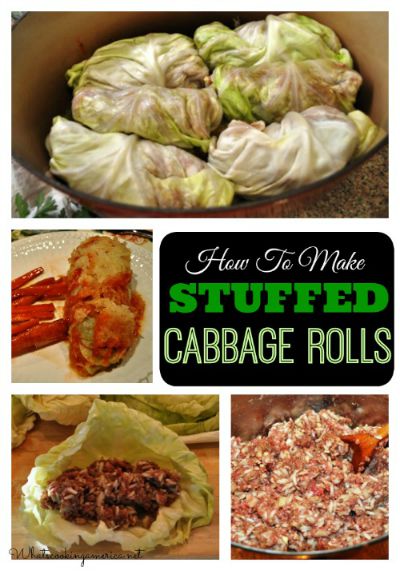 Stuffed Cabbage Roll Recipe:
Keyword:
Halupki Recipe, Stuffed Cabbage Roll Recipe
Servings
:
10
cabbage rolls
Ingredients
2

medium heads

cabbage

1

pound (80 / 15%)

ground beef*

1

pound

ground Bison

(Buffalo)

1

cup long-grain

white rice,

cooked and cooled**

1

medium

Spanish onion,

diced

3

cloves

garlic,

finely-diced

Parsley

leaves, chopped, to taste

Coarse salt

or sea salt and freshly-ground pepper to taste

1

(32-ounce) jar of

sauerkraut

with juice

1

(24-ounce) jar of

Passata

or regular tomato juice***
Instructions
Preheat oven to 325 degrees F. Bring a large pot of salted water to a boil (keep in mind the cabbage will displace a lot of water).

Remove the round core from the bottom of the cabbages with a sharp knife, by cutting around the core.

Add the prepared cabbages, bottom sides down, to the boiling water. Reduce heat to low and let the cabbage simmer for approximately 5 minutes or until the leaves start to soften. The softened leaves should bend easily, without breaking. Using tongs or a large slotted spoon, gently and carefully remove the cabbages from the water; drain, and let cool in a large colander or paper towels. Carefully remove whole leaves from the head of cabbage, keeping the leaves intact as you remove them. Place broken or split ones in a separate pile.

Meanwhile cook rice until almost done, leave it a bit al dente, let cool

Place a strainer over a bowl, add the sauerkraut (and juice) and let it drain (you may have to press on it a little to get most of the juice out); set aside.

Place meats (of your choice) into a large bowl. Add cooked rice, onion, garlic, parsley, salt, pepper, and approximately 1 cup of the drained sauerkraut juice, mixing well.

Line the bottom of a roaster pan with some of the damaged cabbage leaves. Drizzle a little Passata or tomato juice over the top. Add just a little sauerkraut, salt, and pepper.

Using the whole cabbage leaves, place approximately 1/2 cup of the meat mixture onto the bottom part of each cabbage leaf, spread it out towards the sides a little (the amount of meat mixture you use will vary as the cabbage leaves get smaller as you remove the layers).

Then begin rolling the leaf up over the meat, then tuck in each side of the leaf as you roll, much like making a burrito.

Place each roll into the roaster pan in a single layer. When you have filled the bottom of the pan with cabbage rolls, drizzle the Passata over each roll and add a layer of sauerkraut. Continue to make cabbage rolls, add the Passata and sauerkraut over the 2nd layer and top with the rest of the damaged or smaller cabbage leaves.

Bake approximately 2 hours. Check and make sure the rolls are very hot and juices are bubbling. Bake for another 30 minutes, if necessary. Use a meat thermometer to check the internal temperature of the meat inside a cabbage roll. The internal temperature should have reached 160 to 160 degrees F.

Many serve stuffed cabbage rolls with mashed potatoes as the resulting juices are very flavorful. Because this dish includes rice, we like to serve it with roasted carrots dressed with butter, brown sugar, and a little pure maple syrup prior to roasting.

Makes about 10 cabbage rolls.
Recipe Notes
* All ground beef may be used, if desired.
** Learn how to make perfect Fluffy White Rice.
*** Passata is made from Italian tomatoes which have been sieved to remove seeds and skins, leaving a very smooth and creamy consistency.

I get many readers asking what cooking/meat thermometer that I prefer and use in my cooking and baking. I, personally, use the Thermapen Thermometer. Originally designed for professional use, the Super-Fast Thermapen Thermometer is used by chefs all over the world.  I only endorse a few products, on my web site, that I like and use regularly.
You can learn more or buy yours at: Super-Fast Thermapen Thermometer.
Sponsored Content
Comments and Reviews