Stuffed Red Bell Peppers with Pesto and Tomatoes recipe is a very easy dish to prepare and ends up very tasty and very pretty right out of the oven.  With so many colorful bell peppers at the Farmer's Markets, I could not resist buying a bunch of beautiful, shiny red bell peppers for dinner.
II served these stuffed red bell peppers with roasted Cornish Game Hens with Lemon and Garlic, roasted Hasselback Potatoes, and Oven-Roasted Asparagus.  It meal was healthy, delicious, and very colorful.  My family loves stuffed bell peppers and they loved this outstanding meal.
This delicious Stuffed Red Bell Peppers recipe, comments, and photos were shared with me by Karen Calanchini, Food Stylist and Photographer, of Redding, CA.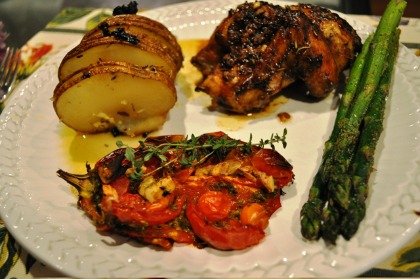 Stuffed Red Bell Peppers with Pesto and Tomatoes Recipe:
Keyword:
Stuffed Red Bell Peppers with Pesto and Tomatoes Recipe
Instructions
Preheat oven to 375 degrees F. Line a small baking dish with non-stick aluminum foil.

Cut the pepper in half lengthwise, leaving the stem intact on each half. Remove the seeds and the white, mealy, ribs with the tip of a sharp knife; discard.

Lay the peppers halves in the prepared baking dish. Spoon a little pesto into each pepper half or line two fresh basil leaves into each pepper.

Cut the small tomato into slices and place into the peppers. Cut cherry tomatoes in halves and tuck around the tomato slices. Tuck garlic slices all around the tomatoes. Salt and pepper each bell pepper. Add a few thyme leaves over the top. Drizzle with olive oil.

Place the prepared peppers in the preheated oven and roast until the peppers are completely soft and getting dark around the edges, approximately 1 hour.

Remove from oven and garnish each peppers with a thyme sprig, if desired.
More delicious Stuffed Bell Pepper Recipes:
Stuffed Bell Pepper Recipe
Stuffed Bell Peppers are one of my husband's favorite dishes.  I think it reminds him of food his mother used to make for him.  Stuffed Bell Peppers are also excellent on your diet as they are low calorie.
Italian Stuffed Bell Pepper Recipe
These Italian Stuffed Bell Peppers are a family favorite.  These pretty bell peppers are easy to make and taste wonderful.  Serve with crusty sourdough bread to soak up the resulting juices, and Oven-Roasted Asparagus for a colorful presentation.
Red and Yellow Bell Peppers Stuffed with Orzo and Zucchini Recipe
There is a bounty of beautiful produce at our Farmer's Markets now.  The eye popping bell peppers caught my eye this week.  I caught a Giada de Laurentis television show in which she made these pretty stuffed peppers.  This is my adaptation of the recipe.
Stuffed Bell Peppers with Couscous, Beef, and Tomatoes Recipe
This colorful and tasty dish is great for busy days as it simply requires putting everything into a bowl and mixing.  We love the colorful bell peppers, versus the green bell peppers for this dish as they are sweeter and the colors are very attractive.
Comments and Reviews