Roasting the tomatoes take this Spanish Rice recipe to new heights!  Karen likes to serve this delicious Roasted Tomato Spanish Rice dish with her Tuscan Lemon Chicken.
Roasted Tomato Spanish Rice recipe and photo were shared with me by Karen Calanchini, Food Stylist and Photographer, of Redding, CA.  Recipe is originally by Mark Bittman and appeared in the New York Times newspaper.
More delicious Rice Recipes.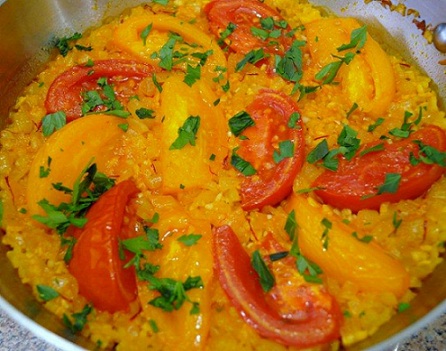 Roasted Tomato Spanish Rice Recipe:
Keyword:
Roasted Tomato Spanish Rice Recipe
Instructions
If you practice Mise en Place (ingredients measured and ready to go), this beautiful and flavorful dish comes together quite fast.

Preheat oven to 450 degrees F. In a saucepan or microwave, warm the chicken stock; keep warm until ready to use.

Place tomato wedges in a bowl and sprinkle with salt and pepper. Drizzle with a little olive oil and toss gently to coat. Set aside.

In an oven-proof skillet or Cast-Iron Pan over medium-high heat, add the remaining olive oil. Add onion and salt, and pepper to taste; sautuntil the onion begins to soften. Add garlic and sauta few more minutes. Stir in tomato paste, saffron, and paprika; cook for 1 additional minute. Add rice and cook, stirring occasionally, until the rice is shiny. Add wine and let simmer until almost all the liquids are absorbed. Once the liquids are absorbed, add the warm chicken stock, stirring to combine. Remove from heat.

Place the tomato wedges on top of the rice (along with any juices that have accumulated in the bowl). Place the pan in the oven and bake for 15 minutes. Do not open the oven door during this time.

After 15 minutes, check to see if the rice is dry and just tender. If not, return the pan to the oven for another 5 to 10 minutes. If the rice looks dry but not quite cooked, add a small amount of chicken stock, water, or additional white wine. When rice is done, turn oven off and let sit in the oven for approximately an additional 10 minutes. Remove from oven.

Before serving, sprinkle with either minced parsley or basil. If you desire, place the pan back on the stovetop over high heat for a couple of minutes to develop a bottom crust before serving.
Comments and Reviews