Veal Meatballs with Orzo is a very tasty dish using these low calorie wonderful and easy to make veal meatballs.
The homemade tomato sauce is absolutely delicious, plus it is a very good basic tomato sauce.  This outstanding sauce can be used to top your pasta dishes, pizza topping, lasagna, tomato soup, or whatever else you can think of.  Be creative in making and using this tomato sauce.
If you are dieting, just leave off the Parmesan cheese for an even lower-calorie dish.  You could also use the delicious tomato sauce as a dip for the meatballs. Just make the meatball smaller when serving as an appetizer.
This delicious Veal Meatballs with Orzo recipe, comments, and photos were shared with me by Karen Calanchini, Food Stylist and Photographer, of Redding, CA.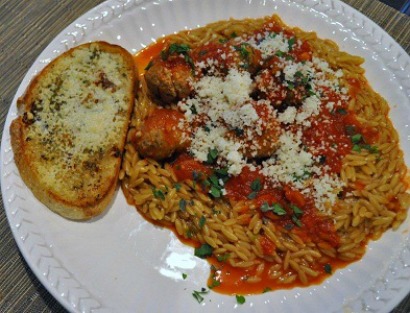 Veal Meatballs with Orzo Recipe:
Keyword:
Veal Meatballs with Orzo Recipe
Servings
:
4
generous servings
Ingredients
Tomato Sauce:
1/2

tablespoon

olive oil

1

cup

onion,

chopped

2

cloves

garlic,

minced

Pinch of

crushed red pepper flakes

(or more to taste)

1/2

cup

green bell pepper,

chopped (red or yellow bell pepper may be substituted)

1/2

cup

celery,

chopped

2

cups canned

Italian plum tomatoes,

crushed

1/4

cup

tomato paste

1

tablespoon

red wine vinegar

Salt

and freshly-ground black pepper to taste
Orzo:
1 1/2

cups

chicken stock

or broth**

1

cup

orzo

(rice shaped pasta), cooked
Instructions
Veal Meatballs with Orzo Instructions:
In a medium-size bowl, combine ground veal, egg, basil leaves, fennel seeds, instant minced onion, salt, and pepper. Shape into equal size veal meatballs (whichever size you prefer). I make my meatballs about the size of a ping-pong ball. If you make them larger, it will take longer for them to cook.

Place prepared veal meatballs on a broiler rack in a single layer. Broil 5 minute. Using tongs, carefully turn the meatballs over and broil another 5 minutes or until done. Watch carefully, as they cook fast. Remove from oven and set aside.

Prepare Tomato Sauce. Add the meatballs to the simmering tomato sauce and simmer 5 minutes to heat through.

While Tomato Sauce simmers, prepare the Orzo.

To serve, divide cooked orzo on individual serving plates. Ladle the tomato sauce and meatball over the top. Garnish with fresh parsley and Parmesan Reggiano cheese.

NOTE: You will have enough Tomato Sauce and Meatballs left over for serving with another pasta dish or to freeze for later use. Tomato Sauces freeze well for about one (1) month.

Makes 4 generous servings.
Tomato Sauce Instructions:
In a large saucepan over medium-high heat, heat olive oil. Add onion, garlic, and red pepper flakes; saute approximately 4 minutes, stirring frequently, until onion is soft. Add bell pepper and celery; saute 4 minutes, stirring frequently until pepper has softened slightly.

Reduce heat to medium-low; stir in tomatoes, tomato paste, and wine vinegar. Season with salt and pepper to taste. Cook, stirring occasionally, for approximately 10 minutes or until sauce has reduced and thickened slightly. I prefer to cook my sauce a little longer than this on low heat so that the flavors can meld. If you are in a hurry, this works.
Orzo Instructions:
Heat chicken broth in a medium-size saucepan until rapidly boiling. Add orzo and cook approximately 8 minutes until al dente (firm to bit, but tender). Remove from heat and drain in a colander.

Place drained orzo into a warm bowl, fluff with a fork, cover, and keep warm until ready to serve.
Recipe Notes
* Veal is the meat of young cows aged 6 to 7 months.  If you can not find ground veal, substitute lean ground turkey.
** Learn how easy it is to prepare your own homemade chicken broth/stock.
sponsored content
Comments and Reviews