Wild Rice and Chicken Vegetable Soup was created to use up the remainder or leftover meat from my Tuscan Lemon Chicken recipe.  Checking through the pantry and the freezer, I pulled out a package of Wild Rice Blend, a bag of frozen fava beans, and some frozen butternut squash cubes.  I also found an unopened spice called Peri Peri Seasoning.  The ingredients sounded good to me, so this soup was created.  Be sure to add any resulting juices from the roasting pan you used to roast your chicken in.
This delicious chicken soup is not only healthy and hearty, but surprisingly delicious and just perfect for our rainy nights.  This hearty chicken soup filled with vegetables and wild rice is guaranteed to hit the spot.
When I am in a hurry, I purchase an already roasted chicken from Costco and use it in the recipe.  Saves a lot of time and hassle.  You could also easily cook this soup in your slow cooker.
Wild Rice and Chicken Vegetable Soup is an outstanding and easy-to-make recipe that was shared with my by Karen Calanchini, Food Stylist and Photographer, of Redding, CA.  Photo by Karen Calanchini.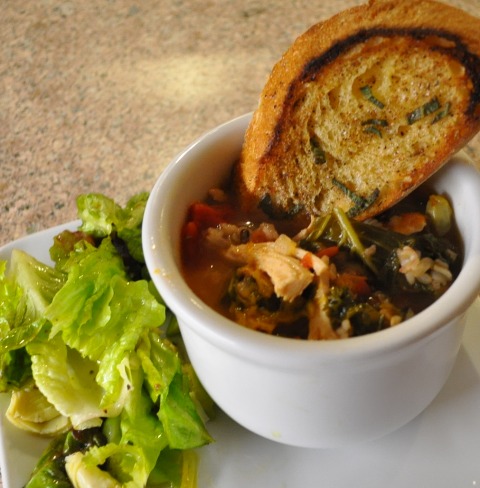 Wild Rice and Chicken Vegetable Soup Recipe:
Keyword:
Wild Rice and Chicken Vegetable Soup Recipe
Ingredients
1/2

Spanish onion,

small chop

1

tablespoon

olive oil

2

cloves

garlic,

diced

3/4

tablespoon

Peri Peri Spice Mix

or use another spice blend of your liking, and add red pepper flakes*

1

bunch curly

kalte,

rinsed (tough stem removed and discarded, then give leaves a rough chop)

1

(14-ounce) package

Fava beans,

frozen

1 1/2

cups

butternut squash,

peeled and cubed (cut into bite-size pieces)

32

ounces (1 quart)

chicken stock,

plus more to cover the ingredients, if necessary**

1

(14.5-ounce) can

diced tomatoes with juice

2

chunks of

parmesan cheese

rinds***

1

tablespoon of

Caldo de Pollo

(granulated chicken bouillon)

Coarse salt

or sea salt and freshly-ground black pepper to taste

1

cup

Wild Rice

Blend, cooked according to directions****

2 1/2

cups white

chicken meat,

roasted and shredded*****

Tomato paste,

optional for thickening and adding more color
Instructions
Place olive oil into a Dutch oven or a 6-quart soup pot and heat on medium-high heat. Add chopped onion and sautuntil onion softens, about 2 minutes. Add garlic and Peri Peri seasoning and sautuntil it become fragrant, about 1 minute.

Add kale and sautof few minutes. Then add the Fava beans, butternut squash cubes, chicken stock, can of tomatoes, parmesan cheese rinds, and chicken boullion. Add sea salt and black pepper to taste. Stir, place lid on pan, bring just to a boil, and then reduce heat to simmer. Cook until fava beans and squash are almost done. Check after about 20 minutes.

Add cooked and shredded chicken; stir and taste for seasonings, and adjust if needed. Add some tomato paste if you want a bit thicker soup. Heat on low, a bit longer to warm the chicken, about 20 minutes, remove cheese rinds and serve.
Recipe Notes
* Peri Peri Spice Mix is a mix of Cayenne pepper, garlic, ginger, fenugreek, cardamom, cumin, black pepper, allspice, turmeric, clpoves, Ceylon cinnamon, and coriander.
** Learn how easy it is to make your own Chicken Stock - Basic Chicken Stock.
*** When you purchase Parmigiano-Reggiano cheese, cut a chunk you need and save the rinds. The rinds can be used to add flavor to soups, stews, and pasta sauces.  I store the rinds in a freezer bag and just freeze.
**** Wild Rice Blend is a mix of wild rice, long grain brown rice, sweet brown rice, and whole grain black japonica rice. It is very nutty tasting and holds up well.
***** I used leftover meat from my Tuscan Lemon Chicken recipe.
Comments and Reviews