In 1784, Benjamin Franklin wrote a letter to his friend David LeRoy concerning improvements for traveling by ship.  In the letter he provided a list of recommended food items that passengers should carry with them, including almonds, chocolate, eggs, sugar, raisins, rum, and oat bread.  I have taken the liberty of turning Franklin's list of rations into succulent whole grain energy bar that are perfect for a meal replacement.
The Benjamin Franklin Meal-Replacement Energy Bar was designed to provide all the whole grain and daily nutrition the body needs.  You will lose weight if you eat four to six of these per day instead of meals and snacks.  These bars are great if you're on the go and need to have a meal on hand without thinking about it.
This recipe and comments were developed and shared by Kelly Wright.
Benjamin Franklin Meal Replacement Energy Bar:
Keyword:
Benjamin Franklin Meal Replacement Energy Bars
Ingredients
1

cup

whole milk

2

eggs

1/4

cup

honey

2

tablespoons

applesauce,

unsweetened

1

tablespoon

dark rum

(or substitute 1 teaspoon pure vanilla extract)

3/4

cup

brown sugar

1/2

cups whole wheat

flour

1

teaspoon

cinnamon,

ground

1

teaspoon

baking soda

2 1/2

cups

rolled oats

(either old-fashion, quick, or instant oat may be used)

1/2

cup semi-sweet

chocolate chips

1/2

cup

cranberries,

dried

1/4

cup

almonds

or walnuts, chopped

1/4

cup

raisins
Instructions
Preheat oven to 350 degrees F. Grease or butter a 9- x 13-inch baking pan.

In a large bowl, combine milk, eggs, honey, applesauce, rum or vanilla, and brown sugar. Stir until blended.

In a separate bowl, combine flour, cinnamon, and baking soda; stir until mixed. Add the flour mixture to the milk mixture and stir until blended.

Add the oats, chocolate chips, cranberries, almonds or walnuts, and raisins; stir until blended. Spoon mixture into prepared baking pan and smooth out evenly in pan.

Bake approximately 28 to 30 minutes. Remove from oven and let cool completely before cutting. When cool, cut into twelve (12) bars.

Two bars make a pint-sized meal replacement. Each bar has 240 calories, 40 grams of carbohydrates, and a full 15 grams of protein.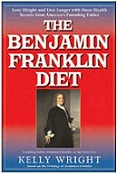 The Benjamin Franklin Diet: Lose Weight and Live Longer with These Health Secrets from America's Founding Father Based on the Writings of Benjamin Franklin.
In The Benjamin Franklin Diet, author Kelly Wright details Franklin's lifetime and diet principles. Recipes for his favorite foods are followed by sample meal plans, and the Appendix contains seventy-five recipes from Thomas Tryon's 1691 book, reputed to be the first vegetarian cookbook ever written.
Kelly Wright is the author of 14 published books covering a wide variety of topics. She has appeared as a guest on television shows and has written for magazines and newspapers.
Comments and Reviews