I am off to the grocery store to purchased pork chops to make my family's favorite Parmesan Crusted Pork Chops.
A couple of days ago, our local grocery store chain had the mega pork sale that I eagerly await a couple of times a year.  I am salivating now, as I think about it, because I can cram my freezer with one-inch thick chops for next to nothing.  When I read the flyer ad on Wednesday, I was nearly giddy with excitement (clearly I need to get out more).  I planned my schedule for the next day, making certain I factored in some quality time in the meat section.
As I made my way through the aisles, I began to feel a mounting excitement – the thought of pork chops and Parmesan Crusted Pork Chops just waiting for my moment of unbridled kitchen creativity was almost more than I could stand!  I am not kidding – my husband thinks I am nuts!  I can wax philosophical about my shopping trip, but all you really need to know is that I wiped out every package they had.  I am pretty sure I didn't endear myself to the other customers who were anxiously awaiting their shopping trips . . . but . . . oh well! I bought enough chops to last us for months.
Recipe, comments, and photos by April Jones.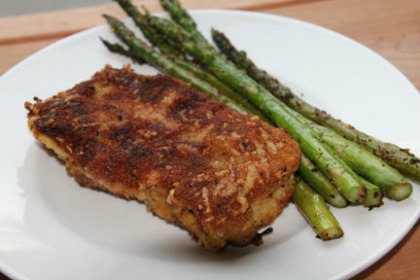 Parmesan Crusted Pork Chops Recipe:
Keyword:
Parmesan Crusted Pork Chops Recipe
Ingredients
4

(1-inch thick)

pork chops

1

tablespoon

coriander,

ground

Salt

and black pepper to taste

2

cups

bread crumbs

or Panko bread*

1

cup

Parmesan cheese,

shredded

1

cup all-purpose

flour

(for dredging)

2

eggs

1/4

cup

water

Canola oil

for frying
Instructions
Preheat oven to 400 degrees F. Adjust oven rack to center position.

Rinse the pork chops, dry with a paper towel, and rub the coriander, salt, and pepper on each side. Place them into a resealable plastic bag and refrigerate for approximately 3 hours.

In a shallow pie plate, combine the Panko bread crumbs with the Parmesan cheese; set aside.

In another shallow pie plate, combine flour, salt, and pepper; set aside.

In an additional shallow pie plate, lightly beat the eggs with 1/4 cup water; set aside.

Dredge both sides of each pork chop in the flour mixture, dip the pork chops in the egg wash, and then dredge them in the bread crumb mixture, pressing the crumbs onto both sides of the pork chops. Repeat this process for all the chops. Place in the refrigerator and let them rest approximately 15 minutes before frying (this will help make the crust adhere to the pork chops).




In a large frying pan or cast-iron skillet over medium-high heat, add approximately 1/2 inch of canola oil (not too much - you're not deep frying), and heat to approximately 350 degrees F. NOTE: Here is a trick - rather than dragging out the thermometer to check the oil temperature, take a wooden spoon and stick the tip of the handle in the middle of the skillet. If the oil begins to bubble around the spoon handle tip, your oil is ready to go. Check the temperature on the outer edges also.

When the oil is hot, gently place each prepared pork chop in the skillet and fry for approximately 7 minutes or until a golden crust forms. Gently turn over the pork chops (with the Parmesan cheese in the crust mixture, it may make the chop stick to the bottom of the pan), and fry the other side for approximately 7 minutes. Remove from the skillet and place the browned pork chops on a baking sheet that has a rack on it.


Place the pork chops in the oven and bake for 10 minutes or until the internal temperature reaches a temperature of 155 degrees F. on a meat thermometer. Remove from oven and let them rest for approximately 5 minutes to allow the juices to redistribute into the chops. Note: If your chops are less than 1-inch thick, decrease the frying time by approximately 1 minute per 1/4-inch of meat.

Serve with some sauteed asparagus and some rice.

Since you went to all the trouble to make this fabulous meal, everyone else has to do the dishes. House rules!

I get many readers asking what cooking/meat thermometer that I prefer and use in my cooking and baking. I, personally, use the Thermapen Thermometer. Originally designed for professional use, the Super-Fast Thermapen Thermometer is used by chefs all over the world.  I only endorse a few products, on my web site, that I like and use regularly.
You can learn more or buy yours at: Super-Fast Thermapen Thermometer.
Sponsored Content
Check out more interesting articles and recipes from April Jones:
Articles and recipes contributed by April Jones as a resource for helping you find the best kitchen blenders for your kitchen.  You will also find a growing resource for a variety of blender recipes from breakfasts, dinners, desserts to smoothies.  April loves to share with others about the benefits of healthy eating while making it fun and lasting.  Healthy living begins in the kitchen.
Chicken Salad with Champagne Mayonnaise
I usually make chicken salad out of one of the breast pieces – it makes just enough and I love to 'much' on it while I'm writing.  So, just to prove to you that I'm not out of my mind, I'm sharing my favorite Chicken Salad recipe.  You'll only need one appliance – your blender -and your skillet!
Cranberry-Orange-Banana-Spinach – Green Smoothie
From this recipe you can add different types of greens, different vegetables, more fruit or less and so on.  Blend up a big batch and take with you to work or keep in a container in the fridge to drink on through out the day.
Juicing For Health – Can green smoothies stop junk food cravings?
Drinking whole raw foods blended in to a nice smooth drink can help overcome addictive cravings for coffee and donuts.  Drinking a green smoothie is taking the first step to replacing a bad eating habit with a better one.
Juicing vs. Blending
Is it better to juice or blend?  There is always a lot of discussion among my friends about whether they should juice fresh produce or blend whole foods.
Zesty Prime Rib Steak with Chimichurri
It takes less than a couple of minutes to blend a fantastic chimichurri or roasted red pepper sauce for a tasty bit of beef (that you seared and roasted in your cast iron skillet!).
Comments and Reviews