This is the absolute Best Lemon Drop Martini! It is a perfect combination of sweet and sour.  My husband and I developed this recipe in the 1990's after making and sampling many different recipes.  I have been surprised to see how many other web sites have copied it without giving my web site any credit.
History:  This is a very sweet and lemony drink that came into vogue during the 1970s in California.  It is now a favorite drink of the West Coast.  The drink was developed at a now defunct bar called Henry Africa's in San Francisco, a well-known singles bar known as a Fern Bar (term for upscale or preppy establishment).  At Henry Africa's bar, they developed and pushed "girly drinks" – drinks that are potent, yet sweet enough to cover the taste of alcohol.  Think of the lemon drop candies!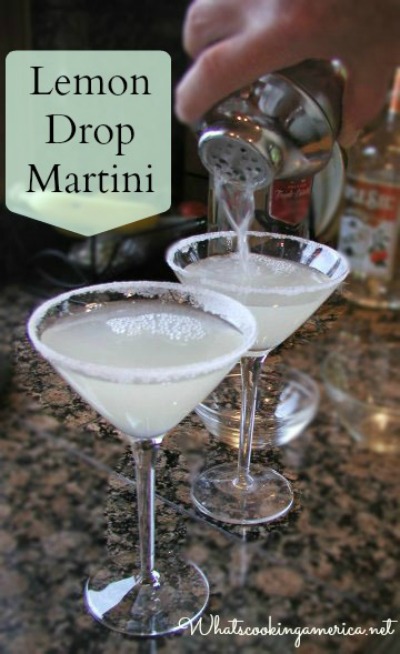 Best Lemon Drop Martini Recipe:
Keyword:
Best Lemon Drop Martini Recipe
Ingredients
1 1/2

ounces

vodka 

(use a good-quality codka)*

1/2

ounce

orange liqueur

(Triple Sec, Gran Marnier, Cointreau, etc.)

1

teaspoon superfine

sugar

or to taste**

3/4

ounces

lemon juice,

fresh-squeezed

Ice cubes

Superfine

sugar

(for dipping)

Peel of

lemon,

twisted
Instructions
Mix the vodka, orange liqueur, sugar, and lemon juice in a cocktail shaker half-filled with ice; shake well (supposedly the cocktail is to be shaken 40 times to make sure the sugar is well blended).

Pour strained liquor into sugar-rimmed martini cocktail glass and garnish with a twisted peel of lemon. To create a sugar-rimmed glass, take a lemon wedge and rub the drinking surface of the glass so it is barely moist. Dip the edge of the glass into the superfine sugar.
Recipe Notes
* I always use a good-quality vodka when I make these for people that appreciate them.  It is also advisable to keep your vodka in the freezer.
** Superfine sugar is instantly dissolving sugar that is typically used in drinks.  If you want to avoid the shaking, make a Basic Simple Syrup Recipe to use in place of the sugar.
Comments and recipes from readers:
2/18/06 – Lisa Schott-Rhodes of Southern Illinois sent me her version of Lemon Drop Martini:
I enjoyed your recipe but tweaked it a bit!  After living in Florida with plenty of lemons, I made a simple sugar – this way you do not have to keep shaking to get the sugar to dissolve for the Martini.  I left out the Triple Sec or any orange flavored liquor.  I used a great tin of orange-flavored sugar. You can put it on the rim or sprinkle on top of the Lemon Drop Martini.  This way each individual can enjoy the amount of sugar they would like.
10 ounces Vodka
4 or more ounces of freshly-squeezed lemon juice
Simple Syrup (see recipe below)
Ice cubes
Tangerine Rimmer Sugar
Using a cocktail shaker, mix together the vodka, lemon juice, simple syrup, and ice cubes.  Shake vertically and strain into martini glass.
If you would like, coat the rim of the glasses with the Rimmer Sugar and sprinkle some into the martini glass.  You can always adjust the vodka, the rimmer sugar, and simple sugar to taste.  If you prefer it with more lemon juice go for it. I like mine a bit more sour.
Simple Syrup:
1/2 cup granulated sugar
1/2 cup water
In a medium saucepan, combine sugar and water. Boil for 5 minutes, without stirring. Let cool to room temperature before using. This syrup mixture will keep for several
Makes 4 to 5 servings.
Comments and Reviews