French Onion Marmalade – Confit d' Oignon
French Onion Marmalade is a wonderful condiment that can be used for a variety of meats, poultry, fish, or simply as a spread for sandwiches, breads, and appetizers.  Onion marmelade is delicious!  I also love serving it with cheese.  The onion marmalade or "confiture d'oignons" is usually served in France with Foie Gras for Christmas or New Year.
The French word "confit" usually refers to food that is slowly cooked in some kind of fat.  Originally it was a method used for preserving meat, typically duck, goose or pork.  This French Onion Marmalade is a savory preparation of sliced onions, cooked to a soft, almost melting consistency.  
In France, confit d' oignion is not cheap!  This is because there is no rushing the cooking process.  It is usually recommend that once made waiting two weeks to a month until using.  Yes, you can eat it fresh from the pot – it will blossom into something even better.  Patience does pay off!
This wonderful French dinner menu was generously shared with my by Linda Sandberg of Newberg, OR.  Linda belongs to a Gourmet Dinner Group that delights in making wonderful foods that they share together.  Check out French Bistro Dining which includes this recipe.
Check out Linda's Appetizer Recipes for more great cooking ideas.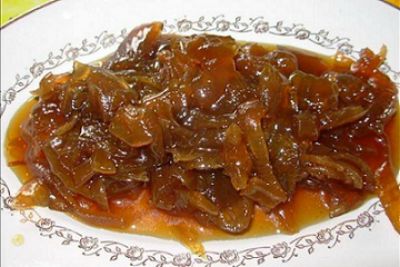 French Onion Marmalade - Confit D'Oignon Recipe:
Keyword:
Confit D'Oignon Recipe, French Onion Marmalade Recipe
Instructions
Cut off the stem and root ends of the onions, then halve then lengthwise, and peel away the dried skin. Cut the onions into 1/4-inch slices. It is important to have all the onion slices roughly the same size so they cook evenly. At this point, your pot will be full of sliced onions, but the onions will wilt and shrink dramatically during the cooking process.

In a large heavy frying pan over medium heat, heat up the olive oil. Add the sliced onions, tossing around to make sure they all have a coating of olive oil. Reduce heat to mediums and cook, covered, until the onions start to color. Add the salt, pepper, bay leaves, and rosemary. Cook, stirring occasionally, an additional 20 to 30 minutes or until the herbs have wilted.

Add the brown sugar, wine, wine vinegar, and Balsamic Vinegar. Bring to a boil, stirring constantly; then lower the heat to low and let simmer for approximately 20 to 30 minutes until the liquid is dissolved and the onions are soft and sticky. NOTE: Stir constantly during this process so that the onions do not stick to the bottom of the pan and become burnt.


Remove the rosemary and bay leaves; discard.

The Onion Marmalade is now ready to serve and eat, but it only gets better if left to mellow at least 2 weeks, even better after 1 to 2 months. The onion marmalade will keep for up to 6 months if immediately poured into sterilized glass preserving jars and then sealed or for up to three (3) days in an airtight container in the refrigerator.

Sterilize the jars, lids, and rings. Never plunge room temperature jars into rapid boiling water or they may crack. Place the jars in a large pot. Add 1-inch of water to the bottom, cover securely, and bring to a boil for 10 minutes. Keep the jars, lids, and rings in the hot water until they are ready to be used.

One jar at a time, ladle the hot prepared jam into the hot, sterilized jars. Fill to within 1/8 inch of top of jar. Wipe rim of jar or glass with a clean damp cloth. Immediately place a hot lid and ring on top of the jar; tightly screw the ring on the jar.
Recipe Notes
* You can use any large onion variety that you desire.  If you use a white onion, use white wine and white wine vinegar.
Source:  Photos are by French Tart of Southwest France.  She operates a French Bed & Breakfast called Auberge de la Fontaine.
Comments and Reviews