Oven Roasted Dungeness Crab is "finger-linkin good!"  This is the absolute best way to enjoy Dungeness Crab.  The buttery sauce that coats the crab meat and the shells of this crab is part of the pleasure of eating crab.  So use your fingers and dispense with the utensils to enjoy this treat.  Serve it with plenty of wonderful and delicious sourdough bread.
Dungeness Crab can only be found in the oceans of Alaska, Washington, Oregon, and California.  When crab season starts on the West Coast (usually between November and December, depending on location), there's a mad dash to cook and eat as many fresh live crabs as possible before it ends. – from Easy Steamed Dungeness Crab.
This Oven Roasted Dungeness Crab recipe and dinner menu were generously shared with my by Linda Sandberg of Newberg, OR.  Linda belongs to a Gourmet Dinner Group that delights in making wonderful foods that they share together.  Check out An Evening for Valentines which includes this recipe.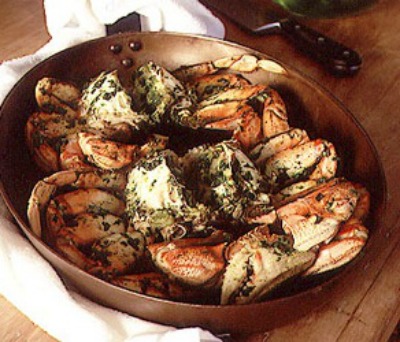 Oven Roasted Dungeness Crab Recipe:
Keyword:
Oven Roasted Dungeness Crab Recipe
Ingredients
1/4

cup

butter

1/4

cup

olive oil

2

tablespoons

garlic,

minced

1

tablespoon

shallot,

minced

1 1/2

teaspoons

red pepper,

dried and crushed

2

large (about 4 1/2-pound)

Dungeness crabs,

cooked, cleaned, and cracked

Salt

and pepper to taste

2

tablespoons fresh

thyme,

chopped, divided

2

tablespoons fresh

parsley,

chopped, divided

1/2

cup blood

orange juice

or regular orange juice

1

teaspoon blood

orange zest

or regular orange zest, finely grated
Instructions
Preheat oven to 500 degrees F.

Break the cooked crab into pieces, leaving shells on, and clean.


In a heavy large over-proof skillet over medium-high heat, melt the butter with the olive oil. Stir in garlic, shallot, and red pepper. Add crab pieces and sprinkle with salt and pepper. Sprinkle 1 tablespoon chopped thyme and 1 tablespoon chopped parsley over the crabs. Stir just to combine and then remove from heat.

Place the skillet in the oven and roast crabs until heated through, stirring once, approximately 12 minutes. Remove from oven.

Using tongs, transfer the heated crabs to a large platter.

Add orange juice and zest to the same skillet; boil until sauce is reduced by about half, approximately 5 minutes. Remove from heat and spoon the sauce over the crabs. Sprinkle with remaining 1 tablespoon thyme and 1 tablespoon parsley and serve.
Sources:  Recipe slightly adapted from Bon Appetit magazine, February 2005 and the Epicurious.com website.  Photo by Christopher Hirsheimer.
Comments and Reviews