This Hearts of Palm Salad is refreshing with a light tangy taste.  If you have never tasted hearts of palm, this is the perfect recipe for you to make.  This is an outstanding and easy-to-make salad that is sure to impress your guests at a dinner party.
What are Hearts of Palm?  Heart of palm is the inner, edible portion of the stem of the cabbage (palmetto) palm tree. This palm grows in tropical climates such as Florida (it's the state tree) and Brazil. Hearts of palm are ivory colored and resemble white asparagus without the tips. They are usually available canned and packed in water. They are rather expensive and have a taste reminiscent of artichoke. Delicious in salads, hearts of palm can also be used in main dishes or fried.
Avocado and Hearts of Palm Salad recipe and dinner menu were generously shared with my by Linda Sandberg of Newberg, OR.  Linda belongs to a Gourmet Dinner Group that delights in sharing wonderful foods.
Check out Taste of California Dinner (Cioppino Dinner) which includes this recipe.
More delicious Salad and Salad Dressing Recipes and Avocado Recipes.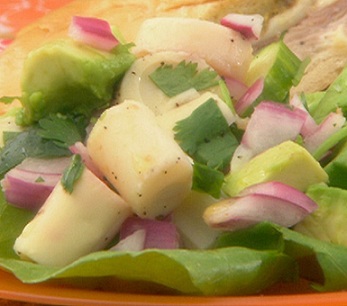 Avocado and Hearts of Palm Salad Recipe:
Keyword:
Avocado and Hearts of Palm Salad Recipe
Ingredients
Avocado and Hearts of Palm Salad:
Instructions
Avocado and Hearts of Palm Salad Instructions:
Prepare Cilantro Vinaigrette. Set aside until ready to use.

Cut hearts of palm and avocados into 3/4-inch cubes and place in a large bowl. Using a rubber spatula, gently toss with the sliced onions and the Cilantro Vinaigrette until combined.

Line eight (8) salad plates with the Boston lettuce leaves and mound the avocado mixture on top.
Cilantro Vinaigrette Instructions:
In a blender, puree the garlic, cilantro, lemon juice, sugar, and salt. With motor running, add the olive oil in a slow stream, blending until dressing is emulsified.
Recipe Notes
* Hearts of Palm are avilable fresh in Florida, where you can occasionally find them at local farmers markets.  For people who do not live in Florida, you can buy canned Hearts of Palm at your local grocery store.
Sources:  Recipe slightly adapted from Gourmet magazine, January 1995 and the Epicurious.com website.  Photo by FoodNetwork.com.
Comments and Reviews