Oyster Soup with Frizzled Leeks is somewhat similar to a clam chowder as it also contains potatoes, but it is still different.  Oyster Soup with Frizzled Leek is so very tasty and excellent to serve at your next dinner party.
What are Frizzled Leeks? They are fried shreds of leek that are usually used in restaurants as garnish for soups and salads.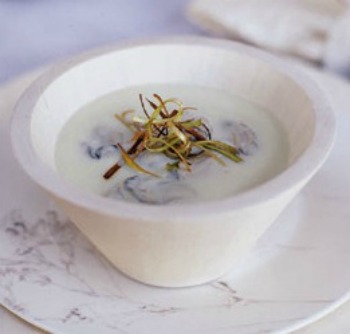 This delicious oyster soup recipe and dinner menu were generously shared with my by Linda Sandberg of Newberg, OR.  Linda belongs to a Gourmet Dinner Group that delights in making wonderful foods that they share together.  Please check out
Prime Rib (Standing Rib Roast) Christmas Dinner
which includes this recipe.
Oyster Soup With Frizzled Leeks Recipe:
Keyword:
Oyster Soup With Frizzled Leeks Recipe
Ingredients
2

large

leeks

(white and pale green parts only), washed and trimmed*

4

cups

vegetable oil

1 1/2

cups (6 dozen) small

oysters,

shucked with their liquor (juice)**

2

large (1 pound total) Russet baking

potatoes

1

teaspoon

salt

3

tablespoons

unsalted butter

3 1/2

cups

water

1

cup

half & half cream

Pinch of

cayenne pepper
Instructions
Frying leeks: Cut leeks crosswise into 2-inch lengths. Then cut lengthwise into enough very thin strips to measure 2 cups. Wash the leek strips in a bowl of very cold water, agitating them; lift out and pat thoroughly dry.

In a deep 4-quart heavy saucepan, heat the vegetable oil until it registers 350 degrees F. on your cooking thermometer. Fry leeks in 8 batches, stirring, until golden, approximately 10 seconds per batch. As the leeks are fried, remove with a slotted spoon to paper towels to drain. Let cool completely (leeks will crisp as they cool) before using; Set aside. NOTE: Fried leeks can be made 3 days ahead and kept in a sealed plastic bag at room temperature.

Drain the oyster liquor (juice) off the oyster into a bowl. NOTE: I like to strain the oyster liquor with a fine strainer to remove any sand. Add enough bottled clam juice to bring the total to 1 1/2 cups of juice. Pick over the oysters, discarding any bits of shell and then rinse them well; set aside. Peel potatoes and cut into 1/2-inch cubes; set aside.

In a large 4-quart heavy saucepan over low heat, heat the butter. Add the leeks, potatoes, and 1 teaspoon salt; cook, covered and stirring occasionally, until the leeks are golden and the potatoes are just beginning to soften, approximately 15 minutes. Raise heat to medium, add the water and let simmer, covered until potatoes are very tender, approximately 10 minutes. Remove from heat and let cool slightly before pureeing.

In a blender or food processor, puree the soup in batches until very smooth (use caution when blending hot liquids). Transfer each batch to a large bowl. NOTE: The pureed soup base (without the oysters, oyster liquor, cream, and cayenne pepper can be made 2 days ahead. Let soup base cool, uncovered, then refrigerated, covered, until ready to use.

Return the pureed soup to the saucepan. Add oyster liquor and cream. Over medium-low heat, let simmer approximately 1 to 2 minutes, stirring occasionally (do not boil). Add the oysters and cayenne pepper and cook, stirring occasionally, just until the oysters become plump and the edges curl, approximately 3 minutes. Season with salt to taste. Be careful to avoid overcooking oysters, which causes them to become tough.

To Serve: Ladle the Oyster soup into individual soup bowls and then top with some of the fried leeks.

Makes 8 servings (about 11 cups).

Recipe Notes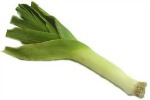 * Cut and clean leeks:  You need to thoroughly clean a leek because dirt can become trapped in its many layers.  Trim the root portion right above the base (cutting too far up the stalk will remove the part that holds the layers together.  Slice off the fibrous green tops, leaving only the white-to-light green stalk.  Discard greens.  Cut the leek in half lengthwise, then cut according to your recipe (slice, chop or dice).  For this recipe, cut the leeks into 2-inch lengths.
** Only use small oysters, 1 to 1/2 inches in diameter in this recipe.  Larger ones will make the flavor too briny.  How To Shuck Oysters.

I get many readers asking what cooking/meat thermometer that I prefer and use in my cooking and baking. I, personally, use the Thermapen Thermometer. Originally designed for professional use, the Super-Fast Thermapen Thermometer is used by chefs all over the world.  I only endorse a few products, on my web site, that I like and use regularly.
You can learn more or buy yours at: Super-Fast Thermapen Thermometer.
Sponsored Content
Sources:  Recipe slightly adapted from Gourmet magazine, December 2003 and the Epicurious.com website.  Photo by Quentin Bacon.
Comments and Reviews