Day 1 – May 8th – How to Navigate Pizza and Cars in Rome
I decided Rome is like New York City, at least what little I have seen of it so far.  Cars everywhere, and except for lines of parked Vespas that fill the narrow side streets, it has the same smell and layer of clutter that is probably only apparent to an out of towner.  Today's goal –  is to survive while crossing the road.
We arrived tired and hungry at our hotel at 11 am after the endless flight, unfortunately our hotel was not ready that early and we were left to wander the streets until 1pm. We were too dazed to think straight and ended up eating a pastry and washing it down with water until we could get settled.
At 1 p.m., we were able to enter our room and slip between the blankets for a much needed nap.
After napping, our goal number two was food!
We walked down the street from our hotel and slipped into the first place we saw BarbaRossa Ristorante Pizzeria.  We opened the menu and stared at the selection realizing immediately that we need to do some research on how to eat in Italy.  It is not as simple as ordering a pizza.
There is a series of courses that one navigates through, and all written in Italian!  Not sure what to order after the waiter visiting our table twice, we pointed to the Napoli pizza and ordered two insalata mista (two mixed salads).
Our salads arrived first, and looked fresh, the tomatoes were vine ripe and not hot house like back at home.  But there was no salad dressing.  My husband, a dyed-in-the-wool ranch man, and I looked at each other as the waiter set a stanchion on the table with olive oil, balsamic vinegar and salt and pepper.  "I think this is the dressing" I said as I started to sprinkle the balsamic vinegar over the salad, and then splashed a bit of olive oil next.  It took me back to the days when Mom use to make the Good Seasons oil and vinegar salad dressing, except we were minus the Good Seasons flavor packet.  It was light and refreshing and tasted great.
Next, our pizza arrived hot from the brick oven.  It was not cut into triangles so we could pick it up with our hands.  It was whole and covered with melted mozzarella and circles of oily anchovies.  We took pause here, did we order anchovies?  We must have, we both laughed as the smell of hot salted fish filled our noses.  A that point we decided that goal number three was to learn how to eat while in Italy.  We enjoyed our salads, and ripped the crust carefully trying not to get too many anchovies.  It was too late, once they laid the little fish down on the pizza and cooked it every inch tasted like anchovies.
We finished our meal, leaving a round of pizza in the middle and a pile of anchovies.  Our waiter dismayed asked, "You no like the anchovies?"  we answered, "No, we thought we might be decided after trying it was not our thing."  He smiled and shrugged as he cleared it away.
Back at the hotel, we did some research and found an Italian dinner consists of The Antipasto, or appetizer, the first course called the primo piatto, which is pasta or soup and a second course second piatto which is your meat or fish plate.  Finally the best part, dessert.
I also discovered that in Italy the Pizza is eaten with a knife and fork, not with your hands as we do in the US.  Mea culpa #1.  Also, each person should order a pizza, not share one.  Mea culpa #2.
Tomorrow we are going to experiment with antipasto and a primo piattos next time we go out.  I think we will save the Full meal deal for our 25th wedding anniversary only a few short days away.
---
Day 2 – May 9th – Rome – I like Coffee!

Day two in Rome started out beautiful; when we arrived yesterday it was raining.  This morning the concierge assured us that there will be no more rain, for it is the 9th of May, and there is no rain after the 8th.  I went with it, he would know for sure, and now I have a dandy sunburn to prove him right.
Morning started with breakfast at the hotel, a pretty decent spread of dried fruit, granolas, pastries, and a cold egg dish.  I watched the kitchen hostess make a coffee drink, it was a drinking glass of hot milk splashed with a touch of coffee.  A Macchiato!  I ordered one, it was fabulous, rich hot foamy milk stained with coffee.  It looked nothing like the drinks from Starbucks, and I loved it!  From now on it will be Macchiato at breakfast for me!
I have discovered we have been duped by Starbucks!  There is no Venti, Grande or tall coffees here.  Only petite cups of dark foamy coffee or caffee as it is referred to in Italy.  I also found it interesting that coffee shops or Caffee bars are nothing like we have been taught to believe they are.  A caffee bar is a small shop, with a bar.  
The customers stand at the bar, stacked close together drinking from the small cups and talk loudly.  People wander in and out for a quick caffee, there are no to-go cups, no fancy syrups, and no long order strings of skinny, or tepid or soy custom orders.  You just say caffee and depending on the time of day, they know what to bring you.  In the morning, it is cappuccino,  and espresso after noon.  A Latte is only a glass of hot milk.
We bought the Roma pass today which allows us three free days on the Metro, and two admissions to any sight or museum.  We were up early, about 6am, and for those who know me well that is early.  But I can justify my early rise by the time change, since it was only 9pm at home.  My job for the day was to remind Matt that we were walking through Rome in the middle of the night.  I have this OCD habit when I travel to constantly track the time at home.
We wandered the Colosseo (coliseum) for a few hours in the early morning, and then hit the streets to get lost.  We found many sights and would have to stop and refer to the map and the IPod Roma guides I downloaded to figure out just what we were looking at.  To our surprise, every corner had some ancient ruin that we had heard of.  The trick was figuring out where we ended up.  We visited many small Basilicas (churches) with fantastic paintings, colorful mosaics and beautiful ceilings.
We stumbled across a Domingo market and wandered in to look around.  We found rounds of cheeses, salami hanging and whole smoked pigs on the cutting boards.  Fresh vegetables and artisan breads.  One vendor was serving homemade cannelloni for 5 euro and it was served with your choice of wine or water.   Wine of course!  Matt lunched on aged salami and bread, and I enjoyed the cannelloni and my wine.  We sat in a festive courtyard and watched children play soccer and enjoyed our find.
We hit the streets and walked on, and finally decided to purchase a bus tour for 15 Euros, which hit 12 different sites, and took us back near our hotel.  We will hop back on tomorrow morning, and head for St. Peter's Basilica and the Sistine Chapel, and hopefully get lost in Campo de' Fiori to end our day.
Dinner tonight was at a ristorante suggested by our hotel, La Pentolaccia.  Another small family owned place that served up dinner on long family style tables.  We opted for the Antipasti and I had a Primo piatto of fresh homemade ravioli, stuffed with spinach and ricotta, Matt had a second piatto of steak with green pepper sauce.  We shared a prosciutto and mozzarella antipasto.  We enjoyed tiramisu and gelato misto for our deserts.  We ended our meal with my first sampling of Limoncello.  The waiter misunderstood and brought us two.  We explained that Matt does not drink and that we only wanted one.  He thought this was a joke and laughed and walked on.  He checked back about 20 minutes later and asked what was wrong with the Limoncello.  Matt said he did not drink and ordered a Coke.  Again our waiter laughed, gave us a slap on the back and walked away.
I enjoyed my Limoncello, it was thick and cold and sweet, almost syrupy but ever so good. It had a strong taste of lemon, and warm slip of alcohol that was easy to sip down.  I did eye Matt's but decided against it since it was so sweet, two would be greedy!  Matt never did get his Coke!
---
Day 3 – May 10th – Roma – A Day at the Pope's Place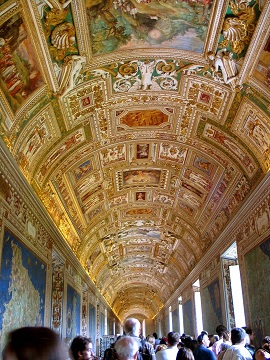 It was another macchiato latte morning and today was gray and rain fell off and on regardless of the assurance from our concierge.  It is still quite warm and the rain did not get in our way of heading to the Vatican.
We hopped on the tour bus and headed to the other side of town and strolled through the Vatican museum looking at statues of mostly naked men.  A few bare breasted women, but for the most part what statues of women there were, were mostly clothed.  The Roman's sure liked their men.
We wandered forever following the signs to the Sistine Chapel, with the hope around every corner of arriving.  Instead each corner we rounded we found other wonders, many tapestries, ceiling paintings, and ornate marble fixtures and flooring.
Once we got to the Sistine Chapel, there was no talking and no picture taking, as the Vatican security would yell out QUIET (in Italian) every few minutes and the room would turn to a hush for what seemed seconds before the murmur rose, and the security would yell out again.  I downloaded the Rick Steve's audio tour of the Sistine Chapel, and Matt and I stood near center and craned our necks back for a half hour following the panels and paintings along the ceiling and walls all done by Michelangelo.  It was amazing to find ourselves in the same place that he spent 15 years painting.  It was one of the things that I wanted to see most.  There was so much in his work I had no idea what went into the paintings and what it meant.  It was a complete history of the world according to the Bible.  It was worth the walk, and the neck pain.  I wish I could have lain down on the floor to take it all in.
We then slipped into a line with a tour group that could exit through a special door that took us right down into St. Peter's Basilica, as the Rick Steve's audio suggested.  It worked like a charm!  We skipped the security line outside and walked right in.
This was another place that Matt and I wanted to visit, it was very ornate, Michelangelo being one of the architects to help complete the design, and Bernini decorating it with wonderful castings including the great alter where it is believed that St. Peter was buried.
We cut our day short and hopped the bus back toward our side of town, Matt checked out McDonalds and then we went shopping at a super Mercado, and I bought cheese and bread to go with the Salami we purchased at the Domingo Market yesterday.
In bed early tonight because tomorrow is our 25th wedding anniversary and we are heading to Naples and on to Sorrento to celebrate for the day.
---
Day 4 – May 11th – Roma & Sorrento  – Down by the Station, Early In the Morning and Late in the Evening
We went to bed early Monday evening; our train reservation was at 9 am the next day.  We wanted to eat breakfast and get to the station early and try to figure it all out.  As we fell asleep, off in the distance, we heard a man singing opera in the streets. It was very soothing to drift off to the sound of his voice as it echoed through the narrow streets.
We were up early, and down for breakfast and another latte macchiato for me!  We hit the road for the train station and soon found ourselves in the bustle of the morning commuters.  We had to try to find the ticket office to get our rail pass validated before we could embark on our journey south, deeper into Italy.
It was stressful, as we were sent in circles, probably due to the language barrier.  But at 20 till nine we finally found the correct line and validated our pass.  We rode the fast train to Napoli (Naples) and shared our seat area with a family from Southern India.  They were traveling through Europe by train for three weeks with their two children.  We got on very well and learned a lot about all the different places they have been.  Before we knew it we had arrived in Napoli, it only took a little over an hour!
The Napoli train station was surprisingly clean and not quite as scary as the guidebooks had made it sound.  Either way we held tight to our possessions and walked with purpose to the basement where we bought our tickets to Sorrento on the local commuter train called the Circumvesuviana, it circles Mount Vesuvius.  The trip was just over an hour stopping at 34 stops along the way, including Pompeii.
Traveling along the commuter tracks of Italy is not very scenic; there are a lot of sketchy-looking communities and a lot of graffiti.  Some paintings were more thoughtful and artistic than others.  But this is a topic for another story.  We had heard and read stories of pickpockets being rampant on the Circumvessuviana but did not seem to have a problem.  Maybe because we were hyper aware and always holding tight to our belongings.
As we neared Sorrento we began to see more garden areas along the tracks and lemon and orange groves.  This gave us hope that the destination would be much more appealing than the journey.
Sorrento was beautiful, from the time we stepped off train, people were friendly, happy and the streets were lined with orange trees that were bursting with oranges, it was VERY warm and humid similar to the environment in Mexico or Hawaii.  The roads were STEEP, narrow and winding so we opted to hop aboard a city tram tour and see Sorrento and the Amafali coast from all angles before wandering the town.
Our trip took us to a Villa Angelina, a lemon grove and Limoncello merchant.  Lemons seem to be one of the important staples in the food of Sorrento.  The most famous product is Limoncello.  Every store or restaurant has it's unique or favorite brand of Limoncello for sale or to taste.  We sampled the Villa Angelina's Limoncello, which was very sweet and of course lemony.
The tram took us to several view points where we could see the Amafali coastline and Sorrento coastline, which boast a beautiful beach.  It did not appear more than 100 yards, and the sand was very dark.  During the peak season the harbor of Sorrento is filled with expensive yachts and equally wealthy visitors.  The main street was lined with expensive designer shops and carefully guarded entrances to luxury hotels.
Matt and I wanted to celebrate our 25th wedding anniversary in style so we wanted down the long walkway to La Serra Excelsior Vittoria, one of the "Leading Small Hotels of The World" to find lunch overlooking the bay of Sorrento from a cliff top view.  The hotel was beautiful, we walked onto the balcony and the tables were filled with people but no food.  We had missed lunch, they stopped serving lunch at 2 pm.
We wondered back out toward the street where we met up with a security guard blocking the entrance to other wanderers like ourselves.  I guess we somehow got by the barricade and snuck an exclusive look at what was only meant for the rich and famous.
We ended up eating lunch at 'O Canonico Aurora, along the main street of Sorrento.  The waiter insisted I have red wine, rather than white and approved of my lunch choices, Caprese salad and clam sauté, and Matt ordered steak.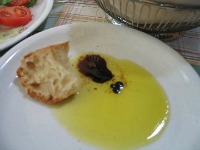 After lunch the waiter and I discussed Limoncello, of which he informed me theirs was the best, stronger than that of Villa Angelina's.  It is here I discovered the secret to Limoncello.  It is not that my neighbor's is bad, it is mine is better.  It is better because it is either stronger, or sweeter
than his.  So what is Limoncello made from?  Everyone I talked to was happy to share their secret family recipe, the ingredients; Lemon rind, sugar and alcohol.  The proportions were only described with a wink, and an explanation of either stronger or sweeter.
Each family has its own proportion of the three ingredients and fermenting time, which should only be known by its flavor.  I also found that because I had purchased Limoncello from Villa Angelina, that I could be convinced to buy another family's bottle and must try theirs, free of charge, to compare.  It is a matter of pride for the maker that I find their Limoncello distinct over the last one I tried.  I recommend, if you find yourself in Sorrento, going from shop to shop or restaurant, if you have the time, and tell them that you really enjoyed Guglielmo's Limoncello at 'O Canonico, and they will insist that you try theirs before making that decision.
After our Limoncello adventure, we returned to the Circumvesuviana and headed back, to Pompeii.  Pompeii was huge.  It was much bigger than I thought and amazingly designed by its inhabitants.  Very sophisticated architecture, decorations and lay outs of the streets, water systems, shopping and homes.  It was easy to get lost along the roughly cobbled streets that were deeply rutted with the wheels of chariots.  It was amazing to find yourself walking in a place so ancient.  I opted not to look at the plaster-casted bodies, but looked instead for the wall paintings, and the layout and rooms in some of the larger homes.  I used my IPod and listened to one of Rick Steve's audio tours, which was very helpful even though we found ourselves lost many times in the huge city.
Back to the Circumvesuviana and to Napoli where we waited for our 9:30m train back to Roma.
It was a long day, but we had a great adventure.
---
Day 5 – May 12th – Catching Some Zzzzzzzzzzzzzzz's
It caught up with us, jet lag, sleep deprivation, walking all day!  Whatever it was it jumped up behind us and knocked us flat this morning.  We slept in.  We did make it to breakfast and then headed back up to the room where we stayed until almost 2 pm today.
I think we have walked for miles in the last few days and everything hurts a little.  We opted to keep it simple today and seek out the Trevi Fountain, and the Pantheon.  OH and we started the Gelato quest.
We started out by hopping the Metro Blue line B by mistake.  Had to get off and ride the return back to the station and march ourselves back up from the underground and cross over to the Red line A.  Here is the trick.  The word line in Italian is Linea, which, when you are tired, looks like Line A.
Ok, redirected and off on the correct Metro line to Piazza Barberini just a few blocks from the Trevi Fountain.  We walked down through the city, and discovered some really great streets, very narrow and curved.  They were enticing; you want to walk down them to see what is around the bend. But beware it is a street, and here comes a car!
I had been researching gelato and found that some shops have brightly colored Gelato that is found near most tourist attractions.  This is usually Gelato that is processed and purchase for mass consumption, filled with preservatives and artificial flavors.
My job was to look for Gelato with subdued almost earthy colors.  These are found in smaller shops off the main streets and away from touristy spots.  These shops usually make their gelato right there in the store with all natural ingredients, nothing artificial including the flavor.  It is fresh and is much lower in butterfat than ice cream.  The only obstacle between me and the Gelato was the language barrier. Fortunately pointing works great!
I have never enjoyed Gelato that I have had back in the states.  The texture is odd, it feels whipped with air and I don't find that satisfying.  Here in Italy, the gelato is dense like ice cream, and taste divine.  I had a pistachio cone, and Matt tried a Carmel.  I now love pistachio gelato!  It was melting fast in the warm air, so I had to eat it equally as fast.  I enjoyed every bite.  Later we stopped at a second shop and tired the Stracciatella flavored gelato.
The Trevi Fountain was a bust. It was so crowded with people I did not feel like I could enjoy it.  I decided rather than being disappointed in the lack of photo ops of the fountain, I would go with the flow and photograph the people around the fountain.  It actually made the trek more fun.
We then went on to seek out the Pantheon.  We had two maps and a general direction.  The problem is the streets can be very short, so not all streets appear on any one map.  We got a little lost and had to back track a ways to find it just before it closed.  I thought we had to pay to get in but the doors were wide open and we strolled in with the crowd.  Now this is an amazing building!   It was built for the Roman gods, by slaves, but the design is perfectly spherical and mathematically precise.  An amazing feat of architecture for its time.
---
Day 6 – May 13th – Campo dei Fiori – I'll Take Door Number two!
It was another slow start today; we are running out of steam.  It is okay we have seen a lot and still have plenty of time to see more.  I am still counting the hours back to home base time.  Right now as I write this at 8 pm, you are all starting to think about lunch.  So I am sort of giving you a glimpse from the future.  That is how I like to think of it.
Today we chose to venture to Campo dei Fiori where a market takes place in and the area is lined with restaurants where people go for lunch and late dinners.  We took the Metro Train to our last known destination and picked up where we left off navigating the confusing maze of streets.
We found a knife sharper at work along the street, he rides his bike from shop to shop, props up his back wheel and the shop owners bring out their knifes, he has the water setup that slowly drips on a sharpening stone that spins as he pedals the bike.
On our way we got distracted by a church right near our hotel that was open. It used to be the baths of Diocletian. It was a huge Roman spa that would serve up to 3000 visitors at once in its 32,000 square foot, hot and cold baths. All that is left of the baths are a few remnants, some smaller tubs and statues. Most of the Roman places were converted to churches when the Christians took over. The main architect for the church that was built over the baths was Michelangelo in 1561.
In 1702, La Meridiana was added to this church, a meridian, pointing due north. It acts as a sundial. As the sun arcs arcs across the southern sky, a ray of light beams into the church through a tiny hole high in the wall. The sunbeam sweeps across the church floor crossing the meridian rod at exactly noon. We just happened to be there at the right time for the event. This was Roma's official city timekeeper until 1846. This was one of the coolest unexpected finds.
On our way to Campo dei Fiori we made our first Gelato stop, flavor of the day, Tiramisu!  It was still not as fabulous as Pistachio.
I am fascinated with the balconies and doorways of Roma, along our journey today; I spent some time photographing them.  I find it interesting that most all the doors are rather large.  They are shut tight in the evening hiding the interior from the outside world.  I like to look at the doors and imagine what lies beyond them.  I am certain that a peaceful place of tranquility is there and I want in.  When day comes, some of the doors are left open, and low and behold there is a treasure trove of hidden things behind them.  Some have parking for the employees of the building, some are foyers to offices, and some do have secret garden courtyards with plants, and fountains.  I think Matt is getting tired of me trying to peek in all the doors.
We reached our destination, and they were just about done packing up the market.  All that was left behind were a few souvenir vendors and a litter of vegetable discards in the courtyard.  It did not make a very appetizing view for our destination lunch.  We made the best of it by choosing a restaurant, called Campo dei Fiori, which was nestled behind a remaining floral stall.
Today I decided to try something new.  I have seen Spaghetti alla Carbonara on many menus and figured I ought to try it.  The dish is made with spaghetti noodles, eggs, bacon and cheese.  It sounds like an odd combination, but when in Roma!  So I ordered, and Matt ordered the Lasagna Bolognese.  The Carbonara was actually quite good, homemade noodles; warm melted cheese and strips of think bacon.  The eggs were not visible; they must have been cooked with the cheese to make a sauce.
We finished our lunch with black and white Gelato! It was definitely homemade, the chocolate flavor was pretty intense, for me, it still didn't beat the Pistachio!
---
Roma Supplement – If I Could Read the Writing on the Wall
After being in Roma for five days I have to say something about the up-keep of the place. Many of the public fountains and water spouts have litter floating in them and the streets are filthy with cigarette butts and there is graffiti just about everywhere. It is not the cleanest place I have ever been, It is a large city that the locals seem to have given up on. Now come on, we are in an ancient city where the Romans of Pompeii flushed their streets with water every day to clean them. But I want to talk about the graffiti.
The people of Roma were great architects and scholars and the majority of what we know about their life today came from the writings on the walls. "Back in the day", some Romans scratched graffiti on the walls of their homes, tombs, and the city walls.  Graffiti got its start in Rome.
After doing some research I discovered that there is a database that was commissioned by a German fellow with more than 180,000 inscriptions catalogued in it. The collection of graffiti messages of the Roman Empire started in 1853. The graffiti is packed with details of the ordinary lives of ancient Romans – from the grief of parents over the loss of a child to the prices prostitutes charged clients.
So here we are, thousands of years later able to peek into a small slice of the Roman Empire through the graffiti left behind. So what does that say for Roma today?
Before we left on our trip to Roma, I used Google earth to check out the neighborhood our hotel was in. I clicked into the little bubble on the street and followed the arrows and all I saw was graffiti all over the walls. I was a bit concerned about where we chose to stay.
After arriving here, I am amazed at the prolific writings and art on the walls. It seems everywhere I look there is a graffiti tag including marble buildings and yes even some ancient ruins. At first I was frightened by the thought of what kind of neighborhood we were in. Then I was curious to know if Roma had given up on cleaning up after the taggers.  Now I am questioning if the graffiti is an accepted means of communication being reclaimed from their ancient ancestors by today's Roman youth.  Maybe it is accepted here.  After all there is a message being left behind for the future inhabitants to read and learn about our civilization.  My only question is, what are they saying?
---
Day 7 – May 14th – Vinci – Sidetracked
I know I said we were going to Florence and then on to Pisa, but we changed our mind!  Instead we opted to seek out the town where Leonardo da Vinci was born and raised.  It is a small town northwest of Florence called Vinci.  We were unable to find much information in the guidebooks and very little on the internet.
In Vinci, there is a Leonardo da Vinci museum dedicated to his works and inventions.  The museum is located in Vinci, a medieval town in the castle of Conti Guidi.  To get there would be the challenge.  We found a posting on the internet of other people that wanted to visit the town and some directions.  First we would take the train to Florence, and then board a regional train to Pisa.  Instead of going all the way to Pisa, we would stop in a small town called Empoli.  Empoli was nowhere to be found in the guide books either.  From Empoli we would have to locate a bus that would take us another 15 minutes into the hills to the town of Vinci.  Okay, an adventure!  Let's go – I love adventures!
We were up early for breakfast, and then to the train station to catch the AV (fast train) to Florence.  From Florence we boarded the Regional train to Pisa, and then not more than 10 minutes later we reached the stop at Empoli.  We stepped from the train to a very quiet, peaceful town.  It was probably similar from taking max from Portland to Beaverton.
The biggest difference for us in Empoli, not many people spoke English so asking for the bus was going to be a challenge. The Tabachhi stores usually sell the bus tickets so we decided to start there. We pieced together a phrase," Buon giorno dov'e autobus to Vinci?" And "Dov'e biglleito autobus to Vinci?"  (Where is the bus to Vinci and where is the ticket bus to Vinci?)  Pretty rough I know – But it worked.
We stepped out the front door of the train station and there was the bus!  It was like magic and so easy but there was no driver. We asked a young man, (we found if we ask young people they know English better), where we might find a bus schedule.  He pointed us toward the bus station only a few more yards away. Once there, again no English, so we went with the autobus phrase and a slight variation of, "Buon giorno, Dov'e autobus oras to Vinci per favore?" (Good day, where is bus hours to Vinci please?)
She handed us a schedule and pointed to the bus, that was just driving away. So we had another 20 minutes before the next bus. We head toward a nearby pastericia (sandwich and pastry shop) and hand a quick lunch. The place was decorated like a 1950's lounge, and Tom Jones music was playing.  Three older Italian gentlemen were sitting discussing something intently; one had a very deep Godfather like voice.
Our bus ride was easy as well and we wound our way up into the hills above Empoli, it only took another 20 minutes, and that was because we had to stop to let people on and off the bus.  I think it was then I realized that we were in Tuscany, the valley and hills were green and you could see olive groves nestled in the valleys and grapevines lining the hilltops. It was such a nice change from the big city of Roma.
We reached Vinci, and there at the top of the hill stood the medieval castle of Conti Guidi. It was really fun to see such an old building, and go into it. We hiked up the walkway and followed the signs to the museum. We found the ticket office and learned that the exhibits had been moved to another building from the castle while it was being renovated. You could only go into one room of the castle.
We toured the museum which had working models of all of Leonardo da Vinci's inventions, there were replicas that had been rebuilt from his drawings. IBM was a sponsor of the museum and also developed computer animated programs that demonstrated how the machines worked.
It was interesting, but I was hoping for more actual works, drawings of da Vinci. Instead it was more of an informational place since he was born and raised there. The actual pieces were dispersed to various museums in Milan and Florence.  It was still a fun trip and a nice break from the cities.
We took the bus back to Empoli and decided to have dinner there in the small city rather than Florence.  We walked down the quiet streets where many people rode bikes to get from place to place.  But, once again every shop and restaurant was closed.  I didn't realize how hard it was going to be to find a nice dinner while we were in Italy, when we are hungry everything is closed for the afternoon siesta.  And when they are open we seem to be on a train traveling. Most Ristorantes don't open until after 7:30pm. We keep hitting that window of closure.
We had a train to catch in Florence so we left Empoli without dinner and headed back to Florence where we had a couple of hours to wander the city and look for dinner.  We only found two Ristorantes that had opened early.  We ate at Il' Porcospino, and started with a caprese salad.  I had farfalle alla salmone and wine Matt had a steak, and we shared a tiramisu for desert.  We ate on the patio on a piazza.  I went on a journey for the toilette, and went into the ristorante and the place was huge, it had a basement with additional tables, and a room off to the side where a huge square table was set for a party.  I thought of family dinners, my Mom always wants to find a big round table so everyone can talk; well here was a huge square one that was perfect for a family gathering.
We rode the train home and got in late, so today, Saturday is a slow day of rest.
---
Day 8 – May 15th – Roma – The Beauty of Roma
Today we relaxed, our only goal was to find the Spanish Steps and walk through the Borghese Gardens. It was a great plan except for the fact that today was the rainiest day so far. Fortunately on every corner there is a vendor offering you a 5 euro umbrella, which you can pay 3 Euros for if it isn't raining yet. The 3 euro umbrella is really worth 1 euro. The first good breeze and the spines bend and twist leaving you with a useless stick of twisted metal.
We took the Metro to the Spanish steps and joined the other tourists with twisted umbrella's taking photos. There are just so many people it is hard to enjoy the places that we visit.
We walked up the steps to the top of the hill and discovered where the beauty of Roma lies. It's in the rooftops! It was a beautiful view, Basilicas, rooftop gardens, colored tiles; it is a whole different world, a much different view than from the streets.
We wandered through the Borghese Park in the pouring rain then back down to the streets of Roma where we caught the metro back.  It was a slow uneventful day.  We had been walking by a Pastereccia on our way to our hotel for each day of our vacation, and finally decided to wander in.  We took a table in very petite (tight) little wicker chairs and ordered lunch.  We were excited to try this place because we have walked by the windows looking in at the pastry shelves filled with wonderful looking things.  But we discovered that we had been lured in by the beauty to only find terrible and expensive food.
I ordered spaghetti Bolognese and Matt ordered lasagna, I got red dry noodles and Matt got wet cheesy noodles.  I asked the waitress after finally getting her to stop at our table, where's the beef?  She did not understand, called over another waiter who informed us it is fini.  They were not going to tell me they were out; instead they just served up cheesy noodles.
We thought ok, the food was a bust, let us try desert.  I ordered the gelato mista, pistachio and strattchio, and Matt ordered a chocolate pastry.
Out came that bright colored gelato that I was warned about!  The strattchio was made with chocolate sprinkles instead of chocolate chips and the pistachio tasted like almond flavoring.  Once again, I stopped the waiter and asked where the pistachio was.  He informed me that the gelato is green!  I told him, no this is almond, and he shrugged and smiled and left.  Matt's little chocolate pastry, was dense and tasted marzipanish and gingery at the same time.  We were so disappointed, and paid a fortune for the worst meal yet!
We returned to the hotel and decided tonight we were going to go out and eat a real dinner. We rested until 9:30 pm then went to a ristorante down the street that is owned by the same family that owns the hotel.  It was called Da Vencenzo and it was bustling with loud Italians enjoying dinner. We walked in to a wall of fish and vegetables and were ushered to our tiny table (all tables for two are tiny in Italy).
The place was warm and smelled delightful. The people were laughing, waiters were filleting fish, there were old men having intimate dinners with very young women, groups of couples finishing off their vodka bottle, the wine bottles, the water bottles, and rolling with laughter in their chairs. Matt and I thought this must be the right place.
We started dinner with a caprese, and ordered fettuccini alla wild fungi and matt had the grilled pork chop. The waiter brought me a carafe of white wine.  I love that all I have to do is say wine and they do the rest.
After dinner I ordered a limone sorbet alla vodka, it was lemon sorbet slushed with vodka; it came in a parfait with a spoon, but was the consistency of a drink.  I couldn't decide if I should drink it or eat it, so I stirred and sucked the spoon, then sipped, alternating this technique until I had finished it off.  What a great summer treat to remember!! Dinner was over at 11:30pm, it was the best and one of the least expensive meals we have had so far.  I guess it may be worth staying up late for dinner now and then.
Here it is the next morning, and I now know why the Italians don't eat a big breakfast – I am still full from dinner!!  I had a request from my Mom to take some pictures of breakfast.  That meant even though I was still enjoying dinner, I had to eat some toast, figs, and a cold egg pie and cheese.  Of course the latte macchiato!
We are off now to start our last day in Roma, and we are ready for the last day in Roma as well.  Tomorrow we hop the train to Venice.
Ciao!
---
Day 9 – May 16th – Venice 
We are so happy to have left Roma, and now we are in Venice!
We arrived on a beautiful day, and headed for central Venice after getting settled in our hotel.
I am a little tired so in lieu of a journal of our day, I will just say I took so many photos, around every corner is an opportunity for a picture that is better than the last.  With that, a picture is worth a thousand words, so here are three photos.
---
Day 11 – Venice/Murano
Today was another beautiful day, the sky was perfectly clear and was only marred by a few whispy clouds that painted the sky later in the day. We took the vaporrato (water bus) from Venice to Murano today to the island of glass.  Back in the earlier days, the famous glass makers set up shop on a nearby island in order to keep the Venetian glass making skills a secret, and also to keep Venice from catching fire with all those hot kilns burning.
Now it is a beautiful little haven away from the big city of Venice. I t was only a 10 minute boat ride.  We stepped off the ferry and wandered though the sleepy little town.  I guess we turned left when we should have turned right, and ended up on back alleys of the island, very quiet, serene, and no one in site.
After hitting a few dead ends, we found a sign that pointed us to the Centro, followed the path of bread crumbs and ended up on a beautiful canal lined with charming buildings, a Venice in miniature.  We strolled the sidewalks and peered in and out of the many glass shops and galleries.  I wanted to buy everything, but then the reality of trying to get anything home in once piece would sink in, not to mention the prices.
We took a break in the afternoon, and enjoyed a coke and a spritz.  I have not had a spritz before, so I gave it a try.  Evidently you can order it either sweet or bitter.  I opted for sweet, and the glass was filled with white wine, sprite (and I think grenadine), a speared olive, and an orange.  It tasted fine and we relaxed our tired feet.  I think we must have walked for at least 50 miles these past two weeks.
After our break, we did some power shopping, or I should say I shopped and Matt watched.  Matt kept looking for the guy shops, and decided he needed to open a glass shop that features old cars made of glass.  The only shop that he could find that he wanted to go in was closed, and it was a power boat repair shop that had some boat models, guy shirts, and hats in the window.
We walked our way down one side of the canal and back up the other finding ourselves back at the vaporrato dock where we had pizza while waiting for the next one back to Venice.
I ordered another spritz, this time a bitter one, made with sparkling wine, Aperol and mineral water, garnished with an orange, no olive. One sip and I definitely recommend that you stick to order the sweet version. The bitter was bitter, a taste I couldn't describe, and don't want to try again.
NOTE: Aperol is an Italian orange liqueur. It has become Italy's most popular light spirit. Aperol Spritz is one of the lightest cocktails in the world having only 7-8% alcohol by volume.
We headed back to the hotel for a little rest and decided that we will head back to Venice to check out the city at night.
Ciao!
Comments and Reviews