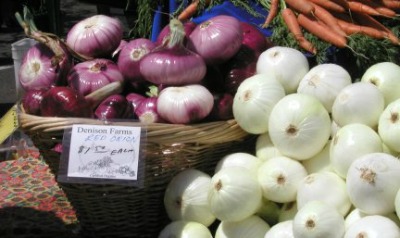 Learn about Onion Hints, Tips, and Information.
Baked Caramelized Onions
Caramelized onions are so good that you can eat them right out of the bowl.  It is easy to caramelized onions, especially when you use my oven-baked method.  This method cuts down on the cooking and stirring time required when you caramelize on your stove top.
Baked Sweet Onions
This is so simple and so good.
Baked Stuffed Onions with Spinach Feta
Recipe from the cookbook called The New Family Cookbook for People With Diabetes by The American Diabetes Association (Editor), Linda Haas.
French Onion Fondue
If you love French Onion Soup, you will definitely love this fondue – think Onion Soup, without the soup!
French Onion Pissaladie – French Onion Tart
A Pissaladie is a French onion tart that is similar to a pizza or a savory pie.  This classic French flatbread combines a crisp crust with smooth caramelized onions and zesty cumin seeds is the perfect accompaniment to brie cheese and a French creamy blue cheese on your spring cheeseboard.
French Onion Marmalade – Confit D' Oignon
This is a wonderful condiment that can be used for a variety of meats, poultry, and fish or simply as a spread for sandwiches, breads, and appetizers.  Also great as part of a cheese platter.
French Onion Soup
Recipes is by Dawn Yanagihara of Cook's Illustrated Magazine, January & February, 1999.
Grilled Green Onions
These onions are great accompaniments to a thick, juicy steak.  Be sure to buy the largest green onions you can find.
Onion Soup Gratinee Lyonaisse
This classic Lyonnaise-style French onion soup is a hearty mixture of deeply-colored and caramelized onions, chicken stock, and layer of toasted French Baguettes.  It's topped off with a thick, creamy cheese crust.
Roasted Balsamic Sweet Onions
So simple and so elegant – you eat the onions right in the skin.
Roasted Balsamic Pearl Onions
I adapted this recipe from The Best of Cooking Light 4: Special Edition.
Roasted Purple Potatoes, Carrots, and Onions
This is such a pretty dish and the unusual color of the potatoes and carrots is a crowd pleaser.
Roasted Sweet Onions with Mint
Recipe adapted from the cookbook called The Best of Thymes by Marge Clark.  These onions are outstanding! I've also cooked them part way in the oven and then finished them on the barbecue.
Sweet Onion Potato Salad
A very unusual and delicious potato salad.  This dish definitely elevates potato salad to a new plane.
Tarte Flambee – Alsatian Bacon and Onion Tarte
Tarte Flambee is to the northern Alsace region in France what pizza is to southern Italy.  Tarte Flambee is composed of thin bread dough which is covered by creme fraiche, onions, and prosciutto or bacon.
Warm Roasted Vegetable Salad with Goat Cheese and Pesto
First I fell in love with the picture, then I read the recipe, and it grabbed me. Imagine, a perfectly roasted, very colorful bell pepper stuffed with a fresh basil leaf, home made basil pesto, goat cheese, and grape tomatoes.
Comments and Reviews