Orange Creme Caramel – Flan de Naranja – Flan de Leche
Spanish Orange Flan or creme caramel has become popular across the entire Spanish speaking world.  In fact, it is considered the national dessert of Spain as this pudding can be found on virtually every restaurant menu.  Spain and Portugal have a Moorish inheritance of very sweet egg-rich desserts.  Spain developed its own sweeter version topped with a caramel sauce.  Flan is also popular in other Spanish speaking countries such as  Cuba, Mexico, and the Caribbean.
This Spanish Orange Flan is so smooth and so delicious, yet simple to make!  Flan may be prepared in a large flan dish or in individual ramekins.  There is a bit of fuss involved when making the caramelized sugar, but just take your take and everything will turn out excellent!
Read about What's Cooking America's Travels in Andalusia, Spain as we traveled in southwest Spain visiting a variety of cities and enjoying wonderful hospitality, cuisine, and weather.
Please check out my Spanish Paella Dinner Menu (with recipes) using this delicious Spanish Orange Flan recipe.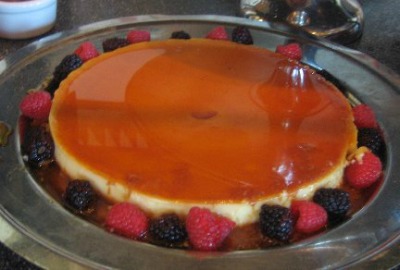 Spanish Orange Flan Recipe:
Keyword:
Spanish Orange Flan Recipe
Instructions
Prepare Caramel:
In a heavy saucepan over low to medium-low heat, combine 1 cup sugar, water, and drop of lemon juice (the lemon juice keeps the mixture from hardening or crystalling). NOTE: I find that maintaining a low heat, I have more control over the caramelizing process, as it is really easy to burn.

Cook, stirring constantly, until sugar dissolves and mixture just begins to simmer. After sugar dissolves and syrup is simmering, cook for approximately 8 to 10 minutes, without stirring. Hold handle of pan and gently tilt the pan off the heat to distribute color evenly as sugar caramelizes. When sugar reaches a uniform golden brown (light amber) color, immediately remove from heat and pour into individual ramekins or custard dishes, coating the bottoms evenly (tilt the dishes so that the caramel coats the bottom). Watch it carefully, it can go past the light brown stage quickly and burn. Set aside and let cool.


Photos showing stages of the caramelizing process:

Last Stage - Done - Remove from heat immediately.
Prepare Spanish Orange Flan:
Preheat oven to 325 degrees F. Adjust oven rack to middle position in your oven.

In a blender, combine condensed milk, orange zest, orange juice, half and half, eggs, orange oil, and orange liqueur; process until smooth. Pour into individual ramekins or custard dishes.

Definition of Water Bath or Bain-Marie (bahn mah-REE) - A hot water bath or bain-marie are used to cook custards and baked eggs in the oven without curdling or cracking, and also used to hold sauces and to clarify butter. Water baths are most often used for egg-based dishes. The proteins in the eggs are very heat sensitive and only need to be warmed to cook thoroughly. They will start to get firm at only 145 degrees. Cooking them with a slow, gentle heat keeps the eggs soft and smooth.

Place ramekins or custard cups into an ovenproof roasting or baking pan. If cooking custards in a metal pan, cover the bottom of the pan with a layer of newspaper to ensure an even temperature on the bottom.

Bring the water for the water bath to a light simmer on top of the stove; carefully pour hot water into the baking pan to come half-way up the sides of the custard cups. NOTE: The most common mistake people make in baking custard is not putting enough water in the hot-water bath.

Bake 30 to 35 minutes or until set around the edges but still loose in the center. The cooking time will depend largely on the size of the custard cups you are using, but begin checking at 20 minutes and check back regularly. When the center of custard is just set, it will jiggle a little when shaken, that is when you can remove it from the oven (the flans will continue to set as they cool).

Remove flan from oven and leave in the water bath until cooled. Remove cups from water bath and refrigerate at least 2 hours or up to 2 days. The prepared flan can be covered tightly with plastic wrap and refrigerated for up to 2 days.

To unmold and serve, carefully dip bottom of each ramekin in a baking pan of hot water briefly. Run a thin knife around edge of each ramekin to loosen it from the inside of the bowl. Wipe the outside of the mold dry, place an individual chilled serving plate (topside down) on top of each flan. Invert the custard onto the plate and carefully lift off ramekin (shake gently to release flan), allowing caramel syrup to run over flan; pour any extra caramel remaining in the mold over the custard.

Makes 6 servings (depending on size of the custard cups).
Comments and Reviews