Oysters Casino is definitely an oyster lover's delight!
A very easy recipe to prepare and always a favorite with oyster lovers.  As my husband loves oysters – all kinds of oysters – cooked or raw, he really likes this Oysters Casino recipe.  He says I can make it all the time.
Please check out my Baked Lobster Tail dinner menu which includes this fabulous Oysters Casino.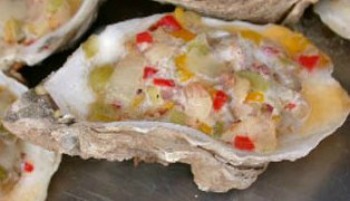 For more great Low Fat Recipes, Low Calorie Recipes, Low Carbohydrate recipes, and Diabetic Recipes, check out my Diet Recipe Index.  Also check out my Nutritional Chart for fat grams, fiber grams, and calories for all your favorite foods.
Oysters Casino Recipe:
Keyword:
Oysters Casino Recipe
Servings
:
2
to 4 servings
Instructions
Preheat oven to 350 degrees F.

If using jarred oysters, drain oysters and place into a 13- x 9-inch baking dish or individual baking dishes. If using fresh oysters, shuck the oysters.

Either in the oyster shells or in small oven-proof dishes, place the oysters.

Sprinkle with bell pepper, onion, bacon, garlic, and pepper. Sprinkle bread crumbs over all and then sprinkle with lemon juice.

Bake, uncovered, 15 to 20 minutes or until edges of oysters just begin to curl (do not over cook the the oysters). Remove from oven and serve immediately.

Recipe makes 2 to 4 servings

2 servings (each serving) =18.2 fat grams, 20.7 carbs, 283.5 calories

4 servings (each serving) = 9.1 fat grams, 10.4 carbs, 142 calories
Additional Favorite Oyster Dishes:
Creamed Oysters in Acorn Squash
This outstanding dish combines two of my favorite foods, oysters and acorn squash.  Besides being delicious, it is beautiful to look at.
Oyster Casserole
This is an excellent oyster dish to serve your family or friends.
Grandma's Oyster Dressing
This oyster dressing must be served as a side dish and not as a turkey stuffing in the turkey.
Scalloped Oysters
Scalloped oysters are fantastic served as a special side dish, first course, or appetizer with crackers.  For many families, this dish is a Christmas tradition.
Comments and Reviews