A good bottle of wine, salad, and bread are all you need to make a terrific dinner with this wonderful Spanish Shrimp Paella Recipe.  
You will need a somewhat deep cooking dish, large cast-iron skillet, or the traditional Paella Pan (paellera – a round flat pan with two handles).  The size of the dish or pan depends on the number of portions you wish to make.   Paella is named for the pan in which it is cooked.
The amounts of the ingredients are relative and it does not matter if you use more of one and less of another or chose not to use some at all.  The vital thing is the preparation of the rice so that it comes out loose.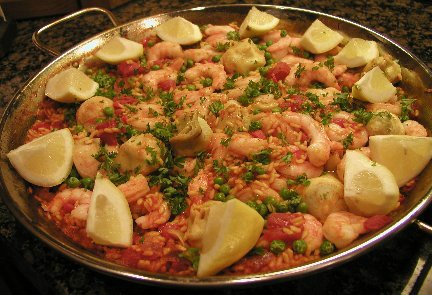 Spanish Shrimp Paella Recipe:
Keyword:
Spanish Shrimp Paella Recipe
Servings
:
4
to 6 servings
Ingredients
1 to 1 1/2

pounds raw extra-large

shrimp,

peeled and deveined

2 1/4

cups

bottled clam juice

or fish broth

3/4

cup

wine

1/2

teaspoon

saffron

threads, crumbled

2

tablespoons

olive oil

1/3

cup

onion,

finely chopped

1/2

red

bell pepper,

cored, seeded and chopped

2

cloves

garlic,

chopped

1

cup Spanish

Arborio Rice,

uncooked**

2

tomatoes,

peeled and coarsely chopped

2

teaspoons

paprika

(regular or Spanish smoked)

1

(14-ounce) can

artichoke

hearts, drained (optional)

1

cup

peas,

frozen

2

tablespoons fresh

parsley,

chopped (for garnish)

Lemon

wedges
Instructions
Preheat oven to 350 degrees F.

Sprinkle the shelled shrimp all over with coarse salt; let sit 15 minutes. The salt helps bring back the briny taste of the sea that most seafood, especially frozen seafood, tends to lose.

HINT: Have all ingredients chopped and measured before beginning the final cooking of the paella. It is a quick cooking dish that must have all ingredients ready to go. This is called Mise en Place.

In a large pan over medium-heat heat, heat the clam juice or fish broth, wine, and saffron; reduce heat to low and keep broth hot (not boiling).

In a large Paella Pan or heavy cast-iron skillet over medium heat, heat the olive oil. Note: You will need a somewhat deep cooking dish, large cast-iron skillet, or the traditional Paella Pan (a round flat pan with two handles).

Add onion and red bell pepper; stir to blend and cook 3 minutes or until slightly softened.

Remove pan from heat. Stir in garlic and rice and continue stirring until garlic is fragrant and the rice is evenly coated with oil, about 1 minute. Coating the rice with the oil before adding liquid helps keep the rice grains to stay separated.

Stir in tomatoes, paprika, and salt. Stir in hot clam/saffron broth mixture. Return to heat, reduce heat to low, and simmer (stirring and rotating the pan occasionally) mixture 10 to 15 minutes or until rice is no longer soupy but sufficient liquid remains to continue cooking the rice in the oven.

Stir in shrimp, artichokes hearts, and peas.

Transfer paella pan to the oven and cook, uncovered, about 15 to 20 minutes until the rice is almost al dente and until almost all liquid is absorbed. NOTE: Never cook paella until the rice is completely done. If you do, it will be mushy by the time it reaches the table. Remove from the oven when the rice grains are no longer hard but still have more bite than you want and a crust forms around the edge of the pan.

Remove from oven, cover with aluminum foil, and let sit 5 to 10 minutes or until the rice is cooked to taste. Paella must rest after being removed from the oven, during which time the final cooking takes place.

To serve, squeeze lemon juice over the top of the paella, sprinkle with chopped parsley/ and arrange lemon wedges around the top of the paella. Serve immediately. To eat, sprinkle lemon juice over paella.

NOTE: Always bring the paella to the table in its pan for your guests to admire before serving. Traditionally, paella is eaten communally with everyone sitting around the pan and taking the rice directly from the pan with a spoon. Although you are not likely to serve it this way, do leave the paella pan at the center of the table so your family or guests can help themselves to more.

If the paella is almost al dente and ready to be removed from the oven, but still seems to have liquid, return it to the top of the stove over high heat. Without stirring, heat until the liquid has evaporated. Then remove from heat and cover the rice and let it rest before serving.

If the paella seems dry before the rice is almost al dente, sprinkle with a few tablespoons of water and allow to cook in the oven 2 to 3 minutes longer.  Then remove from oven and cover the rice and let it rest before serving.
Recipe Notes
* To add additional flavor, place the shells of the shrimp in a saucepan and cover with water.  Simmer over low heat approximately 7 to 10 minutes. remove from heat and strain the broth; discarding shells.  Add shrimp broth to clam broth to equal 2 1/4 cups.
** Do not wash the rice, as it needs its outer coating of starch.
Additional delicious Paella recipes:
Spanish Mixed Paella
Paella with Spanish Rice – Rice Cooker Paella
Paella Valenciana
Comments and Reviews