This Basil Pesto Pasta is great recipe to use your fabulous summer vine-ripened tomatoes and fresh basil.  This is a absolute downright delicious pasta.
In the winter season, I like to use my Slow-Roasted Tomatoes in this pasta recipe.  This Basil Pesto Pasta is delicious no matter which type of tomatoes that you choose to use!
Remember – NEVER REFRIGERATE FRESH TOMATOES!  Cold temperatures make the flesh of a tomato pulpy and destroys the flavor.  Always store tomatoes at room temperature stem-end down.  This prevents air from entering and moisture from exiting its scar, prolonging shelf life.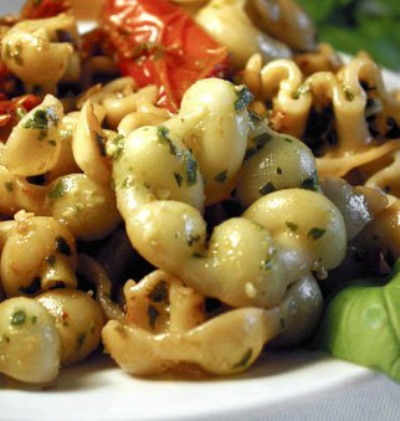 Basil Pesto Pasta Recipe:
Keyword:
Basil Pesto Pasta Recipe
Ingredients
Basil Pesto:
3 cups

(3 ounces) fresh

basil

leaves

2

cloves

garlic,

peeled

2

tablespoons

pine nuts

1/4

teaspoon

coarse salt

1/2

cup

olive oil,

extra-virgin (divided)

1.4

cup

Parmesan Cheese

(Parmigiano-Reggiano), grated
Instructions
Basil Pesto Pasta Instructions:
Prepare Basil Pesto. Store in refrigerator until ready to serve.

Just before draining the pasta into a colander, remove 1/4 cup of pasta water; set aside. Drain the pasta, put back in the pot, and then stir in the prepared Basil Pesto and the reserved pasta water, a little at a time, to create a sauce.

Add diced tomatoes and toss to coat thoroughly.

Transfer onto individual serving plates and garnish with sliced fresh basil leaves and shavings of Parmesan cheese.
Basil Pesto Instructions:
Wash the basil leaves, discard the stems, and dry thoroughly.

In a blender, add garlic, pine nuts, and salt; process for approximately 15 seconds. Add basil leaves: using pulse technique, turning on and off, to shred the basil. With the machine on, drizzle in the olive oil to create a coarse mash. Add the Parmesan cheese and pulse to combine.

Makes approximately 1 cup.

You will have more pesto than you need for the above recipe.  You can make a smaller amount of this pesto recipe, but I encourage you to make the full recipe. It will disappear quickly on bread, pizza, toast, baked potatoes, etc.

The pesto will keep for up to 4 weeks in a covered container in the refrigerator. Pour a thin film of olive oil on top of the pesto to prevent discoloration. For longer storage, do not add the Parmesan cheese until ready to use. Below are some ideas on how to freeze pesto:

Spoon the pesto into a foil-lined custard cup; cover tightly with foil and freeze. Once frozen, remove the foil-wrapped packet and store in a freezer bag for up to 2 to 3 months.

To use, thaw in the refrigerator overnight, or remove from the foil and thaw quickly in the microwave. Add Parmesan cheese just before serving.

Freeze in ice cube trays.

Spoon into a zip-lock bag and freeze.
Recipe Notes
*A good-quality prepared (store-bought) basil pesto may be substituted.
Comments and Reviews