I slightly adapted this Cilantro Lime Rice recipe from the CopyKat.com version of Chilpote Mexican Grill Restaurant's Cilantro Rice.  The original recipe seems to be posted all over the internet.  Because of this, I am not sure how to give credit for the recipe.
This is a wonderful tasting rice with the freshness of the cilantro and the lime.  Serve with your favorite Mexican dish or as an ingredient inside a burrito.  I also like to serve this delicious rice with my Pork Chile Verde and Beef Barbacoa.
More delicious Pasta, Rice, and Grain Recipes.  For a spicier version of this rice recipe, check out Cilantro Rice.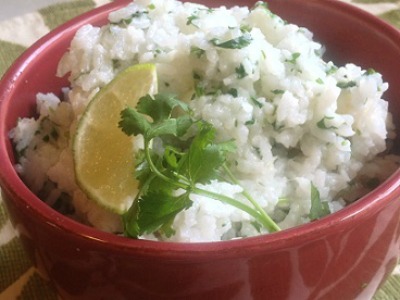 Cilantro Lime Rice Recipe:
Keyword:
Cilantro Lime Rice Recipe
Instructions
In a medium-size pan over high heat, add the rice, water, olive oil, and 1 teaspoon salt. Bring mixture to a boil and cook until the water is just covering the rice.

It helps to use a heavy bottomed saucepan to help prevent the rice from sticking and scorching to the bottom of the pan. A nice tight fitting lid will trap the steam in the pan to help with cooking the rice. Tip: If your lid is too loose, you can layer a kitchen towel between the lid and the pot.

Reduce heat to low, cover tightly, and continue to cook for approximately 10 to 15 minutes or until the rice is cooked. Remove from heat and keep covered for 5 minutes to let the steam finish cooking the rice.

By the time the rice has completed cooking, the water should be completely absorbed into the rice. The leftover steam trapped in the pan finishes the cooking process for the rice. You may need to experiment to find the consistency you like. The more water used will result in a softer, stickier rice and the lesser amount of water will make a firmer rice.

Stir in the lime juice, chopped cilantro, and salt to taste.

Fluff with a fork and serve.
Comments and Reviews