With this Make Risotto Ahead of Time Technique, that is used by restaurant chefs, you never have to stand at the stove, stirring, for 20 minutes while your guests wonder where you have gone.
You can make any kind of risotto you want using this Make Risotto Ahead of Time method.
I love risotto, but it takes time and attention to make perfect risotto.  What if I told you that there is an easier way to prepare risotto by preparing it ahead of time?  I bet you would be happy then!  The answer is par-cooking.  If you try to make risotto ahead completely and then reheat it, it will be overcooked and mushy.  Instead, you can cook it until it is about halfway done, the rice should still be rather firm inside, and then spread it out on a baking sheet to stop cooking and cool.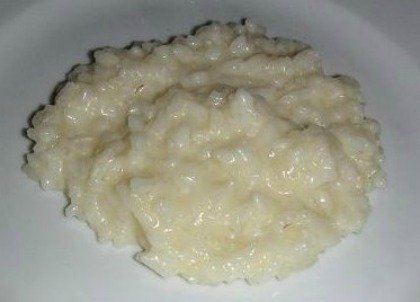 Check out Risotto Hints and Tips – Making Perfect Risotto.
Try What's Cooking America's fantastic Risotto Recipes.
When making this Make Risotto Ahead of Time technique, prepare your risotto according to your recipe that you want to use, but –
A standard risotto recipe of 4 servings uses 5 cups liquid (wine, broth, water, etc.) to 1 1/2 cups arborio rice.  Using this Make Risotto Ahead Of Time, you use only 3 1/4 cups liquid (reserving the remaining 1 3/4 cups for when you are ready to finish the risotto).
Cook on medium-low heat for 16 minutes only.
After 16 minutes, remove the rice from the heat.
If you are going to use the risotto within the hour, just slide it to the back of the stove, with no heat, and let it sit.  
If you are making your risotto well in advance, place in a shallow baking pan and cover.  Refrigerate until ready to serve.  The rice can be prepared to this point up to 3 days in advance.
When Ready To Serve:
Remove chilled rice from refrigerator and bring to room temperature.
Place the remaining 1 3/4 cups liquid in a wide pot or sautpan; heat to a simmer over medium-high heat.
Reduce heat to medium and add the partially cooked risotto.  Stir with a wooden spoon until the liquid is absorbed and the rice is done cooking, approximately 4 to 5 minutes or until rice is tender but still firm (the rice is done when it is tender, but firm to the bite).
Turn off the heat and immediately add the remaining butter and Parmesan cheese, stirring vigorously to combine with the rice.  Add salt and pepper to taste.
To test the risotto for proper consistency:  Spoon a little into a bowl and shake it lightly from side to side.  The risotto should spread out very gently of its own accord.
If the rice just stands still, it is too dry, so add a little more stock.  
If a puddle of liquid forms around the rice, you have added too much stock.  Spoon some liquid off, or just let the risotto sit for a few more seconds off the heat to absorb the excess stock.
Transfer risotto to warmed serving bowls and serve immediately with additional freshly-grated parmesan cheese on the side.
Delicious Uses for Leftover Risotto:
Make fried rice balls (arancine) by molding risotto into golf ball-size pieces.  Poke a hole in the ball and fill it with chopped meat or cheese.  Seal the hole with rice, roll the rice ball in beaten egg, toss it in flour, and fry.
Make rice cakes (tortine de riso) by shaping flat cakes about 3/4 inch thick.  Warm some olive oil in a pan and saute the cakes until golden brown on both sides. Drain any excess oil.  Serve as a side dish or a light lunch.
Thicken soups or broth with leftover risotto.
Comments and Reviews