Saffron Risotto or Risotto alla Milanese is a traditional Italian risotto with saffron in it.  To this day, risotto remains the most important staple dish for many people in all Northern Italy, and especially in Milan.  Saffron Risotto is a hearty, warming rice dish, rich with the flavors of the stock used in its making, as well as saffron, Parmesan cheese, butter, and any of the hundreds of ingredients that match so perfectly with it.  Risotto is normally a primo or first course dish, served on its own before the main course.
This Saffron Risotto is simple to make and requires just a few ingredients.  You will especially appreciate the step-by-step instructions in this risotto recipe that you will walk you through the risotto making.
Learn How To Make Risotto Ahead of Time – With this technique, that is used by restaurant chefs, you never have to stand at the stove, stirring, for 20 minutes while your guests wonder where you have gone.  You can make any kind of risotto you want using this method.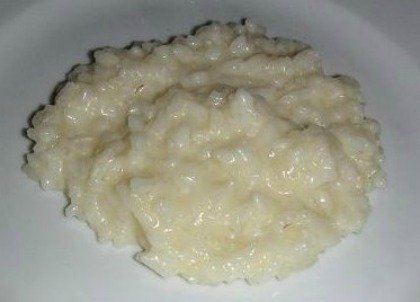 Low Fat Recipes, Low Calorie Recipes, Low Carbohydrate recipes, and Diabetic  Recipes, check out my Diet Recipe Index.  Also check out my Nutritional Chart for fat grams, carbohydrate grams, and calories for all your favorite foods.
Please check out my Lamb Chops with Cracked Pepper and Rosemary dinner menu, Veal Scaloppine Piccata dinner menu, and Barbecued Salmon with Herb Mayonnaise dinner menu which includes this fantastic Saffron Risotto.
Saffron Risotto Recipe - Risotto alla Milanese:
Keyword:
Risotto Alla Milanese Recipe, Saffron Risotto Recipe
Servings
:
4
main course servings or 6 side dish servings
Ingredients
5

cups

chicken broth

or stock*

3

tablespoons

butter

1/3

cup

onion,

finely chopped

1 1/2

cups

Arborio Rice**

1/2

cup

dry white wine

1/2

teaspoon

saffron

strands, chopped (dissolved in 1/2 cup hot broth from above)***

1

tablespoon

butter

1/3

cup

Parmesan Cheese

(Parmigiano-Reggiano), freshly grated

Salt

and freshly-ground pepper, to taste
Instructions
When preparing risotto, use the Mise en Place technique and assemble and measure out all the ingredients before starting your risotto.

Heating the broth or liquid: All the flavors that the cooking liquid starts out with become more concentrated and intense as it evaporates. Bearing that in mind, when the recipe requires broth, you will use a fine, mild beef or chicken broth. It is always better to use homemade broth or stock, but if you do not have the time (like most of us), do not worry! Swanson's Organic Chicken and Beef broths are also great for making risotto.

In a medium saucepan over medium-high heat, bring chicken broth to a slow, steady simmer (the liquid should stay hot but not simmer). Place this pot on a burner, over low heat, next to the burner you will be using to make the risotto. Keep the broth simmering slowly.


Toasting the rice:  Cooking the rice in hot butter or oil before adding liquid helps the rice to absorb the liquids slowly without becoming soggy.  This is called "Toasting the Rice."

In a large heavy 4-quart pan over medium heat, melt the butter; add onion and saute for 1 to 2 minutes or until soft (be careful not to brown the onions). Add the rice. Using a wooden spoon, stir approximately 2 to 3 minutes, making sure all the grains are well coated (toasting the rice in melted butter also keeps it from getting mushy). Toasting the rice also quickly heats up the grain's exterior (toast until the rice is hot to the touch and the color should remain pearly white, not turn brown). Add the white wine and stir until completely absorbed, approximately 2 to 3 minutes.


Add liquid in increments:  The quantity of liquid suggested in the recipes is always approximate.  In actual cooking, you should be prepared to use more, or sometimes less, as the risotto itself requires.  All the flavors that the cooking liquid starts out with become more concentrated and intense as it evaporates. Bearing that in mind, when the recipe requires broth, you will use a fine, mild beef or chicken broth.

Add the hot chicken broth (1/2 cup at a time), stirring frequently. Add liquid slowly and stirring frequently are the keys to making perfect risotto. Run your wooden spoon across the bottom of the pot to determine when each addition of broth is almost completely absorbed. Wait until each addition is almost completely absorbed before adding the next 1/2 cup of liquid, reserving about 1/4 cup to add at the end. Stir frequently to prevent sticking. Risotto does not need constant attention during its 18 minutes of cooking time. You will just need to check on the pan every few minutes, give the rice a stir to keep it from sticking, and add more stock.


Adding Saffron Strands:  Since heat releases saffron's flavor essence, it needs to be steeped in hot water, broth, or even alcohol before being added to food. Presoaking also allows the color to disperse throughout the food.

Ratio Saffron to Hot Liquid: For every teaspoon of saffron, add 3 teaspoons of hot liquid; using a spoon make sure that the saffron threads get properly soaked (do not crush the threads). Let the saffron soak for a minimum of two hours. The mixture can be left soaking for as long as twelve hours, but two hours will give you the proper results. The leaves will expand to 1 1/2 times their dry size. Do not use wooden utensils when mixing saffron. Wood utensils tend to absorb saffron easily. Since saffron is expensive, you don't want to waste it.

When the rice has cooked for 15 minutes, add 1/2 of the dissolved saffron. Continue to stir and when there is no more liquid in the pot. Add the remaining saffron. Proceed with adding the hot chicken broth.


Finishing the risotto:  After approximately 18 minutes, when the rice is tender but still firm, add the 1/4 cup reserved hot chicken broth.  NOTE: When cooking with broth, if you have used up the broth before the rice is fully cooked, continue with simmering water.

The rice is done when it is tender, but firm to the bite. The total amount of cooking time may vary within 2 to 3 minutes. Perfectly cooked risotto should not be hard and stick to the serving spoon, nor should it be so liquid that it runs off your plate. The texture should be supple and fluid, with a creamy, slightly soupy consistency, but with body. To test the risotto for proper consistency, spoon a little into a bowl and shake it lightly from side to side:

The risotto should spread out very gently of its own accord. If the rice just stands still, it's too dry, so add a little more stock.

If a puddle of liquid forms around the rice, you have added too much stock. Spoon some liquid off, or just let the risotto sit for a few more seconds off the heat to absorb the excess stock.

Turn off the heat and immediately add the remaining 1 tablespoon butter and the Parmesan cheese, stirring vigorously to combine with the rice. Add salt and pepper to taste.

Serving Risotto Milanese:

Transfer risotto to warmed serving plates and serve immediately with additional freshly-grated Parmesan cheese on the side.

If the finished risotto is left to sit and not served immediately, it will continue absorbing fluid and become sticky instead of creamy. You can save this by stirring in a few tablespoons of warm broth right before serving. If it is left to sit too long (15 minutes or more), the rice will lose its firm texture and become undesirably mushy.

Makes 4 main course servings or 6 side dish servings.
Recipe Notes
* Learn how easy it is to make your own homemade chicken broth or stock.
** Use only Italian short-grain rice varieties such as Aroborio, Carnaroli, Vialone, Nano, and Baldo (Arborio is the most commonly found short-grain rice).  Short-grain rice has a high starch content and tends to absorb less liquid, resulting in a stickier, more compact risotto.
*** Pure saffron is made up of tiny, bright-red threads.  The redder the saffron, the higher the quality.  The tips of the threads should be a slightly lighter orange-red color.  This will show that it is not cheap saffron that has been tinted red to look expensive.  To purchase Saffron, check out What's Cooking America's Kitchen Store.
Comments and Reviews