This wonderful Risotto with Corn, Tomatoes, and Basil dish combines three of my favorite summer ingredients – fresh corn. vine-ripened tomatoes, and basil.  So good!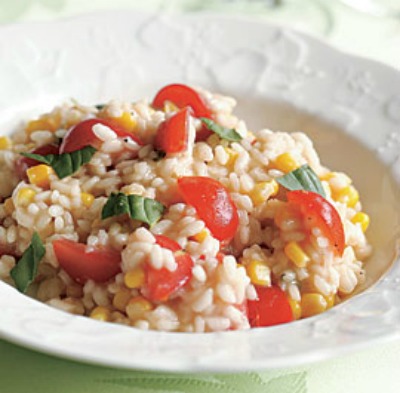 Risotto with Corn, Tomatoes, and Basil Recipe:
Keyword:
Risotto with Corn, Tomatoes, and Basil Recipe
Servings
:
4
servings as a main dish and 8 servings as a side dish
Ingredients
Risotto with Corn, Tomatoes, and Basil:
3

ears fresh

corn,

shucked and silk removed

3 1/2 to 4

cups

chicken broth*

3

tablespoons

butter

1

small

onion

or shallot, minced

1

cup

Arborio Rice

1/3

cup

dry white wine

1/3

cup

Parmesan Cheese

(Parmigiano-Reggiano), freshly grated

1

tablespoon

butter

Salt

and freshly ground pepper to taste
Instructions
Risotto with Corn, Tomatoes, and Basil Instructions:
Prepare Corn: Choose a pot large enough to hold the amount of corn you want to cook, with room for water to cover the corn. Cover pot and bring water to a boil on high heat. Add husked corn ears and continue to cook on high heat (covered or not) three to four minutes or until kernels are very hot. Immediately remove from heat and place in ice cold water to cool; remove from water when cool. Using a sharp knife, slice the corn kernels off the cob into a large bowl. You should have about 1 1/4 cups corn kernels; set aside.

Prepare Tomato-Basil Mixture: Set aside until ready to use.

In a medium saucepan over medium-high heat, bring chicken broth to a slow, steady simmer.

In a large heavy 4-quart pan over medium heat, heat butter; add shallot or onion and saute for 1 to 2 minutes or until soft (be careful not to brown the onions).

Add the Arborio rice. Using a wooden spoon, stir for 1 minute, making sure all the grains are well coated (toasting the rice in melted butter keeps it from getting mushy). Add the white wine and stir until completely absorbed. Add the hot chicken broth (1/2 cup at a time), stirring frequently. Wait until each addition is almost completely absorbed before adding the next 1/2 cup, reserving about 1/4 cup to add at the end. Stir frequently to prevent sticking.

Risotto does not need constant attention during its 18 minute cooking time. You' will just need to check on the pan every few minutes, give the rice a stir to keep it from sticking, and add more stock.

After approximately 18 minutes, when the rice is tender but still firm, add the reserved broth. The rice is done when it is tender, but firm to the bite. Turn off the heat and immediately add corn kernels, Parmigiano-Reggiano cheese, and remaining 1 tablespoon butter, stirring vigorously to combine with the rice. Add salt and pepper to taste. Remove from heat.

To test the risotto for proper consistency, spoon a little into a bowl and shake it lightly from side to side. The risotto should spread out very gently of its own accord. If the rice just stands still, it is too dry, so add a little more stock. If a puddle of liquid forms around the rice, you have added too much stock. Spoon some liquid off, or just let the risotto sit for a few more seconds off the heat to absorb the excess stock.

Fold in the prepared Tomato-Basil Mixture. Transfer risotto to warmed serving plates garnished with the remaining basil leaves, and serve immediately

Makes 4 servings as a main dish and 8 servings as a side dish.
Tomato-Basil Mixture Instructions:
In a bowl, combine the tomatoes, olive oil, and 2 tablespoons of the basil. Season with salt and pepper; set aside.
---
Risotto Etiquette:

In Italy, risotto is serve mounded, steaming hot, in the center of warmed individual shallow bowls.
Among the myths associated with risotto, there is the one that you must eat it piping hot, as it comes from the pot!
Unlike pasta, risotto tastes better when it has rested on your plate a minute or so.  When Italians are served risotto, they often spread it on their plate from the center toward the rim, to dissipate some of the steam.
Using a fork or a spoon, push the grains of cooked rice out slightly toward the edge of the bowl, eating only from the pulled out ring of rice.
Continue spreading from the center and eating around the edges in a circle.  This will keep the risotto hot as you enjoy your risotto.
Comments and Reviews