Spaghetti alla Carbonara is my all-time favorite pasta dish!  This is the classic Italian Spaghetti alla Carbonara dish that is much loved by pasta lovers around the world.  This pasta dish is considered the food of the people!
This is the perfect Pasta Carbonara recipe which is easy to follow and so delicious!
History:  It is thought that Spaghetti all Carbonare originated in the region of Lazio, around Rome.  Some sources believe the dish was developed at the end of World War II, when American soldiers stationed in Rome brought rations of eggs and bacon to Italian friends who turned them into this pasta sauce.  Other sources suggest that it originated with coal miners (carbonari) in the region.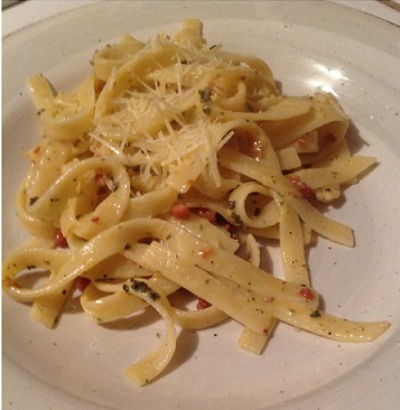 Pasta Hints and Tips and more delicious Pasta Recipes.
Spaghetti alla Carbonara Recipe - Pasta Carbonara:
Keyword:
Pasta Carbonara Recipe, Spaghetti alla Carbonara Recipe
Servings
:
4
to 6 servings
Ingredients
1

(16-ounce) package

spaghetti

or fettuccine pasta

2

eggs

1/2

cup

Parmigiano-Reggiano

or Pecorino Romano chees, divided

1/4

loosely-packed cup fresh

basil

leaves, finely chopped

1/4

teaspoon

black pepper,

freshly ground or to taste

1/2

cup

prosciutto

or pancetta or thin-cut bacon, diced into 1/4-inch pieces

2

tablespoons

olive oil,

extra-virgin

2

cloves

garlic,

peeled and finely chopped

1/2

cup

dry white wine

2

teaspoon

coarse salt
Instructions
Cook pasta according to package directions to al dente. Learn How To Cook Pasta Properly.

Prepare the sauce while the pasta is cooking to ensure that the spaghetti will be hot and when the sauce is finished. As this recipe uses raw eggs, which are essentially cooked by tossing with hot pasta, it is very important that the pasta is hot when adding the egg mixture. The heat of the pasta cooks the raw eggs in the sauce.

In a large bowl (that will also hold the pasta later) lightly beat the eggs. Stir in 1/4 cup grated Parmesan cheese, chopped basil, and black pepper; whisk to combine well and then set aside.

In a small frying pan over medium-high heat, heat the olive oil. Add prosciutto (pancetta or bacon) and cook, stirring occasionally, until it just starts to brown. Add garlic and continue cooking, stirring continuously, for 1 minute until the meat is crisp. Add wine and cook to reduce liquid to about half. Remove from heat and set aside.


When the pasta is properly cooked to al dente, remove pasta pot from the heat. Drain in a colander, leaving a little of the moisture still clinging. I usually drain off approximately 1/4 cup of the pasta water and set aside in case my Spaghetti Carbonara is too dry and needs additional moisture.

Immediately pour the hot pasta into the bowl with the egg mixture, stirring well to thoroughly coat the pasta with the egg mixture, approximately 30 seconds to 1 minute (stir well to prevent the eggs from scrambling - remember the heat from the pasta will partly cook the egg and melt the cheese). If the pasta is too dry or starts to stick to the bottom of the pan, add a small amount of the reserved pasta water (you do not want it wet, just moist). The sauce should be smooth and creamy, and it should cling to the pasta.


Pour cooked prosciutto (pancetta or bacon mixture) on top of cooked and drained pasta and toss to combine thoroughly.


Sprinkle with the remaining parmesan cheese. Add salt and additional black pepper to taste.

Pass a bowl of grated Parmigiano-Reggiano or Pecorino Romano cheese with the dish.
Comments and Reviews