Bacon and Black Truffle Macaroni and Cheese is a "kicked up" and very gourmet version of Macaroni and Cheese using Truffle Oil.  
Bacon is always a favorite but somehow the bacon, extra-sharp cheese and truffle oil is an addictive combination of really tasty ingredients.  I love the bread crumb topping on my bacon and black truffle macaroni and cheese.  It toasts up nice and brown in the oven.  Doesn't it look yummy?
Perfect for entertaining with the subtle undertones of the gourmet truffle oil mixed with the smoky crunch of crispy bacon.  Excellent served with your favorite steak.
Pasta Hints and Tips and more delicious Pasta Recipes.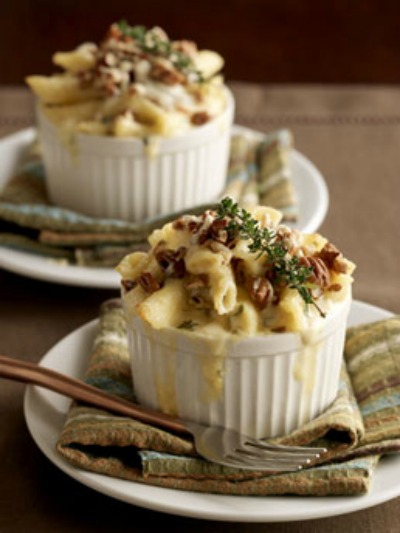 Bacon and Black Truffle Macaroni and Cheese Recipe:
Keyword:
Bacon and Black Truffle Macaroni and Cheese Recipe
Ingredients
2

tablespoons

butter,

melted

3/4

cup

panko

Japanese breadcrumbs or coarse dry bread crumbs

3

cups (12-ounces)

cheddar cheese,

extra-sharp, shredded and divided

8

ounces dry

penne pasta

1

tablespoon black

truffle oil

(optional)

2

teaspoons

olive oil,

extra-virgin

4

slices (4-ounces)

smoked bacon,

uncooked, chopped

2

tablespoons

green onions

or shallots, chopped

1

tablespoon

garlic,

minced

1/4

tablespoon

thyme,

dried

2

tablespoons all-purpose

flour

1 1/2

cups

half & half cream

1/4

teaspoon

salt

1/8

teaspoon

black pepper,

freshly ground

1

tablespoon fresh

basil

leaves, minced
Instructions
Preheat oven to 350 degrees F. Lightly butter four (4) 8-ounce shallow ramekins.

To make topping: In a small bowl, combine butter, breadcrumbs, and 1/2 cup cheddar cheese; set aside.

Cook pasta according to package directions; drain and return to pan to keep warm. Learn How To Cook Pasta Properly. Pasta is done when it is slightly chewy to the bite or al dente. Drain pasta in a colander and transfer to a large bowl.

Toss the drained pasta with truffle oil and set aside.

Prepare sauce while pasta is cooking:

Heat olive oil in a large saucepan over medium heat. Add bacon and cook until golden 3 to 4 minutes. Stir in shallots, garlic, and thyme; cook for 1 additional minute.

Whisk in flour and cook an additional 3 minutes, whisking constantly. Gradually add half and half cream and bring just to a boil, whisking constantly. Reduce heat and let simmer, stirring often, until sauce slightly thickens, approximately 4 to 5 minutes.

Remove pan with the prepared cheese sauce from heat; fold in the minced basil leaves and the cooked pasta. Note: The dish can be covered and refrigerated for up to 3 days at this point

When ready to bake, divide the pasta mixture into individual baking dishes and top with reserved breadcrumb mixture.

Bake for approximately 10 to 15 minutes until bubbly and top begins to brown. Remove from oven and let rest approximately 5 minutes before serving.
Source:  Recipe and photo are from the Tillamook Cheese website, and was the 2005 Regional winner of the Tillamook Macaroni and Cheese Contest.  This recipe is by Brenden Mesch of Dallas, TX.
Comments and Reviews