This meat-free Wild Rice Burger is a wonderful healthy alternative to beef in a hamburger.  Wild rice is a very healthy grain and makes a substantial base for a vegetarian burger or melt.  These burgers come together with the help of melted cheese.  Wild Rice Burgers are really good – so give them a try.
The Wild Rice Burger is a specialty of the Great Lakes area – especially in Duluth, Minnesota.  Every year, these Wild Rice Burgers are served at the Minnesota State Fair.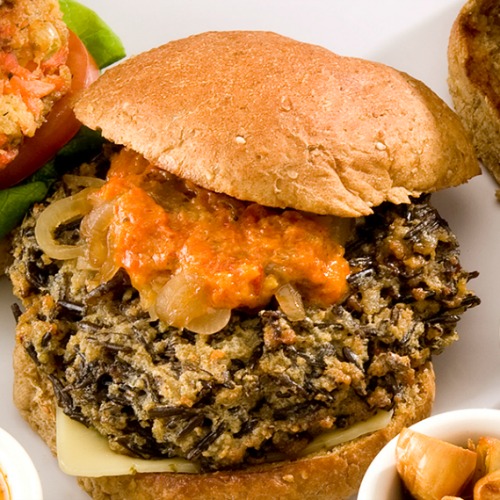 History of Wild Rice by International Wild Rice Association:
The history of wild rice is an interesting one. It is an aquatic cereal grain that grows wild in isolated lakes and river bed areas located primarily within the continent of North America.  This ancient grain has been found in layers of the earth dating back some 12,000 years.  In addition to its role as an important food staple for ancestral peoples, it has provided a unique habitat for fish and waterfowl for thousands of years.  The methods used for harvesting wild rice have remained unchanged for centuries.  Wild Rice also has many uses, as a grain, as a folk medicine, in ornamental use and in cultural events.
"Real" or what many people call "organic wild rice" grows wild in the clear lakes of northern Minnesota and Canada.  It is not genetically modified and has not been altered like some of the cultivated paddy wild rice that is available in grocery stores across the country.
Wild Rice Burger Recipe:
Keyword:
Vegetarian Burger Recipe, Wild Rice Burger Recipe
Ingredients
5

cups

wild rice,

cooked (see cooking instructions below)

1

cup

Panko crumbs

(Japanese bread crumbs)

1 1/2

cups

mayonnaise

4

eggs,

beaten

1

cup fresh

mushrooms,

diced

1

teaspoon

white pepper

1

teaspoon

salt

1 1/2

teaspoons granulated

garlic*

4

teaspoons

cumin

1 1/2

teaspoons

red peppers,

crushed

2

tablespoons

vegetable oil

Whole Grain Buns
Instructions
Wild Rice Burger Instructions:
Cook wild rice according to package instructions or recipe below; cool completely before using in this recipe.

In the large bowl, combine the cooked wild rice, Panko crumbs, mayonnaise, eggs, and mushrooms. Add the white pepper, salt, garlic, cumin, and red pepper seasonings to the prepared wild rice mixture and mix until well combined.

Using a metal 1-cup measuring cup, scoop some of the prepared rice mixture and form into patties about 1-inch thick.

Heat vegetable oil in a large frying pan over medium-high heat. Add the rice patties and cook until heated through and nicely brown on both sides.

Remove patties from heat.

To serve the rice burgers, prepare the buns and burger toppings (of your choice).
Wild Rice Cooking Instructions:
Rinse 1 1/2 cups uncooked wild rice.

In a saucepan over high heat, bring 4 1/2 cups water to a boil. Add uncooked wild rice and return water just to a boil. Cover, reduce heat, and let simmer until kernels puff open, about 45 to 60 minutes (for chewier wild rice, use a shorter cooking time).

Fluff wild rice with a fork and let simmer 5 additional minutes, uncovered. Remove from heat and drain off any excess liquid.

Let rice cool completely before using in the Wild Rice Burger recipe.

The wild rice can be made ahead and refrigerated until ready to use.

Recipe make 5 cups cooked wild rice.
Recipe Notes
* Granulated garlic is used in recipes when you want a potent garlic flavor without the mess of mincing fresh garlic. Granulated garlic has a thick, cornmeal-like texture.
Source:
Recipe was adapted from the Duluth Grill Cookbook, by Robert Lillegard. This cookbook is filled with more than 100 make-at-home versions of the restaurant's most popular recipes. Recipe was shared with me by John Shirley.
Photo posted with permission by Rolf Hagberg Photography
Comments and Reviews