Pinot Noir Poached Salmon is wonderful as the salmon is very delicate and tasty.  Be sure and give this poached salmon recipe a try!
My neighbor gave me a fresh salmon filet that he had just caught a couple of hours before.  Naturally, I wanted to cook and serve this fresh-caught salmon for dinner.  Since Pinot Noir wine is a favorite of my husband and I (having a vineyard of Pinot Noir grapes also helps), I decided to try poaching the salmon in the wine.  Well, the Pinot Noir Poached Salmon was outstanding!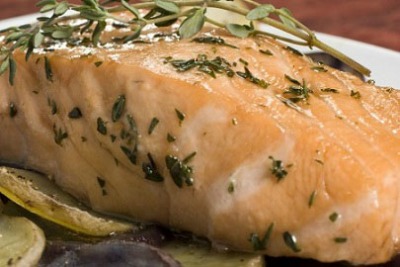 Learn about the interesting Story of Pacific Salmon.
More of Linda's great Salmon Recipes and also How To Select, Buy, and Cook Fish.
Pinot Noir Poached Salmon Recipe:
Keyword:
Pinot Noir Poached Salmon Recipe
Ingredients
1

salmon

fillet or 2 salmon steaks, approximately 1-inch thick

Juice

of 1/2 lemon

Pepper,

coarsely-ground

1

cup

Pinot Noir wine

1

cup

water

1 to 2

tablespoons

butter
Instructions
Wash salmon fillet and pat dry; squeeze lemon juice over the top of the salmon, sprinkle with coarse salt and pepper.

In a skillet or frying pan that is 2-inches deep, add wine and water and bring just to a simmer; reduce heat to low. Add salmon fillet or steaks in a single layer (skin-side down if using a fillet). Cover and simmer approximately 8 to 12 minutes or until a meat thermometer registers an internal temperature of 140 degrees F. (salmon will be slightly opaque in thickest part). Remember the salmon continues to cook after it is removed from the heat source.

Carefully remove salmon from pan and transfer onto individual serving plates.

Approximately cooking times for salmon:


1/4 to 1/3-inch - 3 to 4 minutes

1/2 to 3/4-inch - 4 to 6 minutes

1 to 1 1/2-inch - 8 to 12 minutes

After removing the poached salmon, let the liquid boil until reduced to approximately 1/3 cup. Remove pan from heat. Add the butter and mix it in by swirling the pan.

Pour the sauce over the salmon just before serving.
Source:  Photo by Larry Crowe, AP photo.

I get many readers asking what cooking/meat thermometer that I prefer and use in my cooking and baking. I, personally, use the Thermapen Thermometer. Originally designed for professional use, the Super-Fast Thermapen Thermometer is used by chefs all over the world.  I only endorse a few products, on my web site, that I like and use regularly.
You can learn more or buy yours at: Super-Fast Thermapen Thermometer.
Sponsored Content
Comments and Reviews