My family thinks this Baked Honey Glazed Ham recipe is better than the commercial one.  The honey glaze crackles with good flavor and taste as it has a distinctive flavor can only be achieved with a glaze.  Baked Honey Glazed Ham makes a great holiday ham dinner for Easter Dinner, Thanksgiving Dinner, and also Christmas Dinner.  Learn How To Prepare and Cook Perfect Ham – Ham 101.
In the 1824 cookbook called The Virginia Housewife written by Mary Randolph (a relative of Thomas Jefferson), the process was described as toasting a ham instead of glazing:
"To toast a ham, boil it well, take off the skin, and over the top thickly with bread crumbs, put it in an oven to brown and serve it up."  –  From The Ham Book – A Comprehensive Guide to Ham Cookery, by Monette and Bob Harrell.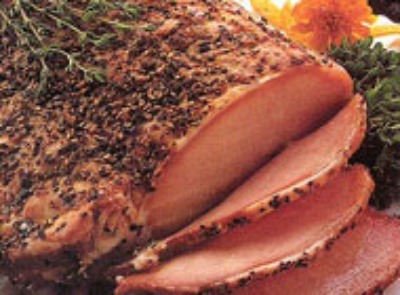 Please check out my Honey-Glazed Ham Easter dinner menu which includes this wonderful Baked Honey-Glazed Ham.
Baked Honey Glazed Ham Recipe:
Keyword:
Baked Honey Glazed Ham Recipe
Ingredients
1

(6 to 8-pound) smoked

ham,

2

tablespoons

prepared mustard

1

cup firmly-packed

brown sugar

1/2

cup

honey

Whole

cloves

Unsweetened slices

pineapple rings

(fresh or canned)

1

cup slightly sweet

white wine

1

cup

ginger ale

or 7 Up
Instructions
Preheat oven to 250 degrees F. or if pressed for time, 300 degrees F.

Remove the rind from the ham and most of the fat, leaving an even layer about 1/8-inch thick. Place the ham in a roasting pan lined with heavy-duty aluminum foil (this will eliminate a nasty clean-up later).

Score the fat on the ham (making a diamond pattern):

Hams are usually decorated in the traditional manner of scoring (making diagonal slashes in the fat with a sharp knife to form diamond shapes, studding with whole cloves, and glazing).

In a small bowl, combine prepared mustard, brown sugar, and honey. Rub the ham all over with the mustard-honey sauce, pressing sauce into the cut marks. Stick a whole clove in the center of each diamond. Using toothpicks, secure slices of pineapple to the ham. Then in the center of each pineapple ring, secure maraschino cherries with toothpicks.

NOTE: If preparing 1/2 a ham, cover the cut end with heavy-duty aluminum foil, secured with toothpicks, to keep the meat from drying out.

Bake the ham, fat side up, from 2 to 4 hours (depending on the size and weight of your ham) or until internal temperature reads 140 degrees F. on a meat thermometer. Baste every 30 minutes with equal parts wine and ginger ale, or ginger ale only. Later in the cooking, baste with pan juices. When done, remove from oven and transfer to a carving board. Let the ham stand for 30 minutes before carving.

When slicing, cut away the rind and any excess fat. Then cut into slices, as thin as possible.

Add accumulated carving juices to the remaining sauce and serve separately. Arrange the meat on a warmed serving platter.

I get many readers asking what cooking/meat thermometer that I prefer and use in my cooking and baking. I, personally, use the Thermapen Thermometer. Originally designed for professional use, the Super-Fast Thermapen Thermometer is used by chefs all over the world.  I only endorse a few products, on my web site, that I like and use regularly.
You can learn more or buy yours at: Super-Fast Thermapen Thermometer.
Sponsored Content
Comments and Reviews