This Petite Pork Tenderloin Roast is my husband's absolute FAVORITE pork roast.  This pork roast is truly delicious, plus so easy to make and serve.
Great to serve for dinner parties.  I have served this outstanding Petite Pork Tenderloin Roast to everyone I know.  Now I can only cook it for ourselves!  You will be surprised how low in calories and fat pork is!  We like this roast served either with or without the Savory Mustard Sauce.  Both ways are great!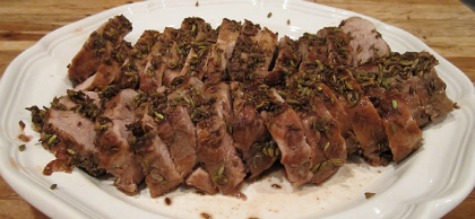 Check out my Pork Roast dinner menu which includes this favorite Petite Pork Roast.
Petite Pork Tenderloin Roast Recipe:
Keyword:
Petite Pork Tenderloin Roast Recipe, Savory Mustard Sauce Recipe
Servings
:
4
to 6 servings
Ingredients
Petite Pork Tenderloin Roast:
1

(2-pound)

pork tenderloin roast*

2

tablespoons

soy sauce

1/4

teaspoon

ground mustard

2

tablespoons

fennel seeds

2

tablespoons

caraway seeds
Savory Mustard Sauce:
1/4

cup

water

2

tablespoons

ground mustard

1

teaspoon

cornstarch

3

tablespoons

light corn syrup

1

tablespoon

cider vinegar
Instructions
Trim the tenderloin roast of fat and silver skin (see photo on left). Silver skin is a silvery-white connective tissue. It does not dissolve when the tenderloin is cooked, so it needs to be trimmed away. If the silver skin is not trimmed off, it will cause the tenderloins to curl up into the shape of a quarter moon.

Score the meat at various points across the width of the tenderloin and set aside.

In a small bowl, combine soy sauce and ground mustard. Using your fingers, rub the soy/mustard mixture onto the roast. On a piece of wax paper, combine fennel seeds and caraway seeds; roll the coated roast in the seed mixture to coat evenly. Wrap tightly in plastic wrap and refrigerate at least 2 hours or overnight.

Preheat oven to 375 degrees F. Bring roast to room temperature before cooking. Unwrap plastic wrap from the roast.

Place fat side up onto a rack in a shallow baking pan. Bake, uncovered, 30 to 45 minutes or until a meat thermometer inserted into thickest part of the roast registers 140 degrees F. to 145 degrees F.

Remove from oven and transfer onto a cutting board; let roast stand 15 minutes before carving (meat temperature will rise 5 to 10 degrees after it is removed from the oven). Transfer onto a serving platter and serve with Savory Mustard Sauce.
Savory Mustard Sauce Instructions:
In a small saucepan over medium heat, combine water, ground mustard, and cornstarch. Stir in corn syrup and cider vinegar; cook and stir until thickened and bubbly. Cook and stir another 2 minutes. Remove from heat and let cook before using.
Recipe Notes
*  For a more flavorful and succulent pork roast, brine your pork roast according to my Guidelines for Brining Pork.  Most cooking experts agree that brined poultry and meat are more flavorful and succulent. The results are particularly apparent when the meat is cooked in the smoky heat of a covered barbecue, because the brine helps to mask bitter components in smoke that can make foods taste unpleasantly acrid.

I get many readers asking what cooking/meat thermometer that I prefer and use in my cooking and baking. I, personally, use the Thermapen Thermometer. Originally designed for professional use, the Super-Fast Thermapen Thermometer is used by chefs all over the world.  I only endorse a few products, on my web site, that I like and use regularly.
You can learn more or buy yours at: Super-Fast Thermapen Thermometer.
Sponsored Content
Comments and Reviews