This Spiced Grilled Pork Chops recipe will serve six hungry people or provide tonight's entree and tomorrow's sandwiches for people with smaller appetites. Serve with grilled polenta and coleslaw.  Excellent served with an Oregon pinot noir wine.
I slightly adapted this Spiced Grilled Pork Chops recipe from Chef David Bergen of Tina's Restaurant in Dundee, OR.  Recipe appeared in the Oregonian FOODay, May 23, 2006.
More great Pork Recipes.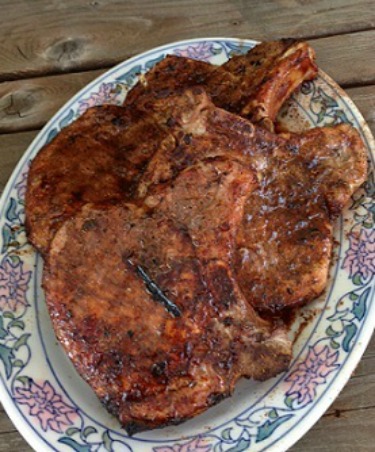 Spiced Grilled Pork Chops Recipe:
Keyword:
Spiced Grilled Pork Chops Recipe
Instructions
Spiced Grilled Pork Chops Instructions:
Prepare brine (see recipe below). Add pork chops, cover and refrigerate for approximately 2 hours. After brining, remove meat from brine and pat dry, saving the brine if you wish to make the glaze.

Prepare Spice Rub (see recipe below). With you hands, spread the Spice Rub over both sides of each previously brinned and dried pork chop.

Preheat and oil Barbecue grill. To check grill temperature, count the seconds you can hold your hand, palm side down, 2 to 3 inches above the rack, until it feels uncomfortable: 2 seconds for hot.

Place chops on the oiled grill at high heat (or above the center of a hot charcoal grill until nice grill marks appear, approximately 3 minutes per side. Turn grill heat to medium-low (or move meat to outer edges of charcoal grill) and baste meat with glaze. Cook approximately 10 minutes more, continuing to baste both sides with glaze, until done to your liking. (Chef David Bergen cooks the chops until they reach 120 degrees on an instant-read meat thermometer.)

Remove cooked pork chops from grill and place chops on a warm platter and tent with foil for 5 minutes, during which time the meat will continue to cook. Remove foil and serve.
Brine Instructions:
In a large bowl or pot, combine water, soy sauce, molasses, fresh ginger, and balsamic vinegar.
Spice Rub Instructions:
Place a small dry skillet on medium-high heat.  When pan is warm, add fennel and cardamom seeds and toast, shaking skillet frequently, until lightly browned and fragrant, approximately 2 to 3 minutes.  Crush seeds with a mortar and pestle or rolling pin. In a small bowl, combine 1 1/2 teaspoons toasted spice mix with sea salt and paprika.

NOTE: At Tina's, Bergen throws a handful of dried currants into his glaze to sweeten and thicken it.
Wine Glaze Instructions:
Combine 3 cups of leftover brine liquid and the remaining toasted spices with wine, paprika and brown sugar in a wide saute pan over medium-high heat.  Keep at a low boil (turning heat down if necessary) for approximately 15 to 20 minutes or until liquid is reduced to 1/2 cup or so.
Recipe Notes
* Any good meat market or grocery meat counter should be able to custom-cut 12-ounce pork chops for you, as they are slightly thicker than the typical cut.

I get many readers asking what cooking/meat thermometer that I prefer and use in my cooking and baking. I, personally, use the Thermapen Thermometer. Originally designed for professional use, the Super-Fast Thermapen Thermometer is used by chefs all over the world.  I only endorse a few products, on my web site, that I like and use regularly.
You can learn more or buy yours at: Super-Fast Thermapen Thermometer.
Sponsored Content
Comments and Reviews