Arroz Con Pollo (pronounced "Aros con POHyoh"- emphasizing the "A") literally means Rice with Chicken, a delicious one-pot Spanish dish that is scented with saffron.  There is evidence that this dish is from Andalusia region of Spain and was influenced by the Moorish culture in the 8th century occupation of Spain.
Arroz Con Pollo is a classic dish of Spain and Latin America with particular popularity in Cuba, Puerto Rico, and Colombia.  There are many different traditional ways to prepare it, unique to each country, using different spices, herbs, and vegetables.
This dish is a popular and easy one-pan dish that is great for family meals or even company.  To me, this dish is more like a Spanish paella, but without the shellfish.  This dish will even work with you are on a diet!  I love this recipe because it is very easy to make and so delicious!
This wonderful Arroz Con Pollo recipe, comments, and photos were shared with my by Karen Calanchini, Food Stylist and Photographer, of Redding, CA.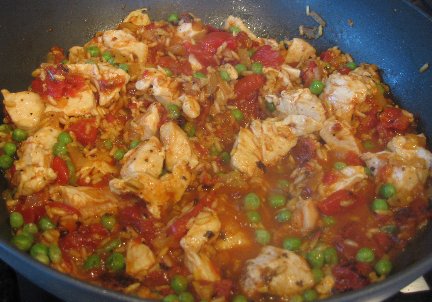 For more great Low Fat Recipes, Low Calorie Recipes, Low Carbohydrate recipes, and Diabetic Recipes, check out my Diet Recipe Index.  Also check out my Nutritional Chart for fat grams, fiber grams, and calories for all your favorite foods.
Arroz Con Pollo - Rice with Chicken Recipe:
Keyword:
Arroz Con Pollo Recipe, Rice with Chicken Recipe
Ingredients
2

teaspoons

olive oil, 

extra-virgin

4

chicken breasts,

boneless and skinless, cut into bite-size pieces*

1/2

cup long-grain

white rice

1/2

cup

onions,

chopped

1

(14.5-ounce) can whole

tomatoes,

drained

1

(7-ounce) jar "roasted"

red peppers,

drained

1

cup

chicken stock,

fat free

1/4

cup

parsely,

finely chopped

1/4

teaspoon

rosemary,

dried and crushed

1/4

teaspoon

salt

or to taste

Pinch of

saffron,

crushed

1

cup

frozen petite peas

Black pepper,

coarsely ground, to taste
Instructions
In a large non-stick frying pan, paella pan, or cast-iron skillet over medium high heat, heat olive oil; add chicken pieces and saute (turning until browned), approximately 7 minutes. Remove chicken and transfer to a plate; set aside.

In the same frying pan, stir together rice and onion; cook approximately 2 minutes or until onions are translucent.

Stir in tomatoes, red peppers, chicken broth, parsley, rosemary, salt, and saffron.

Return chicken to pan; cover and let simmer for 25 minutes. Stir in frozen peas and pepper; cook until rice is tender and almost all liquid is absorbed, about 6 to 8 minutes.

Remove from heat and serve.
Recipe Notes
* The U.S. Department of Agriculture, as well as food agencies in the United Kingdom and elsewhere, advises against washing poultry.  Rinsing chicken will not remove or kill much bacteria, and the splashing of water around the sink can spread the bacteria found in raw chicken.  Cooking poultry to 165 degrees Fahrenheit effectively destroys the most common culprits behind food-borne illness.
Nutrition Facts
Arroz Con Pollo - Rice with Chicken Recipe:
Amount Per Serving
Calories 249
Calories from Fat 50
% Daily Value*
Fat 5.6g9%
Carbohydrates 20.6g7%
* Percent Daily Values are based on a 2000 calorie diet.
Source:  Recipe originally from the cookbook called Weight Watchers Simply Light Cooking.
Comments and Reviews