Bourbon Chicken has a mouth-watering aroma and a semi-sweet taste.  This chicken is also commonly found at Cajun-themed Chinese restaurants.  It is usually prepared from bite-sized pieces of boneless chicken which have been marinated, cooked and served in a special sauce that usually contains whiskey.
Some people think that the name for this recipe came from the name of the main street in New Orleans.  The name actually comes from Kentucky where most of the world's bourbon whiskey is made and barreled.
More great Poultry Recipes and learn how to Brine Poultry for a moister and tastier dish.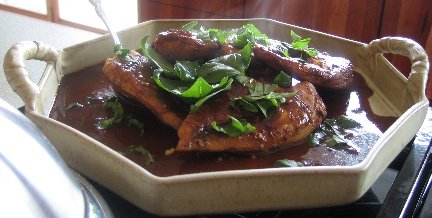 Bourbon Chicken Recipe:
Keyword:
Bourbon Chicken Recipe
Ingredients
6

chicken breast 

halves, coneless and skinless*

1

cup

bourbon whiskey

1/2

cup (firmly packed) dark

brown sugar

1

cup

ketchup

2

tablespoons

Worcestershire sauce

1/4

cup

cider vinegar

1

tablespoon

lemon juice,

freshly squeezed

3

cloves

garlic,

minced

1/2

teaspoon

dry mustard

Salt

and black pepper to taste
Instructions
Place chicken breasts, in a single layer, into an ungreased 13x9-inch baking pan.

In a large bowl, combine whiskey, sugar, ketchup, Worcestershire sauce, vinegar, lemon juice, garlic, mustard, salt, and pepper. Pour bourbon marinade over chicken breasts. Cover and marinate at room temperature for 20 minutes or refrigerate to marinate longer (turning meat over several times).

Preheat oven to 325 degrees F.

Bake chicken (with the marinade), uncovered, 20 to 30 minutes or until a meat thermometer registers an internal temperature of 165 degrees F (juices will run clear when cut with the tip of a knife); basting several times during cooking. Removefrom oven and serve immediately.
Recipe Notes
* The U.S. Department of Agriculture, as well as food agencies in the United Kingdom and elsewhere, advises against washing poultry.  Rinsing chicken will not remove or kill much bacteria, and the splashing of water around the sink can spread the bacteria found in raw chicken.  Cooking poultry to 165 degrees Fahrenheit effectively destroys the most common culprits behind food-borne illness.

I get many readers asking what cooking/meat thermometer that I prefer and use in my cooking and baking. I, personally, use the Thermapen Thermometer. Originally designed for professional use, the Super-Fast Thermapen Thermometer is used by chefs all over the world.  I only endorse a few products, on my web site, that I like and use regularly.
You can learn more or buy yours at: Super-Fast Thermapen Thermometer.
Sponsored Content
Comments and Reviews