One taste of this Cornell Chicken recipe and you will definitely know why it is so popular. My husband loves it! This delicious chicken is served everywhere in New York state, especially during the outdoor grilling season. During the New York State Fair, which takes place each summer in Syracuse, it is said that over 5,000 Cornell Chickens are consumed, marking it as the unofficial food of the event.
This recipe was developed by Dr. Robert C. Baker (1921-2006), a former Cornell University poultry science and food science professor who helped develop chicken nuggets, turkey ham, and poultry hot dogs.
History of Cornell Chicken: In 1946, Baker researched and developed innovative ways to use poultry. This Cornell Chicken Barbecue Sauce recipe has stood the taste test of time, having been showcased for more than five decades at his Baker's Chicken Coop at the New York State Fair in Syracuse, N.Y. Baker developed the recipe while working for Pennsylvania State University, but the barbecue sauce he devised was not appreciated until he joined the Cornell faculty with a mandate to promote New York state's poultry industry. This recipe is considered a central New York state regional food and if often referred to as "State Fair Chicken."
According to the Lansing Star Online Newspaper:
Each year the Bakers set up shop in a big red building with covered seating on either side where customers line up for chicken dinners, wings, salt potatoes, salads and a whole menu of delicious choices. The smell of chicken is irresistible as you walk by and it is hard not to go in and get a plate of chicken.
The tradition was begun 56 years ago by Bob Baker, a retired Cornell professor, and his wife Jackie. Dr. Baker is known for inventing "Cornell Sauce," a marinade for chicken. They ran the restaurant until 1988, when their daughter Renee Sandsted took it over.
1999 – President Bill Clinton, Hillary Rodham Clinton, and their daughter, Chelsea, toured the New York State Fair. There they visited Baker's Chicken Coop eatery, specifically to savor a taste of the famous Cornell Barbecued Chicken. As the first family arrived at the barbecue stand, one of Baker's daughters presented the Clintons with a basket of New York state apples. "Those apples look good, but where's the chicken?" the president asked.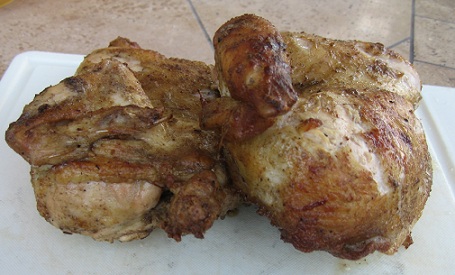 Cornell Chicken Barbecue Sauce Recipe:
According to Robert Baker, "Barbecue broilers without sauce are like bread without butter. The barbecue sauce is a basting material. Brush it on the broiler halves every few minutes during cooking."
Keyword:
Cornell Chicken Barbecue Sauce Recipe
Ingredients
1

egg

1/2

cup

vegetable oil 

1

cup

cider vinegar

2

teaspoons

coarse salt*

2

teaspoons

poultry seasoning

1/4

teaspoon

black pepper,

freshly ground

Poultry pieces

(half chicken, whole chicken, whole chicken legs, chicken thighs, and/or chicken breasts)
Instructions
In a large bowl, whisk the egg. Add the oil and whisk until the mixture gets thick, homogenous, and a bright yellow, approximately 2 minutes. Whisk in the cider vinegar, salt, poultry seasoning, and pepper. NOTE: If you prepare the barbecue sauce ahead of time, refrigerate until ready to use. As this sauce is high in acid which kills any bacterial that might be present in the eggs. If you are still worried, use pasteurized eggs.

In a large resealable plastic bag, place the chicken pieces of your choice. Pour the prepared sauce over the chicken and let marinate in the refrigerator for at least 2 hours or up to 24 hours (the longer you marinate, the better).

When ready to grill, preheat barbecue grill (spray grill with vegetable-oil cooking spray before heating).

Place the marinated chicken over indirect heat on the grill (to the side of the grill).

Barbecue with Charcoal: When coals are ready, spread them around the edge of the firebox (24" round) and keep a squirt bottle near the fire to put out flames. Turn the chicken often and don't let it burn. Breasts take about 25 minutes or until a meat thermometer registers an internal temperature of 165 degrees F. (juices will run clear when cut with the tip of a knife). Do not close the lid on the barbecue.

Gas Barbecue (since you cannot maintain a hot fire without closing lid): Place prepared chicken onto hot grill. Cover barbecue with lid, open any vents, and cook approximately 20 to 25 minutes or until a meat thermometer registers an internal temperature of 165 degrees F. (juices will run clear when cut with the tip of a knife); turning several times during barbecuing.

You want to slow roast the chicken on your gill. Baste the chicken every 5 or 10 minutes with the Barbecue Sauce.

Discard any barbecue sauce that was used to baste the chicken. Do not serve any leftover basting sauce as it will have been contaminated with raw chicken during the marinating process with repeated basting. Remove from grill, transfer onto a serving plate and enjoy!

Makes about 1 1/2 cups sauce. Yield: Enough for 5 pounds of chicken.
Recipe Notes
* Adjust the quantity of salt to meet individual health needs and taste.  I use less salt than called for in the recipe.  Barbecued chicken basted frequently during cooking will be saltier than chicken that has been lightly basted.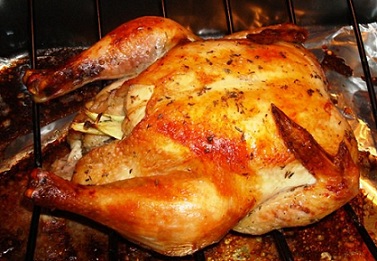 I get many readers asking what cooking/meat thermometer that I prefer and use in my cooking and baking. I, personally, use the Thermapen Thermometer. Originally designed for professional use, the Super-Fast Thermapen Thermometer is used by chefs all over the world.  I only endorse a few products, on my web site, that I like and use regularly.
You can learn more or buy yours at: Super-Fast Thermapen Thermometer.
Sponsored Content
Comments and Reviews