King Ranch Chicken Casserole is a favorite stick-to-your-ribs comfort food among Texans. You will find it served at many potlucks, school cafeterias, funerals, and church socials. It is considered the quintessential Texan potluck dish. At most social gatherings in Texas, one can be guaranteed to find 2 to 3 competing versions of this dish. It is said that if the Texas State Legislature were to declare a State Casserole Dish, it would be the King Ranch Chicken Casserole.
The common ingredients used in this casserole are corn tortillas, chicken, cheese, canned cream of mushroom and chicken soups, canned Ro-Tel tomatoes, and bell peppers. This classic casserole is like a layered chicken enchilada with lots of cheese heaped between each layer. The end result is creamy cheesy goodness! You can eat the casserole with a fork, but my youngest daughter and her husband enjoyed scooping up each bite with tortilla chips.
I will be bold enough to say that in addition to a casserole this can be easily served as a hearty party dip! Although the casserole contains spicier ingredients, the end result is mild enough for the whole family to enjoy.
You might also enjoy this Chicken Enchilada Soup that uses a lot of the same ingredients and is similar in taste to the King Ranch Chicken Casserole.
More great Poultry Recipes.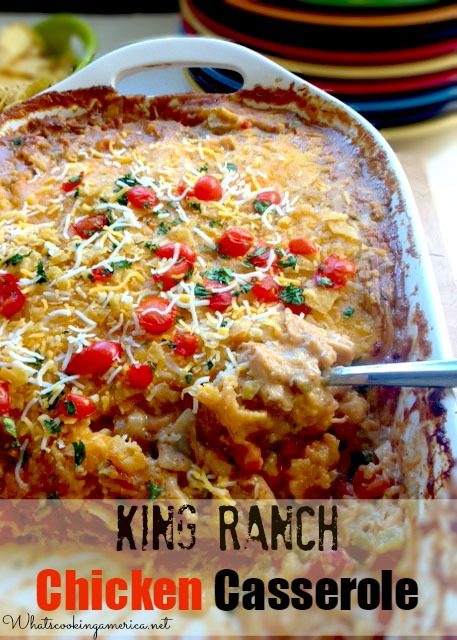 History of King Ranch Chicken Casserole:
Various recipe versions of this casserole can be found in countless Junior League cookbooks and also featured as the daily special at many roadside Texas diners. The name of the casserole comes from the famous King Ranch in Kingsville, Texas which is known as the largest size ranch in the world. More than 800,000 acres sprawling across 75 plus miles of land! Sadly, it does not appear that this casserole was created at the famous ranch known for its beef and the main ingredient for this casserole is chicken. It has been said that the ranch owners wife cringes at the thought of this casserole:
"Her heart would drop every time some well-meaning hostess would come to her house and present King Ranch Casserole to her, because they didn't have anything to do with it" – Texas Monthly.
There are a few unproven theories on the origins of this casserole:
One theory attributes that the rise of the popularity of King Ranch casserole coincided with post World War II cooking in the 1950's. Canned soups provided more cooking convenience for housewives to free up their time. It is possible that the Campbell soup company introduced the idea of this casserole in recipe pamphlets that used to be sent to housewives in an effort to sell more product in the stores.
Another theory is the recipe could have been created by a Junior League Society club woman in Texas for one of their cookbooks.
Another rumor is that a lady from Robstown, Texas (which is near the King Ranch) may have entered the recipe in a national cooking contest for either Pillsbury or Campbells and used the name King Ranch since it was catchy.
Most people believe this casserole recipe originated sometime in the 1950's. In most cases, the creation of casseroles across the country came from the need for housewives to find inexpensive and filling ingredients to feed a large family or church congregation.
1950's – Casserole gained popularity with the introduction of Campbell's Cream of Mushroom soup.
1966 – Mrs. A.E Sommer's Chicken Tortilla Casserole claimed 3rd prize in the 12th annual Press-Telegram Cook Book Contest (Long Beach, CA), published September 4,1966 (pg. 19).
Whats Cookin, San Antonio Light, (TX), January 23rd 1966 (p.9-G):
"King Ranch Chicken is Mrs. William L Gill's favorite casserole for luncheon or buffet. It was served to her Christmas Party for the Holly Garden Club of which she was the member for many years. She finds the casserole a hit with men as well as with women guests. The ingredients for King Ranch Chicken are as follows: Three to four pounds of chicken breasts, boiled until tender, then diced. (reserve stock): 1 dozen fresh tortillas, 1 can cream of mushroom soup, 1 can cream of chicken soup, 1 cup chopped green pepper, 1 cup chopped onion, 1 tablespoon of chili powder, pound of grated cheddar cheese. Line the bottom and sides of greased 3-quart casserole with a layer of tortillas. Sprinkle with 2 tablespoons of chicken stock. Then make a layer with 1 can undiluted cream of mushroom soup, of the diced chicken and of the other ingredients in order. Cover with tortillas, sprinkle with 2 tablespoons of chicken stock, and make a second layer with 1 can of undiluted cream of chicken soup and the remaining ingredients. Top the last layer with 1/2 small can of tomatoes (10 oz size) and 1/2 small can of tomatoes with chiles. The casserole may be prepared in advance and refrigerated. When ready to serve, bake at 350 degrees F. for about 1 hour. Served with a tossed green salad and French bread."
1973 – King Ranch Chicken was among one of the recipe staples that First lady, Ladybird Johnson, wife of President Lindon B. Johhson liked to have served at her LBJ ranch in Stonewall, Texas. It was listed as one of the red book recipes kept (collection of favorite recipes that her ranch staff kept in a red book) in the archives at the Lindon B Johnson Library at the University of Texas.
King Ranch Chicken Casserole Recipe:
Keyword:
King Ranch Chicken Casserole Recipe
Servings
:
8
to 10 servings
Ingredients
1

rotisserie

chicken, 

shredded with skin and bones removed*

1

tablespoon

olive oil,

extra-virgin

2

tablespoons

chili powder

1/4

cup

butter

1

medium

onion,

diced

1

red bell pepper,

diced with core and stem removed**

1

(10.75-ounce) can

nacho cheese soup

1

(10.75-ounce) can

condensed cream of mushroom soup***

1

(10.75-ounce) can

condensed cream of chicken soup***

1

(14.5-ounce) can

Ro-Tel Tomatoes

1

(7-ounce) can

green chiles,

diced****

4

cups

sharp cheddar cheese,

shredded

Tortilla chips

(optional)
Instructions
Preheat oven to 350 degrees F. Grease a 9x13-inch baking dish with butter or non-stick cooking spray.

In a large skillet over medium-high heat, add olive oil and heat until warm. Add chicken and sautto warm up the meat and then add the chile powder. Stir with spatula until chili powder is distributed evenly over all the chicken meat. Remove chicken meat from skillet and set aside.

Turn heat down to medium, add butter and heat until just melted.  Add onions and bell peppers and sautfor a few minutes until vegetables are softened and onions appear translucent.

Next add nacho cheese soup, cream of mushroom soup, cream of chicken soup, and the diced tomatoes with liquid and green chiles.  Stir together to combine and heat until mixture just begins to boil, stirring occasionally.  Remove from heat and add the chicken mixture and stir together to combine; set aside.

In the prepared baking dish, add a small scoop of the creamed chicken mixture and spread the sauce all over the bottom of the pan. Next cover the entire bottom of the pan with corn tortillas. Cover the corn tortillas with a layer of the creamy chicken mixture, spreading across the entire pan. Sprinkle shredded cheese over the entire layer of chicken mixture until fully covered.

Repeat the layering steps one more time ending with shredded cheese on top.

Place the prepared casserole on a baking sheet and place in the middle over rack. Bake approximately 35 to 40 minutes until casserole is bubbly.

Remove from oven to let cool for 10 to 15 minutes before serving. Garnish with your favorite toppings and serve with tortilla chips and enjoy!

If you would like to make this casserole in advance, cover and refrigerate for up to 24 hours. When ready to bake, remove from refrigerator and bring to room temperature or add 10 to 15 minutes to baking time.

Freezing Instructions:  Can freeze unbaked casserole with 2 layers of aluminum foil for up to 1 month.  Thaw overnight in refrigerator and bake as directed.
Recipe Notes
* Can substitute 3 to 4 chicken breasts, cooked, deboned, and shredded.
** Can substitute with green bell peppers.
*** See Bechamel Sauce - Basic White Sauce to make your own cream of chicken and mushroom sauce.
**** If unable to find Ro-Tel brand, substitute 1 (14.5-ounce) can of diced tomatoes and 1 (7-ounce) can of diced green chiles.
Garnishment Options:
Sour Cream
Salsa
Tortilla Chips
Diced Tomatoes
Diced Jalapeños
Cilantro
History References:
Austin360.com, Food and Cooking, Barbecue Tradition at the LBJ Ranch, Johnson family caterer and cook Tillie Hahne shares her memories, May 2,2012, by Michael Barnes.
Comments and Reviews