The quintessential southern dish is Southern Fried Chicken. There are as many recipes for Southern Fried Chicken as there are southern cooks, with most being passed down through generations. The classic fried chicken is though to have developed in the latter half of the eighteenth century from the traditional fricasee or frigasee that was served in most homes in the south.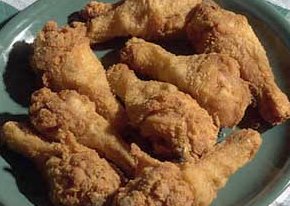 More great Poultry Recipes and learn how to Brine Poultry for a moister and tastier dish.
Please check out my Old-Fashioned 4th of July Picnic menu which includes this wonderful fried chicken recipe.
Southern Fried Chicken Recipe:
Keyword:
Southern Fried Chicken Recipe
Servings
:
4
to 6 servings
Instructions
Southern Fried Chicken Instructions:
Place the chicken pieces in a basin of cold water and soak for a few minutes. remove from water and drain well; pat dry with paper towels. Season generously with salt and pepper.

In a large plastic bag, add flour; close the bag and shake to dust the inside of the bag.

In a large deep cast-iron skillet over medium-high heat, melt the lard or shortening and bring to 350 degrees F. (hot but not smoking). To test temperature of oil, drop a pinch of flour into pan; flour should float and sizzle on hot oil. If flour sinks to bottom of pan and disperses, oil is not hot enough for frying.

Beginning with the dark meat dark meat takes longer to cook than white meat), drop the chicken, a few pieces at a time, into the plastic bag; close the bag and shake until the pieces are thoroughly coated. remove pieces from bag, shaking off excess flour, and place into the hot fat. Repeat until all chicken pieces are coated and in the pan.

If you do not have a large enough pan, use two pans or cook the chicken in batches. If you fry in batches, preheat the oven to 150 degrees F. to hold the cooked chicken. Do not hold chicken for more than 30 minutes or the chicken will dry out.

Reduce heat to medium; fry the chicken slowly 12 to 15 minutes or until the bottom side of each piece is a rich golden brown. Carefully turn the chicken pieces and continue cooking an additional 12 minutes or until each piece is golden brown on all sides and a meat thermometer registers an internal temperature of 165 degrees F. (juices will run clear when cut with the tip of a knife). Remove and let drain on paper towels.

Pour off all but 2 tablespoons of the cooking fat. Put the skillet back over the heat and made the Cream Gravy.
Cream Gravy Instructions:
In the same skillet in which you fried the chicken and left 2 tablespoons pan drippings, set burner heat to medium. Sprinkle flour over the fat and blend or whisk until smooth. Whisking or stirring constantly, slowly pour in milk or cream; continue stirring, scrapping loose any browned bits that may be stuck to the skillet, until the gravy begins to boil. Season with salt and pepper to taste.

Reduce heat to low and simmer, stirring occasionally, 5 to 8 minutes or until gravy is thicken to the desired consistency and the flour has lost its raw, pasty taste. Remove from pan and serve hot.
Recipe Notes
* The U.S. Department of Agriculture, as well as food agencies in the United Kingdom and elsewhere, advises against washing poultry.  Rinsing chicken will not remove or kill much bacteria, and the splashing of water around the sink can spread the bacteria found in raw chicken.  Cooking poultry to 165 degrees Fahrenheit effectively destroys the most common culprits behind food-borne illness.

I get many readers asking what cooking/meat thermometer that I prefer and use in my cooking and baking. I, personally, use the Thermapen Thermometer. Originally designed for professional use, the Super-Fast Thermapen Thermometer is used by chefs all over the world.  I only endorse a few products, on my web site, that I like and use regularly.
You can learn more or buy yours at: Super-Fast Thermapen Thermometer.
Sponsored Content
Comments and Reviews