Venetian Apricot Chicken is sweet and flavorful. This recipe was inspired from the Veneto region of Italy. This recipe of grilled chicken breasts in an apricot citrus sauce has a unique sweet citrus flavor. The good news is that it is a great low-fat meal option.
This delicious Venetian Apricot Chicken recipe and photo are courtesy of the Olive Garden Restaurants. Inspired by a tour through the northern Veneto and southern Campagna regions of Italy, the chefs of the Olive Garden Restaurants have created this new entree for their menu.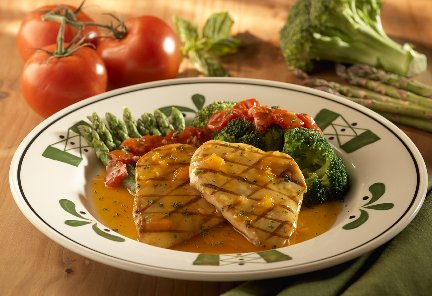 More great Poultry Recipes and learn how to Brine Poultry for a moister and tastier dish.
Venetian Apricot Chicken Recipe:
Keyword:
Venetian Apricot Chicken Recipe
Ingredients
Venetian Apricot Chicken:
1

bunch

asparagus

with bottom inch of stems removed

1/2

pound

broccoli

florets

1

tablespoon

olive oil,

extra-virgin

4

(6 to 7 ounces each)

chicken breast

halves, boneless and skinless*

Parsely,

chopped (for garnish)
Garlic Herb Seasoning:
3

teaspoons

garlic pepper

1

teaspoon

Italian seasoning
Tomato Mixture:
1/2

pound

Roma tomatoes,

cut into 1-inch pieces

6

basil

leaves, cut into 1/2-inch pieces

1

teaspoon

garlic pepper
Instructions
Venetian Apricot Chicken Instructions:
Prepare Garlic Herb Seasoning, Apricot Sauce, and Tomato Mixture; set aside until ready to use.

Blanch asparagus and broccoli for 1 minutes in a large pot of boiling salted water. Transfer immediately to an ice bath to stop the cooking process; set aside.

Preheat barbecue grill (spray grill with vegetable-oil cooking spray). Place chicken onto hot grill. Cover barbecue with lid, open any vents, and cook 20 to 30 minutes or until a meat thermometer registers an internal temperature of 165 degrees F. (juices will run clear when cut with the tip of a knife); turning once.

Remove from grill and place on a large serving platter or individual serving plates.

In a large saute pan or frying pan over medium-high heat, add olive oil. Add cooled asparagus, cooled broccoli, and tomato mixture (keeping ingredients separated in the pan). Heat until mixture is hot (do not overcook, just heat). Remove from heat.

To serve, place asparagus and broccoli on platter or serving plates next to the grilled chicken. Sprinkle Garlic Herb Seasoning on broccoli. Pour tomato mixture on top of the asparagus and broccoli. Top chicken breasts with Apricot Sauce and garnish with chopped parsley.

Wine recommendation: Light and fruity white wine, such as pinot gris or pinot blanc or an Oregon pinot noir.

Garlic Herb Seasoning Instructions:
In a small mixing bowl, combine garlic pepper and Italian seasoning; set aside.
Apricot Sauce Instructions:
In a sauce pan over medium-high heat, add chicken stock and apricot preserves. A dd salt and pepper to taste.  Bring just to a boil and remove from heat; set aside.
Tomato Mixture Instructions:
Salt to taste. In a large bowl, combine tomatoes, basil, garlic, pepper, and salt; set aside.
Recipe Notes
* The U.S. Department of Agriculture, as well as food agencies in the United Kingdom and elsewhere, advises against washing poultry.  Rinsing chicken will not remove or kill much bacteria, and the splashing of water around the sink can spread the bacteria found in raw chicken.  Cooking poultry to 165 degrees Fahrenheit effectively destroys the most common culprits behind food-borne illness.

I get many readers asking what cooking/meat thermometer that I prefer and use in my cooking and baking. I, personally, use the Thermapen Thermometer. Originally designed for professional use, the Super-Fast Thermapen Thermometer is used by chefs all over the world.  I only endorse a few products, on my web site, that I like and use regularly.
You can learn more or buy yours at: Super-Fast Thermapen Thermometer.
Sponsored Content
Comments and Reviews