Secrets of Making a Perfect Fruitcake

From the cookbook called

A World of Baking

by Dolores Casella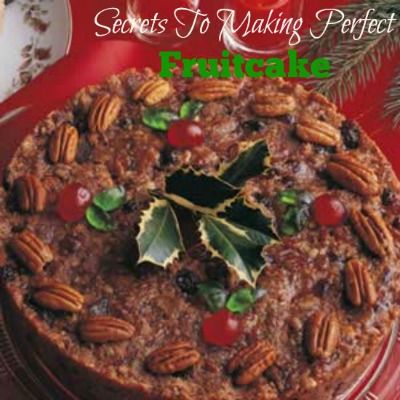 On the quest to make the perfect fruitcake? Your homemade fruitcake should be made well in advance of the time that they will be used.  One month of storage is a necessity.  Two, three, or even four months is not too long a time if the storage facilities are cool and dry.
Fruitcakes freeze very well.  However, they must be aged at least four weeks before freezing, as they do not mellow while they are frozen.
Take several days to make your cake or cakes. prepare the nuts and fruits, pour the liquor to be used over them, and let the mixture stand well covered for two or three days.  Then make the batter and bake your cakes.  The cakes will be better and the pressure in a busy household will be eased.
Always bake fruitcakes at a low temperature, no higher than 325 degrees and preferably much lower.  Line the pans with brown paper or waxed paper to prevent the cakes from burning during the long baking time.  Always place a pan of hot water on the floor of the oven.  This prevents the cakes from drying out.  Test for doneness with a cake tester inserted in the center of the cake. It will come out moist, but not doughy, when the cake is done.
Cool fruitcakes on a rack in the pans in which they were baked.  When cakes are cooled, turn them out of the pans and carefully peel off the paper.  If you are not decorating the cakes before storing them, wrap them in cheesecloth.  Sprinkle liberally with whatever liquor or wine was used in the recipe.  Seal the cakes in plastic wrap or in plastic storage bags.  Once a week, brush the cakes with more liquor.
Perhaps the most important, do not feel absolutely bound by a recipe:
If the recipe calls for brandy and you don't have it (or like it), use wine or even a fruit juice of your choice.
If the recipe calls for citron and you don't care for citron, substitute another candied or dried fruit.
If you do not like raisins, use more chopped dates and fewer raisins.
If the recipe calls for particular amounts of candied pineapple and cherries, the same weight of a fruit mix may be used.  The important thing to keep in mind is that the weight of fruit and nuts should be approximately the same as in the original recipe.
Within this boundary, you can make substitutions of your own choice.
Additional Tips and Hints for Perfect Fruitcake:
Use fresh good quality ingredients – make sure spices are fresh.
Soak fruit and nuts at least overnight in fruit juice or liquors to soften, drain and use excess liquid in recipe.
Dredge fruit and nuts with some flour so they won't sink in batter.  Shake off excess flour and use in the recipe.
If changing pan sizes, remember baking time will be altered in the recipe.  Fruitcakes may be baked in muffin tins, disposable pans, etc.
Be sure to grease and flour pans or use greased brown paper for liners.  Greased wax paper is also used in some recipes.
Place a pan of water on rack or on the oven floor below the baking cake.
If cake is browning too fast, place a sheet of foil the top of the cake.
Test for doneness by placing a metal/wooden skewer in center of cake.  If it comes out clean, cake is done.  Be careful not to over bake.
Always cool fruitcakes completely in pan and remove when cold.
Pour or brush some liquor of choice over hot cakes for good flavor.  Poke cake with skewer if desired.
Fruitcakes taste better with age!  This is called "ripening." Liquor based cakes may be stored several months in advance in a cool place prior to serving.  Non-liquor soaked cakes may be kept in a cool place or in refrigerator for short term storage or a or freezer for long storage.  Be sure to ripen fruit cakes a few weeks before freezing.
To store for a long period of time, wrap the cake in brandy or wine-soaked towels, and then wrap in either plastic wrap or aluminum foil.
For very long storage, bury the liquor-soaked cake in powdered sugar and place in a tightly covered tin in a cool place (fruit cakes can be enjoyed as long as 25 years this way.)  Check liquored-soaked cakes periodically and re-wrap in liquor soaked cloth.
Frost cakes close to serving time (not ahead of time).  Use a sugar-syrup glaze to brush on cakes for a shine and to adhere.
Slice cakes in a sawing motion with sharp thin blade of knife or a serrated knife.
Add 1 cup of applesauce to your fruit cake recipes to make a moister fruitcake.
Re-freshen stale (old) fruitcakes by gently heating pieces (microwave or steamer) and serve with a hard sauce, brandy sauce, glaze or desired topping.
More Delicious Fruitcake Recipes:
Regal Fruitcake
Fruit cake lovers will delight in this delicious homemade fruitcake.  Just like the fruitcakes that my Mom and Grandma made every Christmas season.
Elsie's Blue Ribbon Fruitcakes
Elsie was a wonderful woman who went to our church.  Every year, she made the most delicious fruitcakes and would sell them during the Christmas season at a bazaar she held.  She always made 24 or more cakes every year.  They always sold out!  I always bought several of these fruitcakes from her each year.
Vanilla Wafer Fruitcake
A friend left this for me on my desk – i don't know where it came from, but surely do enjoy it!  My husband loves it so much that I bake it in the form of cupcakes all year long.
Dresden Stollen
This is the Dresden Stollen that is served in my home at Christmas time.  This recipe was used by my mother, grandmother, and generations before them.  I hope it will become a part of your holiday tradition too.
Comments and Reviews