King crab legs, with their sweet meat, are ideal for entertaining and special occasions with your family or friends.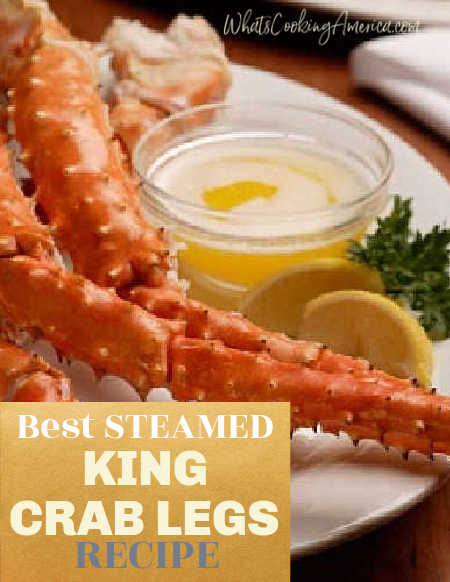 King Crab Legs are already cooked when you purchase them as they are cooked on the fishing boats or immediately upon landfall to preserve freshness (the crab is caught, cooked, then blast frozen to preserve its fresh taste). Because of this, King Crab need only to be adequately heated before eating. Remember, that unless you have purchased a live king crab, the king crab legs have already been cooked.
Check out more of Linda's great Crab Recipes and Appetizer Recipes for more great cooking ideas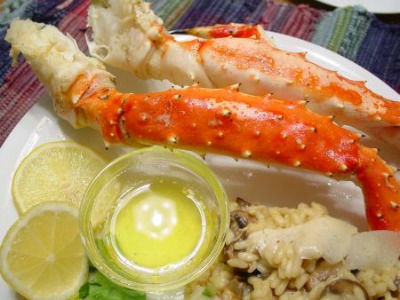 How To Prepare Perfect King Crab Legs:

Fresh King Crab Legs: Only if you live near a crabbing community will you get fresh, raw crab legs.
Amount of King Crab Legs to Purchase: Purchase 8 ounces to 1 pound per person.
Frozen King Crab Legs: It is recommended that crab legs thaw overnight in your refrigerator. If you are in a big hurry, king crab can be thawed under cold running water to speed this up. If you place them on a rack in a watertight container, they can drain as they are defrosting.
Storage: Thawed crab legs can be maintained in the refrigerator for two days, but they should really be cooked as soon as they have been defrosted if possible.
How To Cook King Crab Legs:
Cooking king crab is usually just a matter of using your preferred reheating method. There are a variety of ways to reheat king crab. Steaming, microwaving, and oven baking are among the most common. With these methods, king crab only takes only 4 to 10 minutes to reheat:

Steam Preparation: Let the water in the bottom of the steamer pot come to a boil, then I add the crab legs in the steamer and cover. The crabs will be heated through when you can smell them. I also pick one up with a tong and touch the meaty part just to be sure that it is indeed warm. The best way to get at the meat is to use scissors. I use the kitchen shears that come with knife sets but you can buy one at any kitchen supply store by itself. Just break the crab apart at the obvious places and then cut down the middle. I also have, but is not necessary,a glove in case the crab is really hot or if it is very spiny.
Oven Preparation: Arrange in shallow baking pan. Add just enough hot water to fill pan 1/8 inch deep. Cover tightly with aluminum foil. Bake at 350 degrees F. until just heated through, approximately 7 to 10 minutes.
Microwave Preparation: Add crab legs to a microwave-safe container. Add 1 tablespoon water per 8 ounces of crab legs. Microwave on high 3 to 4 minutes per 8 ounces of crab legs. Serve with lemon wedges, clarified butter and use nutcrackers to open shells.
Boiling: Boiling is not recommended for king crab legs. This is because the meat is so delicate in flavor that cooking it directly in water or using a crab boil can destroy the delicious flavors.
Serving Cold: Defrost at room temperature for a crab salad or serve cold with Hollandaise Sauce or Clarified Butter.
Clarified Butter: To learn how to make clarified butter, check out Butter Ghee and Clarified Butter.
Clarified butter is also called drawn butter. Simply defined, clarified butter and ghee are translucent golden butterfat left over after the milk solids and water are removed. In short, clarified butter is just butter that contains only pure butterfat.
Clarified butter has a higher smoke point than regular butter, thus allowing you to be able to cook at higher temperatures, and will not spoil as quickly. The advantages of this type of butter is its long keeping quality (several months refrigerated) and its high smoke point (can be used in frying without burning). The disadvantage is that it does not have that same wonderful rich flavor of regular unsalted butter (since the milk solids have been removed) but it does have a more buttery taste than other oils.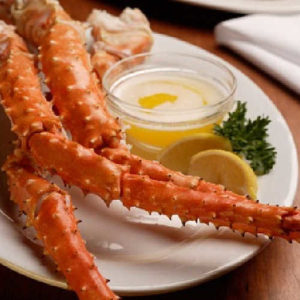 Taverna Opa's Steamed King Crab Legs Recipe:
Keyword:
Perfect King Crab Legs Recipe, Taverna Opa's Steamed King Crab Legs Recipe
Ingredients
1

tablespoon

butter

2

tablespoons

garlic,

minced

3

cups (24-ounces)

fish stock*

1

teaspoon

salt

1

teaspoon

black pepper,

freshly-ground

2 1/2

pounds

King Crab legs

and claws, cooked and chilled, cracked and legs cut in half crosswise

1/2

cup

80-proof vodka,

room temperature

Clarified butter,

melted
Instructions
Use a flambé pan, large skillet, or large chafing dish with rounded, deep sides and a long handle. Over medium, add the butter and let it melt. Add garlic and cook 1 1/2 minutes, until aromatic; do not let it burn. Add stock, salt, pepper, and crab legs. Cover and let simmer 6 minutes.

This may have to be done in batches if all the King Crab Legs do not all fit into the pan at one time. If done in batches, remove the heated legs from the pan and keep them warm until all are heated through. If done in batches, repeat until all are heated.

Note: If you are planning to flambé in front of your guests, light the dish at the table, but far away from guests and flammable objects. If you have a serving cart, now is the time to use it.

How To Flambe: When the last batch of crab legs are heated in the pan, remove cover, and reduce heat to medium high. Add the vodka around the sides of the pan and let the vodka warm. Ignite with a long match (such as fireplace matches or a long barbecue lighter). Never lean over the dish or pan as you light the fumes.

Let cook until flame disappears (at this point all alcohol has burned off).

Please remember to use extreme caution here, you will be dealing with a liquid that is on fire.

Do not carry the dish while flaming, this is best done on a serving cart slightly away from your table.

Keep a large metal lid on hand, to cover the dish in case your flambé gets out of hand.

Once the flame subsides, serve crab legs with pan juices over them and a dish of melted clarified butter.
Recipe Notes
* The restaurant chef make his own fish stock for heating the claws, but for the home cook, using the shelf-stable boxed variety from the supermarket is much easier and works fine.
Comments and Reviews