Questions and Answers – What is an Satsuma Orange
Question:
Can you tell me what a "satsuma orange" is?  Is it a type of orange?  I find it listed as Satsuma Orange Butter Sauce.  Thank you for your help. – Dee Nixon (3/12/02)
Answer:
Information below from Florida Cooperative Extension Service, Institute of Food and Agricultural Sciences, University of Florida.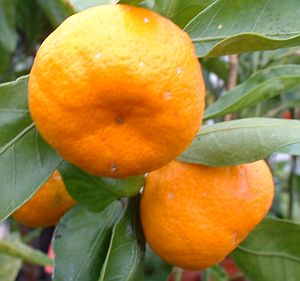 Satsuma [sat-SOO-muh] – A loose-skinned orange, it is a type of seedless mandarin orange with thin skin.  In most citrus producing areas, satsuma mandarin is the preferred name, but satsuma tangerine is also used.
Grown in cool subtropical regions of Japan, Spain, central China, Korea, Turkey, along the Black Sea in Russia, southern South Africa, South America, and on a small scale in central California and northern Florida.  The world's largest satsuma industry is located in southern Japan where climatic conditions are favorable for the production of early ripening satsuma tangerines of high quality.  In the United States, it is grown mostly in the southernmost parishes of Louisiana.
The fruit from a young tree averages 1.8 inches in diameter, approximately three-quarters the size of a tennis ball.  With its smooth, thin, lightly attached skin, satsumas have become known as the "kid-glove or zipper-skin citrus" due to the ease with which the skin can be removed and internal segments separated.
Depending on the weather and climate conditions, the fruit is harvested in the early to mid-fall.  The fruit is juicy and very sweet, low in acid, and almost seedless, with an average of only 1.5 seeds per orange
History:  Satsuma mandarin may have originated in China but it was first reported in Japan more than 700 years ago where it is now the major cultivar grown.  It was first introduced in the 1800's by early settlers along the banks of the Mississippi River near New Orleans.
The 'Owari' Satsuma arrived from Japan, first in 1876 and next in 1878.  During the period 1908-1911, nearly a million budded trees from 1908 to 1911 for planting in the Gulf States.  The first recorded introduction into the United States was in Florida by George R. Hall in 1876.  The name "satsuma" is credited to the wife of a United States minister to Japan, General Van Valkenberg, who sent trees home in 1878 from Satsuma, the name of a former province, now Kagoshima Prefecture, on the southern tip of Kyushu Island, where it is believed to have originated.
Comments and Reviews