Questions and Answers – Definition of Schmand
Question:
Many German recipes call for SCHMAND.  I believe it is made with cream or sour cream.  Do you know of a substitute?  In one recipe for a baked pasta dish, you pour it over the noodles add grated cheese and bake.  Schmand comes in containers like yogurt (200 g).  Thanks for your help. – Christel (10/23/02)
Answer: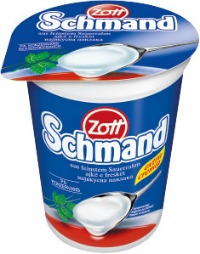 The best way to describe schmand is a fresh cream (similar to Creme Fraiche or whipping cream) that has a spoon-firm consistency.  The name itself is an old rural name for cream.   It is a lot like sour cream and has a has a lower fat content than Creme Fraiche.  It is used in baking and cooking.
Since schmand is not readily available in the United States (although it does exist here), a pureed combination of cream cheese and cottage cheese is a great way to make a substitution for it:

German Schmand Recipe:

16 ounces of Cottage Cheese
8 ounce package of Cream Cheese
In a blender, blend the cottage cheese until smooth.  Then add cream cheese and blend well.
Source:
Comments and Reviews