Question: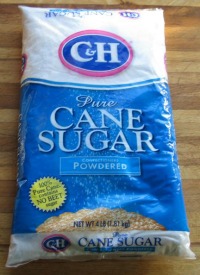 What is the difference between confectioners sugar and powdered sugar.  Why do all recipes call it the first and not the second?
Answers:
Commercial confectioners' sugar and powdered sugar are the same thing with an additive of cornstarch to prevent caking. – Otherwise there is no difference unless you make your own powdered sugar and don't add the cornstarch.  (see instructions below)
Confectioners'/powdered sugar is also sometimes also called 10X sugar and is most commonly found in grocery stores. 10X sugar refers to the number of time the sugar is processed to produce fine powder.
According to our reader Hikari,
"You do NOT want to use confectioner's sugar in some applications, because the cornstarch will be what people taste more than the sugar, because the cornstarch will ruin the entire concoction. Drinks are the obvious example here. The only time I use confectioner's sugar is for meringues, where the cornstarch stabilizes the meringues from getting over-processed while the sugar melds with the egg whites.
I use powdered sugar for everything else, and I never buy it at the store. I simply put regular sugar in the food processor or blender, and grind it up to the consistency I need. Just use half the amount of regular sugar for whatever amount of powdered sugar the recipe requires."
---
How To Make Confectioner's Sugar
Mix 1 cup granulated sugar and 1 tablespoon cornstarch in a blender or food processor at high-speed for several minutes.  As with most substitutes, the consistency and texture of the dish may be altered.  If at all possible, take the time to purchase and use the sugar asked for in your recipe.
How To Make Powdered Sugar
Simply put regular cane sugar in your blender or food processor on high-speed and grind for several minutes. You can control the coarseness of the sugar by adjusting the amount of time you grind it. Less time for more coarse, more time for a finer sugar that is good for using in whipped cream.
Refined sugar vs natural sugar
Refined sugar is broken down rapidly in your body. This quick digestion often leaves you still hungry after consuming foods with refined sugars. Consuming refined sugar also causes your insulin and blood sugar levels to skyrocket.  Whenever possible choose natural sugars instead such as those found in whole fruits. Whole fruits also have fiber your body slowly digests the fiber first, causing the sugars to be digested slower as well.
Remember – One (1) teaspoon of sugar has 15 calories.
One (1) gram of fat, on the other hand, deliver 9 calories.  Fats are stored for later use.  Energy from fat cell reserves is released only when other sources are not available.
People gain weight when they take in more calories than they burn.  So, if you are concerned about your weight, eat reasonable amounts, drink plenty of water, and maintain an appropriate level of physical activity.  People should limit their sugar intake less than 10 per cent of their daily diet.
Artificial Sweeteners – Many people use artificial sweeteners because they think they are cutting calories and will lose weight.  Often, these people will eat artificially sweetened foods or drinks and then eat even more of other foods.  They may even end up gaining weight!  The calorie savings with artificial sweeteners are not as great as most people think.  Also remember, there are very few artificial sweeteners that are natural. If you want to use an artificial sweetener try using Stevia, as it is a plant base sugar.
It is not necessary to use artificial sweeteners to eat less sugar because foods taste just fine made with less sugar.  Today's health-conscious consumers need to ask, "Is saving a few calories worth abandoning an all-natural food like sugar?"
Guide for baking with less sugar
For every cup of flour, use only:
Cake and Cookies – 1/2 cup sugar
Muffins and Quick Breads – 1 tablespoons sugar
Yeast Breads – 1 teaspoon sugar
Comments from Readers:
Just a little aside for you – I just read your Q & A on Icing/Confectioners sugar.  When I lived in Lancaster, PA, my Amish (and other) neighbors kept talking about 10X sugar.  It turned out to be the name they used for confectioners sugar.  My Amish friend used to buy milk crumbs as well to make cup cheese.  This term certainly took me for a loop  Turns out, what she was referring to was very dry, large curd cottage cheese.  Great site – I really enjoy it.
Comments and Reviews